Customer Relationship Management (CRM) Software System comes as a standard module in Aralco Retail Systems, extensively integrated from the back office to the POS Systems.
One of the special features is the demographic profiling of customers where a screen and each field are user-definable to fit perfectly into any industry, example capturing their favorite brand, color, fabric; sizes they wear; preferences; allergy and prescription, etc. 
Along with this, the following details are tagged to each respective customer in the central database:
Sales Transactions and History
Pending Sales Orders, Quotations
Loyalty Points Balance
Accounts Receivable, Accounting
Gift Certificate
Credit Note
Shipping Addresses
Create a new or edit a customer at the back office or at the POS or download Google Form in Excel format to import new customers frequently via the Aralco's Data Import Wizard.
CUSTOMER LOOKUP
From the Back Office System to Aralco POS and Mobile Systems you are able to lookup customers with real-time data by using the following filter or search options:
Customer's Account Number
Customer's Phone Numbers
Customer's Email
Customer's First and Last Name
Customer's Addresses
WHO ARE YOUR BEST CUSTOMERS?
With Aralco's CRM tracking customers' activity at the store, all important sales and profit data including profiling can be filtered and summarized by customer and customer groups with Aralco's comprehensive .NET Reporting Engine.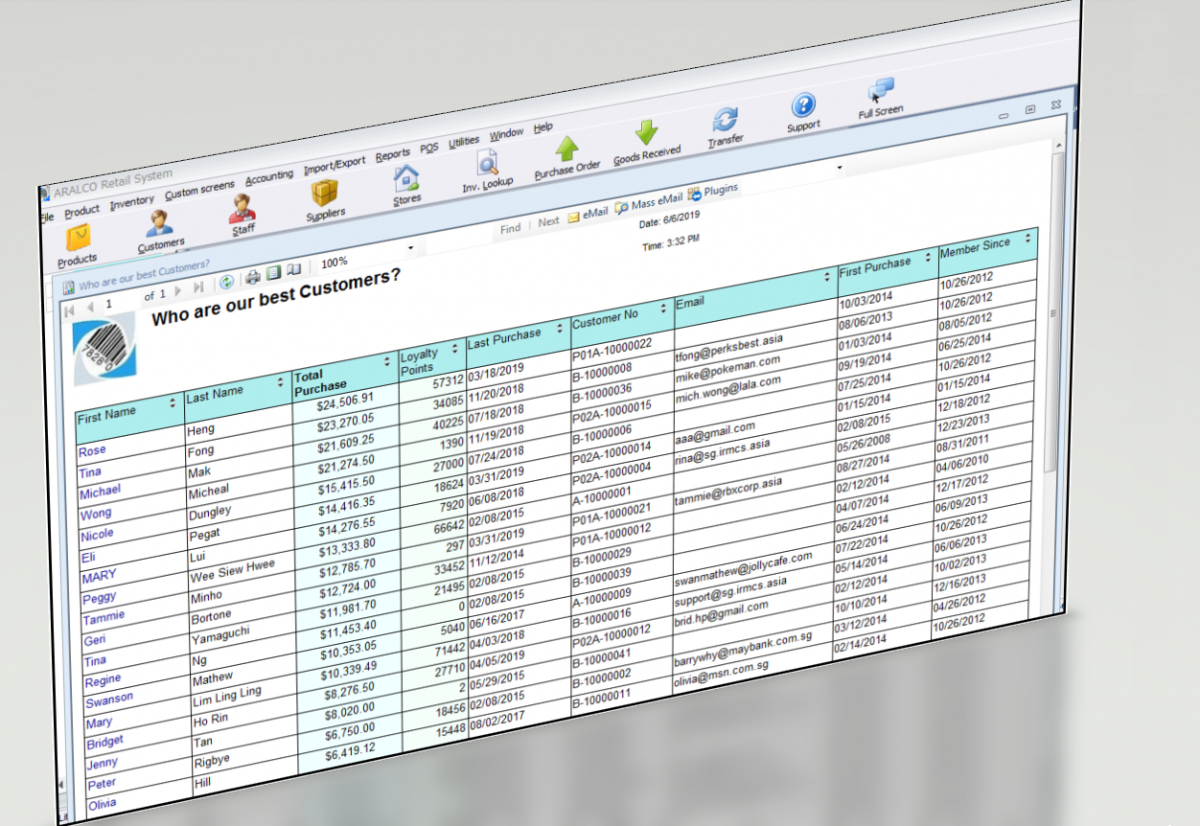 The reporting is so powerful you can report on any information available in the central database such as spending and purchasing patterns of a customer across months or years, or who have not been shopping since a particular month or period, etc.
GET THE BEST RETAIL CRM + POS 
Aralco's CRM software built into its POS systems is one of the best available in the market with all the rich functionalities you will need to engage customers deeper and wider from the back office to the POS checkouts.
Retailers can certainly benefit even more with Aralco's extended modules purpose-designed for customers' retention and to increase revenue such as the Membership, Loyalty Points, Gift Certificate, Gift Registry, and Gift Card Programs.
---
Contact IRMCS for more information on Aralco's Retail CRM Software System integrated with its POS Systems
---