Body: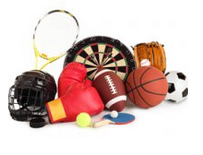 Aralco Retail Management and Point of Sale (POS) Systems has been developed extensively for sportings goods retailing from sports apparel, running shoe to rackets; equipments, bicycles to repair services. 
A sporting goods store can get very disorganized if they do not manage things properly for example employees constantly have to run to the back to physically find certain sizes and brands of clothing and shoes when their POS system does not have the tools to support lookup for such information from their inventory database.  
Aralco Point of sale systems can do a lot more to keep your business organized -  employees can lookup at the POS to check quickly and accurately which items are in stock by brand and colors, sizes of the same items when a customer asks; process returns securely as old transactions can be brought up and refunded quickly or marked for goods exchange.
Another key feature in Aralco Retail System is the real-time, two-way automatic data synchronization between the central database server and each POS terminal, allowing you to have instant access to current information always and at anytime.
Other Main Features:
Package Sales  
Apparel, shoe, equipment sales  
Repairs tracking  
Layaway plan  
Date sensitive price promotions, markdowns 
 
Support product picture and audio
Inventory Lookup at the POS in real-time, giving you current stock at hand information always 
Support up to 4 dimensions per product for tracking sale and stock status by size, color, fabric, width
Stock auto-replenishment to maintain stock levels for basic items  
Non-inventory sales for services (for racket re-stringing, skate sharpening, etc.) 

Rental applications for sports equipment (e.g. ski, snowboard, bike rentals )
Support serial number recording of bike sold for warranty tracking 
Support  product and customer picture 
Customer profile and purchase history (e.g. remind clients when it's time to replace running shoes) 
CRM/purchase history for targeted marketing 
Membership card system with user definable member group and privileges 
In-store member, employee card printing 
Frequent shopper loyalty program 
Gift Certificate Program
Gift Card program
Email broadcasting system (EDM)
 
User definable reporting systems; outputs any reports in MS Excel, Ms Word, PDF or HTML format 
Accounts Receivable
GL/AP interfaces 
Built-in CMS/Ecommerce solutions
 
Contact IRMCS for more information.