Body:

One of the main challenges in the footwear industry is being able to manage your entire inventory according to brands, seasons, and styles, down to its color and size.
With Aralco Retail Systems for footwear stores, it keeps your inventory organized and allows for fast retrieval of data on inventory status and sales performance at any time.
MANAGE COLOR & SIZE

 INVENTORY EASILY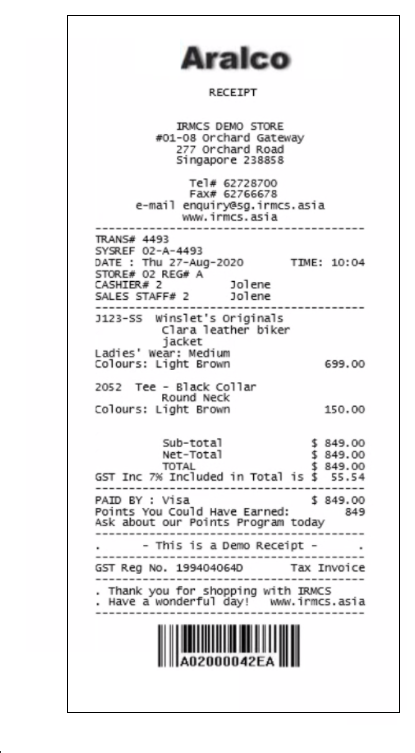 Aralco simplifies your inventory management with a grid matrix setup allowing multiple details on a pair of shoes such as size, color, etc. described below as dimensions.
With this feature, you no longer need to create different product codes for each color and size of the same style which is tedious and cumbersome.
Separate dimension tables for SIZES can be created such as Ladies' Shoe, Men's Footwear, Baby's Shoe and etc.
| | |
| --- | --- |
| Definable Size Tables  | Definable Size Values |
| Ladies' Shoe | EU35½, EU36, EU37, EU37½, EU38, EU39, EU39½, EU40, EU41, EU42 |
| Mens' Wear | 15, 15½, 16, 16½, 17, 17½, 18, 19, 20 |
| Men's Shoe | UK6, UK7, UK8, UK8.5 UK9, UK9.5, UK10, UK11, UK12 |
| Baby's Shoe | 6-12M, 12-18M, 18-24M |
The second dimension table and its values can be set up for COLOR such as Sky Blue, Navy Blue, Wine Red, etc. and the system allows you to attach a minimum of 1 to a maximum of 4 dimension tables to a product.
 
Products with color and size when sold are recorded and printed clearly on the Aralco POS receipt.
DEFINE AND MANAGE UNLIMITED GROUPINGS

- BRAND, SEASON, COLLECTION 
Aralco Back Office Systems offers unlimited categories allowing you to user-define any group names for filtering and reporting by these groups. Once set up, you can assign any of these groups to a department and product.
| | |
| --- | --- |
| Group Names  | Group Values |
| Brands | Adidas, Ungaro,  Aldo Brue, etc. |
| Seasons | CRUISE19, SS20, AW20, SS21, AW21, SS22 |
| Collections | Camo, Executives, Sporty, Timeless, etc. |
| Fabric | Leather, Polyester, Nylon, Synthetics, etc. |
|   |   |

The above screenshot shows a product with cost/pricing on the left, and user-defined, unlimited product groupings on the right.
REAL-TIME INVENTORY

LOOKUP
WITH MULTI-LOCATION & DIMENSIONS

 

 

Inventory Lookup with real-time data is available at the POS or at any BOS workstations showing stock units at hand for any SKU, even drilling down dimension layers such as color and size availability.

 

Digital stock movements of the product can be looked up in chronological order per location or all locations. The inventory Lookup is available in Aralco Back Office and POS where it allows the cashier to look up any item in the middle of the transaction to instantly engage the customer on the current stock availability.

 

 

The above screenshot shows a product with quantities available by dimension values for Color and Size in a grid format table.
STOCK PROCESSING

 

ANYWHERE

 

Aralco Retail Systems has a complete set of tools for your inventory needs in the Back Office Systems (BOS) application, available at any POS and BOS workstations.

 

Most of the stock processing functions can be recorded using the standard keyboard, barcode scanners, portable data collectors or take it further with Aralco Mobile Systems that run on Android and IOS smartphones or devices:

 



Purchase
Order




Goods
Receiving




Inter-branch
Transfer 

 

 

 




Stock Physical
Count




Returns
to Vendor




Quantity
Adjustment

 

 

 

 




Average Cost
Adjustment

 
Depending on your company policy, any of the above stock processing functions can be centralized or decentralized, and only authorized users are able to access these or selected stock functions.
CENTRAL CUSTOMER MANAGEMENT
& LOYALTY PROGRAM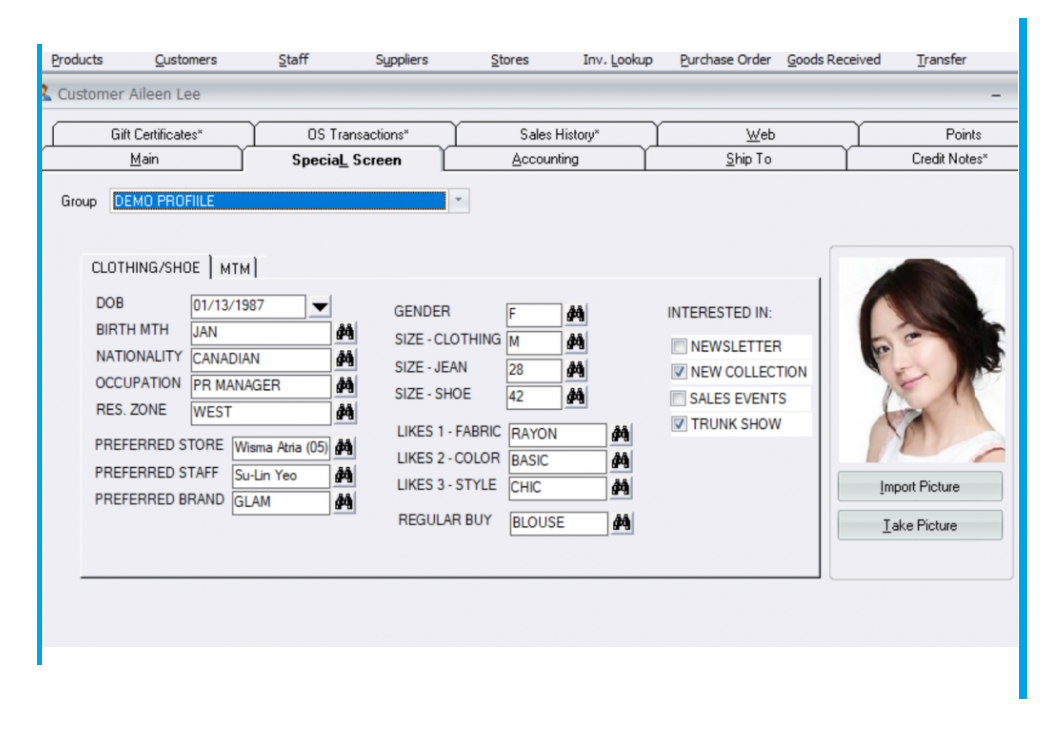 Aralco CRM, comes together in the base module, keeps basic details of your regular customers including their purchase history and user-defined profiling.
Discount % entitlements can be set up by customer or membership type.
Furthermore, multiple loyalty reward plans are available to attract customers and drive up repeat visits to your stores.

.
Aralco 
POS SYSTEMS
Aralco Retail POS runs in your retail stores with its own secured local database and functions independently of the central Back Office Server and is fail-safe should there be Internet disruption.
Aralco offers comprehensive functionalities never available before in a single POS solution - easy to use and suitable for apparel retailers of any size. It communicates and exchanges data with the central server every other second assuring your sales, customers, and inventory status are always up-to-date.                
There are various promotion features available at the POS to entice your customers with irresistible offers every day of the week. In addition, you can optimize the use of Aralco POS with multiple loyalty reward plans to attract customers and drive up repeat visits to your stores.
USER-DEFINABLE

 

REPORTING

 

Aralco Reporting Engine comes standard with 150 standard reports which are user-definable and you can create new reports easily on your own without any programmers. Essential reports such as Sell Through and Stock Ageing by seasons are available.

 

Simply filter what to include to view a pie chart or run any summary or detail reports in the matrix (pivot) format with real-time data on any information for the current day, any period, or year-on-year performances between stores, a group of stores, or for all business channels.

 

 

 
STOCK BARCODE LABELING

Aralco's Inventory software module comes with versatile price labeling systems for printing barcoded price labels with a range of barcode thermal printers, and to any laser printer for A4-paper size labeling for the display shelves.
Each label format is user-definable while stock labels are available on plain rolls and swing tags, and you can have as many label types or sizes needed for different product categories such as shoes, bags, accessories, etc.

---