Body:

With almost 40 years of experience in the retail industry, Aralco software has a comprehensive list of great tools to automate your grocery business.
In the grocery industry, it is imperative that your inventory stays current and accurate, your customers remain loyal and you have intelligent reporting so you can make successful business decisions.
MANAGE GROCERY

 

INVENTORY EASILY

 

Aralco's Inventory software is extremely robust and comprehensive in features that will help you manage all your inventory types easily without any manual tasks.

 

Here are some of the awesome inventory features that simplify your work every day:

 
| | |
| --- | --- |
| | User-definable UOM for Order, Inventory, and Sell Unit, for example, buy in a carton of 48 units or carton of 50kg, sell price by Ea or Kg. |
| | Supports multiple suppliers per product |
| | Supports multiple manufacturers' bar code numbers per product |
| | Purchase products in bulk and repack for sale (buy kg bag, sold in a pack of 200 gram), and have inventory available in kg |
| | Purchase products in cartons, and sell by pack-of-6 or pre-pack to sell by weight (uses scale printers) |
| | Purchase produce in whole units and sell in the whole or half unit such as rockmelons, cabbage, etc |
| | Digitizes stock movements of each product |
| | Shrinkage management such as wastages, perishables, stock count variances, etc |
| | Model Stock for re-stocking (Min/Max Reorder) |
MULTI-LOCATION & REAL-TIME
INVENTORY LOOKUP
Inventory Lookup with real-time data is available at the POS or at any BOS workstations showing stock units at hand for any SKU, even drilling down to layers of information such as digital stock movements of the product that can be looked up in chronological order, per location or all locations.
On-hand Inventory Lookup is also available within the POS transaction process allowing the cashier to instantly engage the customer on the current stock availability.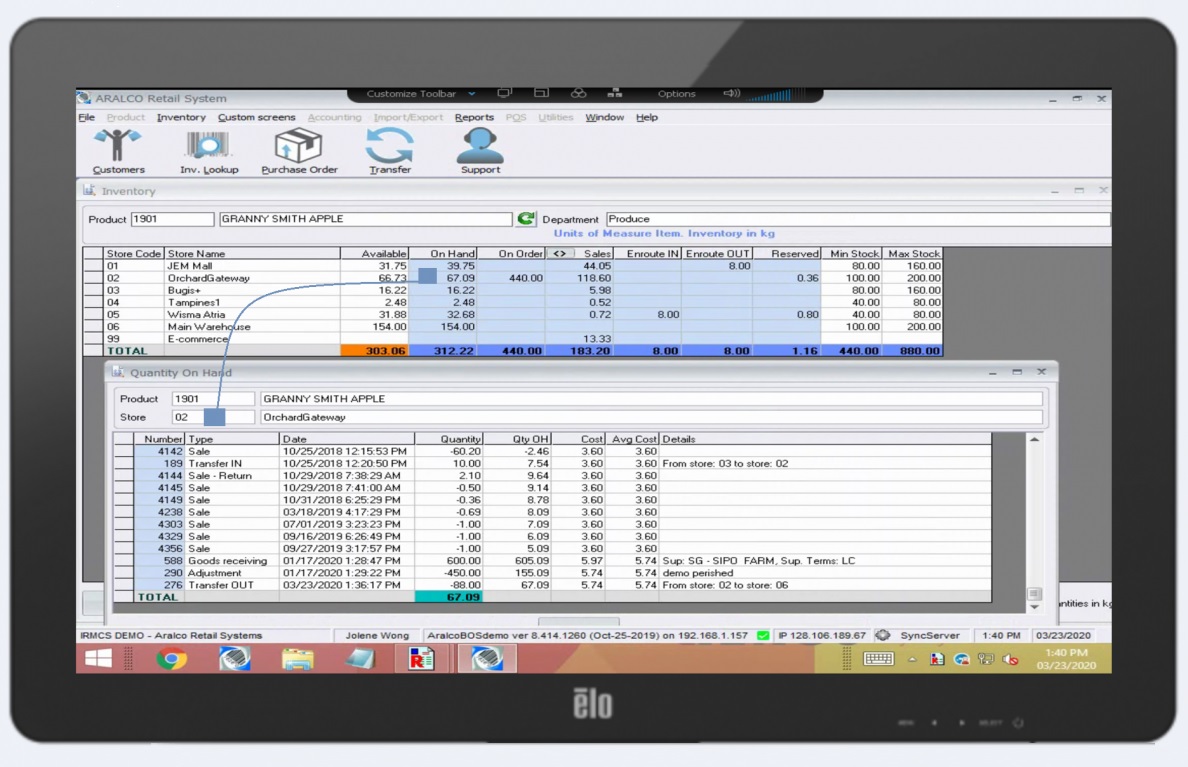 ​
STOCK PROCESSING

 

ANYWHERE

 

Aralco Retail Systems has a complete set of tools for your inventory needs in the Back Office Systems (BOS) application, available at any POS and BOS workstations.

 

Most of the stock processing functions can be recorded using the standard keyboard, barcode scanners, portable data collectors or take it further with Aralco Mobile Systems that run on Andriod and IOS smartphones or devices:

 



Purchase
Order




Goods
Receiving




Inter-branch
Transfer 

 

 

 




Stock Physical
Count




Returns
to Vendor




Quantity
Adjustment

 

 

 

 




Average Cost
Adjustment

 
Depending on your company policy, any of the above stock processing functions can be centralized or decentralized, and only authorized users are able to access these or selected stock functions.
SELLING
WEIGHT-BASED PRODUCTS 
Aralco has a complete set of tools for selling weight-based products so that you can decide how you want to sell weight-based items to maximize stock turnover and margins. Simply set up SKUs in the Back Office Systems with either option for scale printer or weighing with the POS scale.
SCALE PRINTERS
With Aralco's in-store scale interface, data of products designated for pre-weighing packing are automatically generated and imported by Digi SM100, or SM 5300 series of scale printers via the local area network at each store.
With this interface, it eliminates the lengthy steps-driven programming of each SKU or PLU on the weighing scale unit. Pre-weigh labels are scanned at the checkouts where Aralco POS identifies the SKU number, the weight, and the price.
Here are the variations of scale printers available to suit any grocery requirements -
ELEVATED & BENCH SCALE PRINTERS

SELF-SERVICE SCALE PRINTER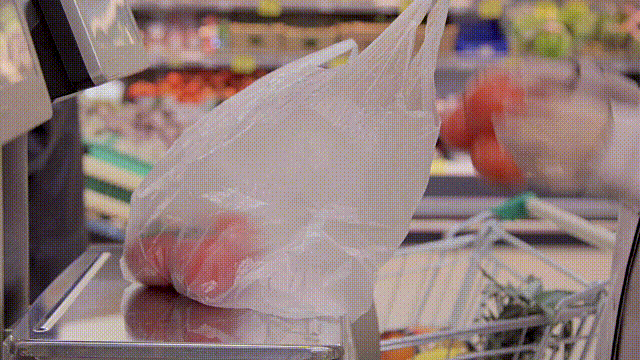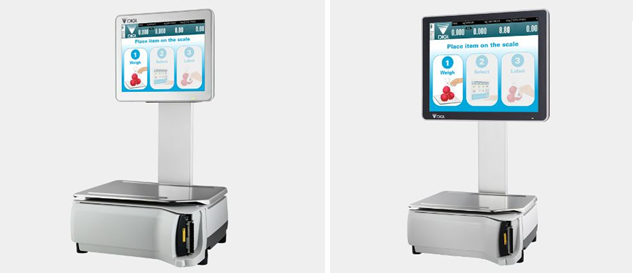 POS SCALE

 

AT THE CHECKOUT 

 

Aralco POS has the capability to connect directly to most scale models with RS232C connectivity -  this solution is perfect for customers who can pick up any amount of produce she or he needs and let the cashier weigh them at the checkout.

 

During the checkout, the cashier simply places the produce or any weight-based product on the scale's pan or platter, selects the SKU fast buttons on the POS, or scans the barcode if available, to have the weight value transferred to Aralco POS for price calculation.

 
A wide variety of scale options are available on the market with the direct RS232C cable connection to Aralco POS terminals for seamless and accurate weighing at the checkouts. Here are a few examples -
IN-COUNTER BIOPTIC BARCODE SCANNER & SCALE SYSTEMS
The 2-in-1 In-counter Scale Scanner unit is the choice of grocers to save precious counter space, for accuracy and speeding up the POS checkouts. Aralco POS communicates with the In-counter Scale Scanner unit via the RS232C connectivity with any models from Honeywell and Datalogic.
The bioptic scanner engine detects every scan from its vertical or horizontal scanners hence it captures each barcode from almost any angle at incredible speeds, improving your customer's shopping experience in any demanding checkout environment.
Its built-in scale comes with a Diamonex platter with a single or three-side flip-up bar or a low bonnet to allow cashiers to accurately weigh over-sized produce hence reducing shrink loss - the scale unit comes with a capacity of 15 Kg.
Note units are available with and without the built-in scale option.

TABLE-TOP SCALE SYSTEMS (WITHOUT THE BARCODE SCANNER)
Weighing scale units from brands with the RS232C option can be interfaced with Aralco POS such as Mettler Toledo, KiloTech, Caszero, and Ohaus Adventurer.  Hence, grocers have many scale options to choose from to suit their counter space and budget.
Note: The weight capacity of each model ranges from 6 kg to 30 kg with readability from 2 gm to 10 gm.
.

CLEAR VIEW OF WEIGHED

VALUE & PRICING

 

 

Customers can see the weighing of the item clearly with the weight indication and pricing on the customer-facing monitor, customer pole display unit, and on the printed POS receipt upon payment.

Grocers can choose the 10" or 15" customer-facing monitor where customers see every item scanned, weighed, and its prices as well as video advertisements for upselling! or opt for the standard 2-line telescopic pole display unit.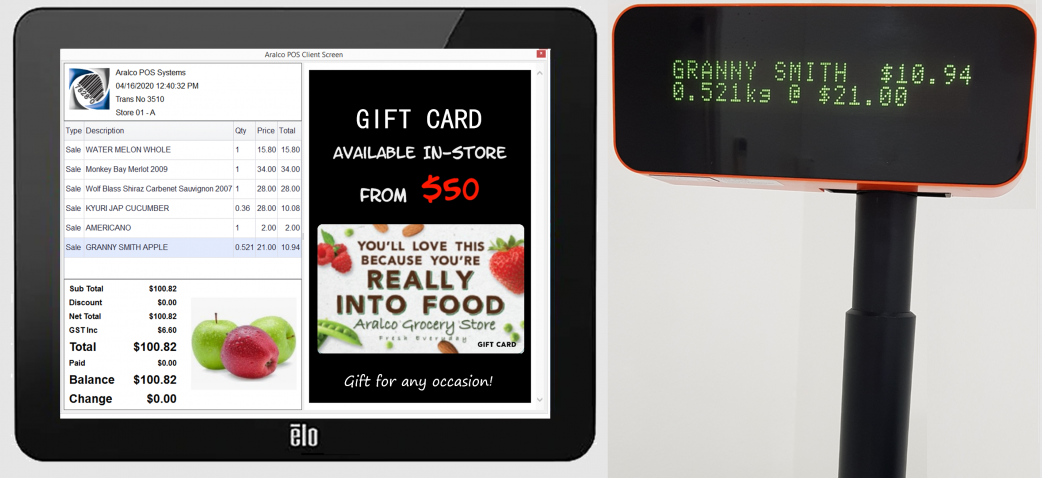 MANAGE CUSTOMERS BETTER
WITH
UNIFIED MEMBERSHIP & LOYALTY PROGRAM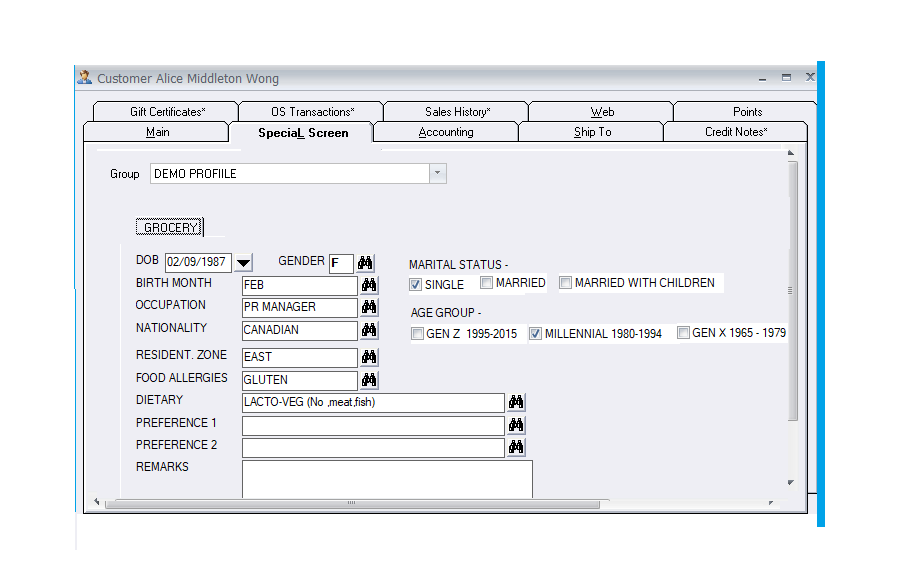 Aralco's CRM module has plenty of tools for profiling customers, capturing any customer data to setting up accounting terms. You can also analyze their purchasing patterns or add a new shipping address - all in one place.
The CRM includes a loyalty program so that you can easily build campaigns to attract new customers and drive up repeat visits to your stores with user-definable and multiple reward plans.
ARALCO POS SYSTEMS FOR GROCERY
REAL-TIME, FEATURE-RICH & FUNCTIONAL
Aralco Retail POS runs in your grocery stores with its own secured local database and functions independently of the central Back Office Server and is fail-safe should there be Internet disruption.
Aralco offers comprehensive functionalities never available before in a single POS solution - easy to use and suitable for grocery retailers of any size. It communicates and exchanges data with the central server every other second assuring your sales, customers, and inventory status are always up-to-date.
There are various promotion features available at the POS to entice your customers with irresistible offers every day of the week. In addition, you can optimize the use of Aralco POS with multiple loyalty reward plans to attract customers and drive up repeat visits to your stores.
 IN-STORE GIFT CARD

BOOSTS NEW FOOTFALLS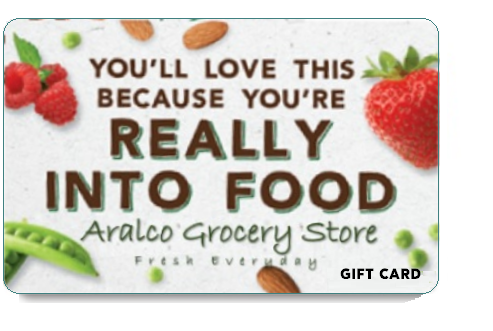 A Gift Card program is the perfect gift solution for your customers which directly benefits you with advance payments when you start selling gift cards at your grocery stores.
Your existing customers buy the gift cards at a value of their choice as a gift to friends or family members, as a result, recipients of gift cards become your new customers. 
Henceforth, the Gift Card program generates new footfalls for your business and increases sales revenue.
Gift Card can be redeemed in part value and this gives recipients another good reason to come back to your stores.
​
USER-DEFINABLE 

BACK-OFFICE REPORTING

 

Aralco Reporting Engine comes standard with 150 standard reports which are user-definable and you can create new reports easily on your own without any programmers.

 

Essential reports for grocery businesses such as Product Sales Margin, Shrinkage, Stock Movement, and other reports are readily available.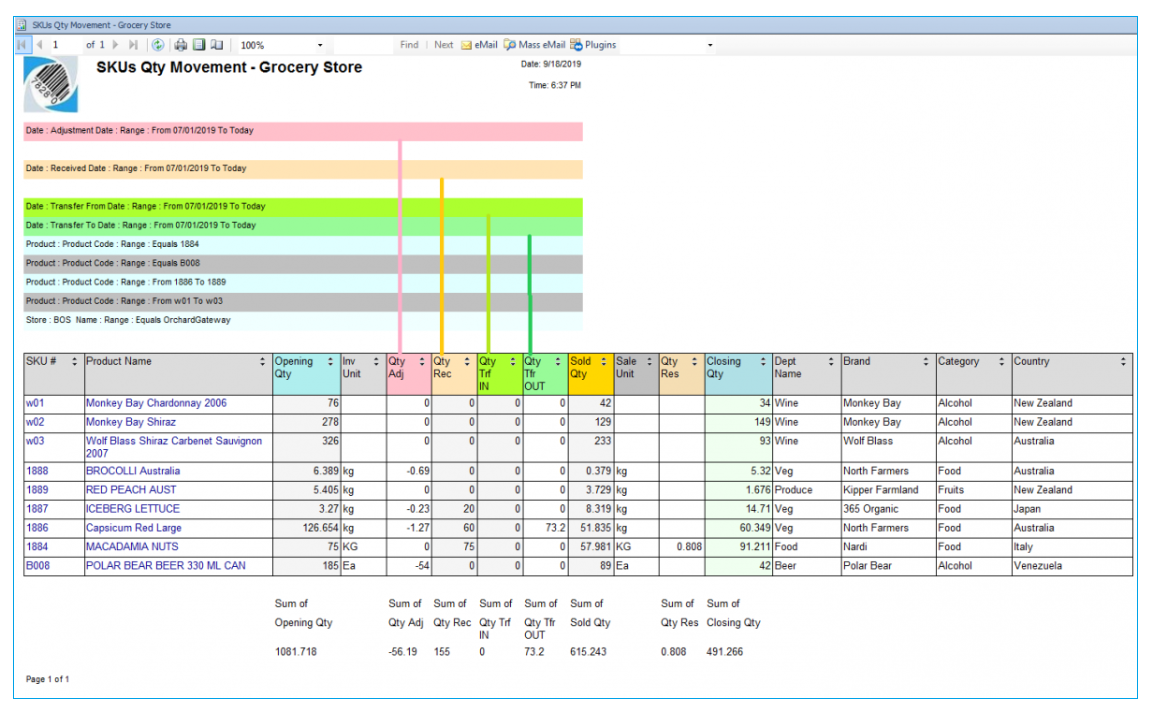 BARCODED SHELF LABELLING
 
Aralco's Inventory software module comes with versatile price labeling systems for printing barcoded price labels via the Zebra range of barcode thermal printers, and to any laser printer for shelf label printing on A4-size papers.
Aralco Retail Systems offers a variety of label formats, and the Bar Code Label module has flexible options allowing users to print barcode labels for:
Any SKUs filtered by product code or brand, supplier, or categories 

Goods Received Note

Transfer Note

Purchase Order 

SKUs by Price Change Date

OPTION TO DIGITIZE YOUR SHELF LABELS
Due to demands from grocers, Aralco has built an interface for any brand of Electronic Shelf Label (ESL) systems where product data with new or changed prices are automatically generated by the inventory system every other minute for "pickup" by the store' ESL server.
Read more on ESL Interface with Aralco.


---