Aralco has been in operation in Canada since 1982 and the company's main activities are focused on inventory management, retail management and point of sale software systems, data processing, consulting, database design, POS software system development, custom POS programming, installation, training, and support. 
With recent developments, Aralco stands poised to leap into a variety of new industries across the globe. Whether your company sells apparel, furniture, provides health and fitness services or charges by the hour, Aralco's POS software solutions ensure businesses have all the necessary tools to succeed in the global marketplace.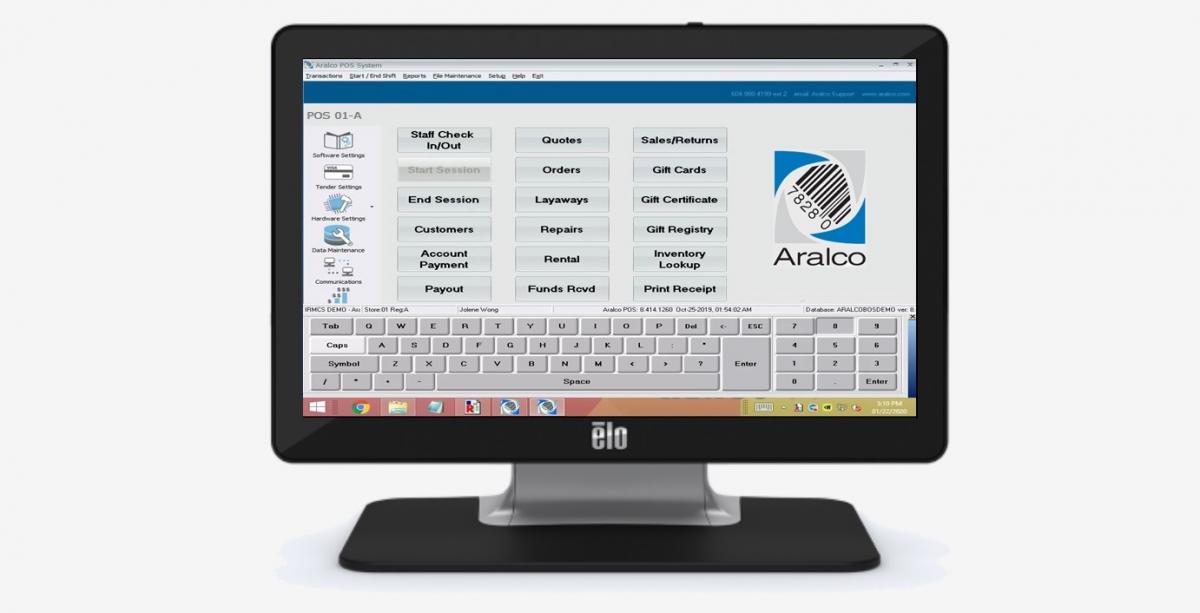 TECHNOLOGY
The Microsoft® SQL Server database engine, which is one of the most powerful systems in existence today, is at the core of Aralco Back Office Management and Point of Sale (POS) Systems. The main applications are written in Microsoft® Visual Studio and Microsoft® .Net which is an extremely powerful application development tool with a large support network worldwide.
The master MS SQL Database is also shared with all E-commerce platforms and Mobile applications Aralco interface to, and Aralco uses the best and latest technology platforms for their software applications-
Aralco's E-commerce and CMS applications are built with Microsoft® ASP.NET, MVC, HTML5.
Aralco's Mobile applications use AngularJS, Ionic, and JSON making Aralco a powerful software that adapts to various operating systems and devices such as Apple iOS, Android, and Windows.
ARCHITECTURE
The Aralco Retail System is designed to work in a large multi-store network or in a simple single-store operation. Aralco is capable of multiple registers within one location using local area networking (ideal for department stores or multi-lane grocery operations), or single POS registers in each location, communicating via the high-speed Internet to the main server anywhere in the world.
In the case of a single store, the entire program can be set up on one machine or separated into a server (holding the main back-office functions) and POS terminals on independent computers connected together via local area networking.

Back-office functions can be accessed from POS or individual back office workstations from within the local area network or via the Internet.  All "sensitive" areas of the program are access controlled as well as password-protected for each level of back-office and POS user groups.
WHY ARALC
O
RETAIL SYSTEMS
The company's sole objective is the design, development, and implementation of computer systems for the retail and distribution trades.
 
Aralco Retail Systems has been dedicated to retail customers for three decades. This longevity is a key issue that should not be overlooked when retailers are choosing a company to serve their needs. 
 
Aralco's investment in software research and development over the last thirty years has been substantial. Retailers can rest assured that they will stand by their clients and continue to support their product.
 
Aralco program has been designed and developed using the valuable input received from customers. This is the most important strength of the product, as there is a vast overlap in the requirements of one retailer to another, regardless of their vertical market.
 
Aralco software contains many automatic routines neglected in most other software packages. Inventory processes, housekeeping routines, etc. that involve hours or days of manual input are replaced with a simple selection of the relevant Aralco automatic procedures.
 
With Aralco systems, retailers will immediately notice streamlined processes, improved control over administration activities, and increased time to focus on customers.

A large concern for retailers from every industry is inventory control. The Aralco team provides the expertise and instruction to guarantee efficient inventory controls. 
 

As they listen to their clients, Aralco's functionality continues to get richer. They share that knowledge with our clients through our product upgrades, which are designed to make every element of retail operations easier.

All software upgrades are included in their support program and delivered to you via the Internet. This means that their clients never miss having the latest features, freeing up valuable time to spend where you need it most - with your customers!