Many POS systems do not have adequate inventory features needed to manage merchandise that comes in sizes and colors (referred to here as dimensions).
Some merchandise may require more than two dimensions for fast access to inventory data, for example, the stock availability of this shirt's sizes and colors, and lengths of the shirt.
While typical retail businesses do not need such features, it is a must-have for apparel and footwear retailers to enable easy tracking of inventory and capturing of sales data correctly by dimensions sold.
Otherwise, countless hours will be wasted creating additional SKU numbers for each dimension perpetually. By doing so, collating stock and sales data by SKU numbers representing each dimension of style numbers would be cumbersome. Furthermore, it slows down the speed performance of your entire retail system significantly as it consumes more database storage unnecessarily.

Aralco POS for Apparel
Aralco's apparel POS software supports an unlimited number of dimension tables such as a table for COLOR or BLOUSE SIZE (Large, Medium, Small), or DENIM SIZE (24,26,28,30...).
The values in each dimension table are user-definable hence you can name them according to your requirement.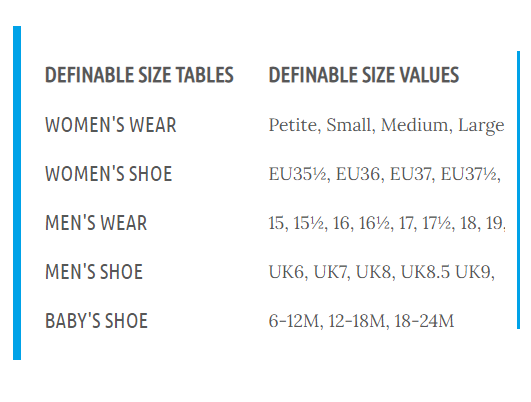 A product can be set up with one dimension table for COLOR only, while another can have two dimension tables (or more), for example with a COLOR and SHIRT SIZE table.
Aralco's apparel POS software supports up to 4 dimension tables per product or style.
Other time-saving features
Some of the other big time-saving features required for clothing merchandise are:

Season management i.e. SS20, AW20, Cruise

Tracking Collection, Fabric

User-definable merchandise categories i.e. top, bottom, brand, gender, and etc

Sell through analysis by season

Stock aging by season

Mass promotion markdowns by seasons

Real-time data
Customer Profiling
An optional module from Aralco enables the designing and creation of screens with user-definable data fields for capturing information of your customers such as their age group, occupations, favorite designs, colors, brands, or sizes they wore, and any other fields important for reporting, event targeting or EDM purposes - read more.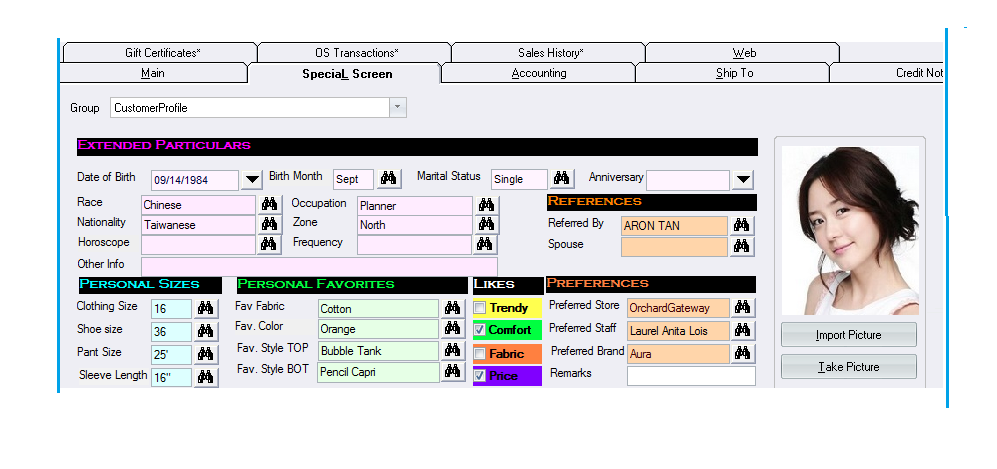 E-commerce API For Centralized Inventory
& customer Management
With recent trends, it is even more crucial now to have a central system integrating inventory for both the physical and online stores.
Aralco POS for apparel has an E-commerce API so that you can have a real-time and seamless solution on one platform for all your sales channels - read more.