Getting IT right with a POS that has all the adequate inventory features is imperative for the apparel retail business to have efficient stock management and comprehensive performance analysis.
It is also essential that each POS communicates and exchanges real-time data with the central server so that the main inventory database gets updated upon completion of each sales transaction. Similarly, all other data must always be current and accessible to your employees at the POS, and in the back office.
Inventory Software 

For Apparel Stores
Inventory software for the apparel industry must support any style or article number with attributes for managing clothing sizes, colors, and length detail when required.
This architecture helps retailers pull up the information quickly on products sold and stock statuses of individual styles. Otherwise, the result would be slow and cumbersome in retrieving information on products and their attributes.

It is equally important that the inventory module allows you to categorize each style or article by brand, season, collection, and so on with the ultimate motive to be able to analyze business performances by season and brand. The other motivation is to be able to produce stock status by seasons for aging analysis.
Aralco POS for

Apparel
Aralco's apparel POS software supports an unlimited number of attributes with dimension tables for COLORS and SIZES such as Large, Medium, Small, or any other size coding.
The values in each dimension table are user-definable hence you can name them according to your requirement.

The Apparel POS software from Aralco supports up to 4 dimension tables per product or style. A product can be set up with one dimension table for COLOR only, while another can have two dimension tables (or more), for example with a COLOR and SHIRT SIZE table.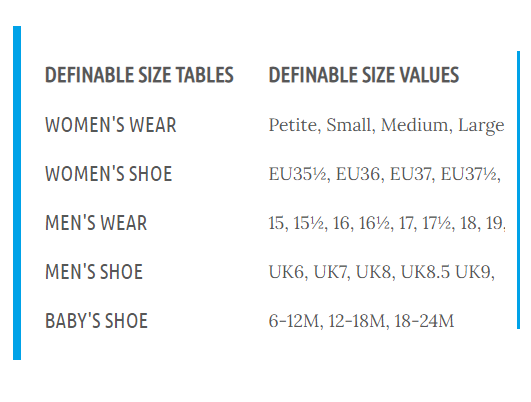 Other Important features from Aralco -
Season & Collection management
Customer Profiling
An optional module from Aralco enables the designing and creation of screens with user-definable data fields for capturing information about your customers such as their age group, occupations, favorite designs, colors, brands, or sizes they wore, and any other fields important for reporting, event targeting or EDM purposes - read more.