In response to market demand from retailers for a mobile solution, extensive R&D was undertaken by our development team in Canada resulting in the new  Aralco Mobile Systems.
Aralco Mobile System is the perfect on-the-go application for stock processing, sales transactions, or looking up information on inventory or customers suitable for pop-up stores, store-within-a-store, in-store add-on, trade show, or showroom. 
Using the latest in mobile development technology, the Aralco Mobile System links your mobile phones or any handheld computer terminals to communicate directly with the main central DB server.
PROCESS SALES ANYWHERE
Aralco Mobile POS solutions allow you to process and complete sales transactions anywhere your customers are on your IOS or Android devices. Simply scan SKUs, process payments, and print receipts with all the features you will need.
The Mobile POS software systems are designed to accommodate the whole spectrum of retailing capturing sales of any standard SKUs as well as those products sold in unique industries that require tracking inventory movements by serial numbers, color/size dimensions, and weight.
Transactions are synced in real-time from the mobile systems to the central DB server to update your sales, customer, and inventory status giving you full visibility across the entire business.

QUEUE BUSTING
Customers become frustrated waiting in checkout lines, especially when they only have a small number of items to purchase. With Aralco Mobile POS, store associates scan their items while customers are waiting in the queue, providing enhanced customer service and interaction during peak periods of business.
Customers welcome a faster and additional checkout process with Aralco Mobile Systems for queue busting which is bound to increase their overall satisfaction.
MANAGE INVENTORY INSTANTLY 
With the real-time connection to the central DB server, you can manage your inventory right from any Android or IOS device. Aralco Mobile application provides comprehensive Lookup functions letting you check information instantly on your customers, prices, and stock availability across your stores.
On top of this, you can use the mobile application for efficient stocktake counting or stock transfer processing connected directly to the DB server via mobile devices, paired with wireless barcode scanners. This saves precious time as users can now scan/save products from shelf to shelf and they no longer need to save data on separate portable data collectors for subsequent uploads to desktop computers.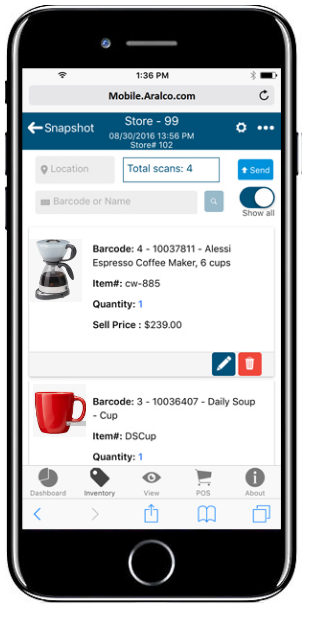 Inventory Lookup
Real-time inventory look-up for one or ALL store and/or warehouse locations.
Physical Counts
Physical Counts can be done with Bluetooth scanners which can verify the product information instantly including product image and other relevant information. 
Inter-store Transfers


Store Transfers can be done with Bluetooth scanners for output to any available network printers.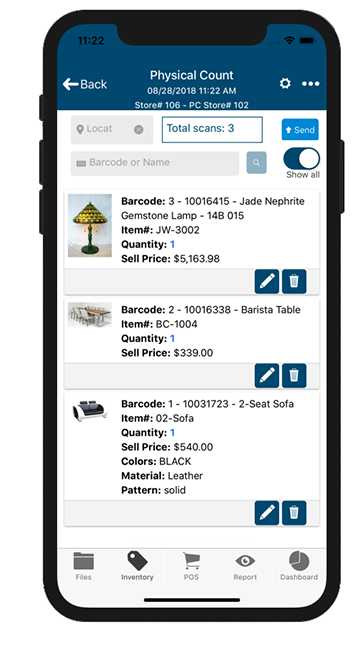 GET MORE, DO MORE ON THE GO!
Customer Purchase History Lookup
Customer Attachment
Product Lookup by Department
Remarks
Serial # Lookup and Sell By
Sales by Grid Matrix
Sales by Weights & Measures
Quote Entry and Transfer to Desktop System for Processing
Order Entry and Transfer to Desktop System for Processing
Gift Card Sales and Usage as a Tender Method
Assign Loyalty Points on Purchases and Usage as a Tender Method
---
WATCH VIDEOS -
---
---