Body: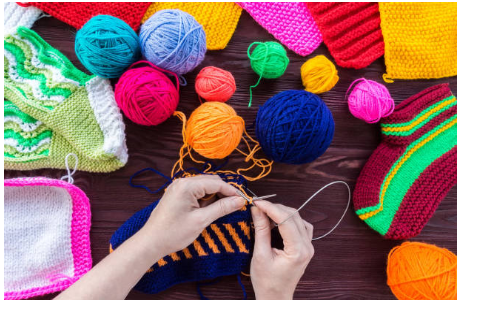 Aralco's point of sale software provides a powerful solution directly applicable to retail fabric and craft stores. Our POS software system provides an efficient way to manage your entire fabric and craft inventory that facilitates transactions with vendors and customers.
With the Aralco POS Solution for Fabric and Craft Stores, you can track inventory in any unit of measures such as the purchase by bolts, inventory by yards or meters, sell-by yard/meter/inches or centimeters.
Being able to quickly and efficiently identify your products and modify orders at the point of sale is an essential part of providing your customers with a quality experience and will increase your staff's efficiency.
Aralco POS Systems' features designed for fabrics, linens and craft stores include:
User-definable Units of Measures allow conversion from imperial measurements (yards, feet) to metric (centimeters, meters)
Purchase fabric by the bolt, assign retail price by the meter/ yard and sell by ft, cm, in, etc.
Grid matrix allows multiple dimensions (e.g. quilts can be defined by the volume of feathers, towels & sheets by thread-counts)
Non-grid inventory sales for products like thread, buttons, mattress covers and accessories
Wholesale Order Entry for large orders, shipping from various locations and sales on behalf of other locations
Order Management System for warehouse shipping alerts of available inventory and collection of order balance dues
Inventory lookup for multiple locations on one screen
Bolt location identifier within the same locations and inventory lookup by an individual bolt
Model Stock for re-stocking (Min/Max Reorder)
​
INVENTORY LOOKUP WITH REAL-TIME DATA
Comprehensive Inventory Lookup with real-time data on stock units at hand by style number with drill-down to colors and sizes available, movement by locations at any POS or Back Office System (BOS) workstations. Inventory Lookup is also available within the checkout process allowing the cashier to instantly engage the customer on the current stock availability.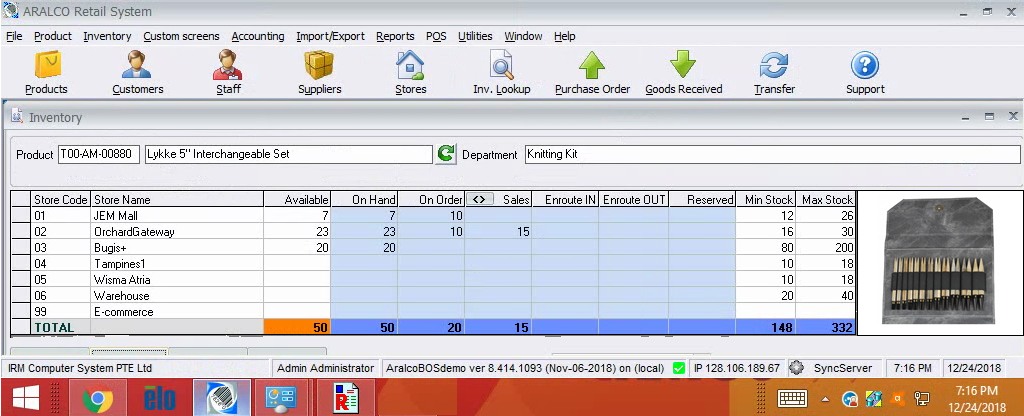 ​
AUTO STOCK REPLENISHMENT SOLUTIONS
This module is particularly a must-have tool for retailers with large inventory lines or a large network of stores as it can help recommend stock order or transfer requirements. The data generated is quick and accurate based on actual sales history, sales trend, stock at hand and numbers of days stock is required for. 
The three options available are:
Auto Purchase Orders  - for re-stocking goods
Auto Stock Transfer - allocation for a new shipment of goods
Auto Stock Transfer - stock balancing among stores to manage over/under stock and broken size/color
STOCK PROCESSING SOLUTIONS
Aralco Retail Systems comes complete with all the tools for your inventory needs in the Back Office Systems (BOS) application, available at any POS and BOS workstations. Most of the stock processing functions can be recorded using the standard keyboard, barcode scanners, portable data collectors or mobile devices (IOS and Android) :
Purchase Order (foreign and local currencies)
Goods Receiving
Inter-branch Transfer 
Stock Physical Count (full and cyclical)
Returns to Vendor
Quantity Adjustment
Average Cost Adjustment

Depending on your company policy, any of the above stock processing functions can be centralized or decentralized, and only authorized users are able to access each stock function.
PRODUCT LABELING SOLUTIONS
Aralco's Inventory software module comes with a versatile price labeling systems for printing barcoded price labels with a range of barcode thermal printers, and to any laser printer for A4-paper size labeling for the display shelves.
Each label format is user-definable while label rolls available on plain rolls and swing tags, and you can have as many label types or sizes needed for different product categories such as yarns, art paints, accessories, etc.
Aralco's labeling supports the following data outputs:
Alphanumeric product code or style numbers
System barcode number or manufacturer barcode number
The unlimited product description on multiple lines when required
Product categories such as brand, collection, etc
Product dimensions such as colors and sizes
Regular or markdown Prices
Electronic Shelf Labeling (ESL) is also available with Aralco Retail Systems, please click here for more information.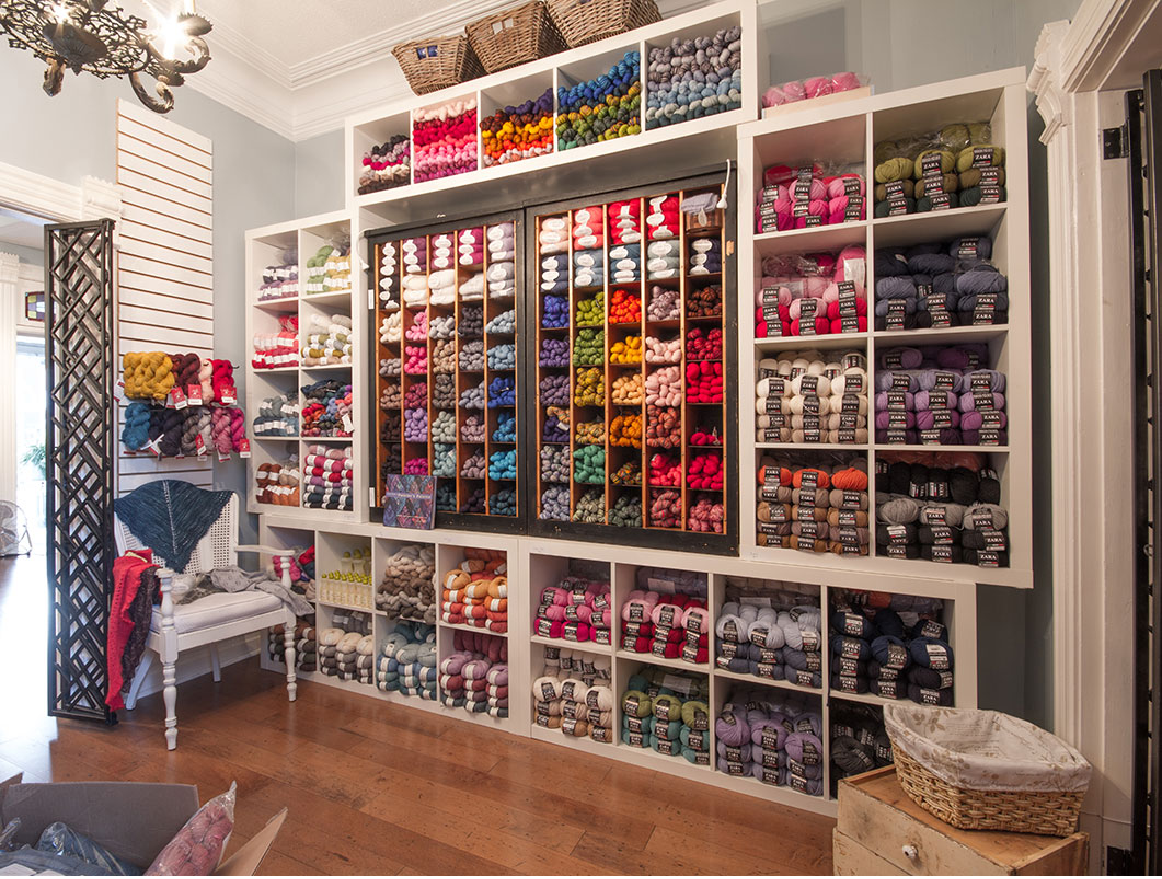 ENGAGE CUSTOMERS DEEPER WITH ARALCO'S CRM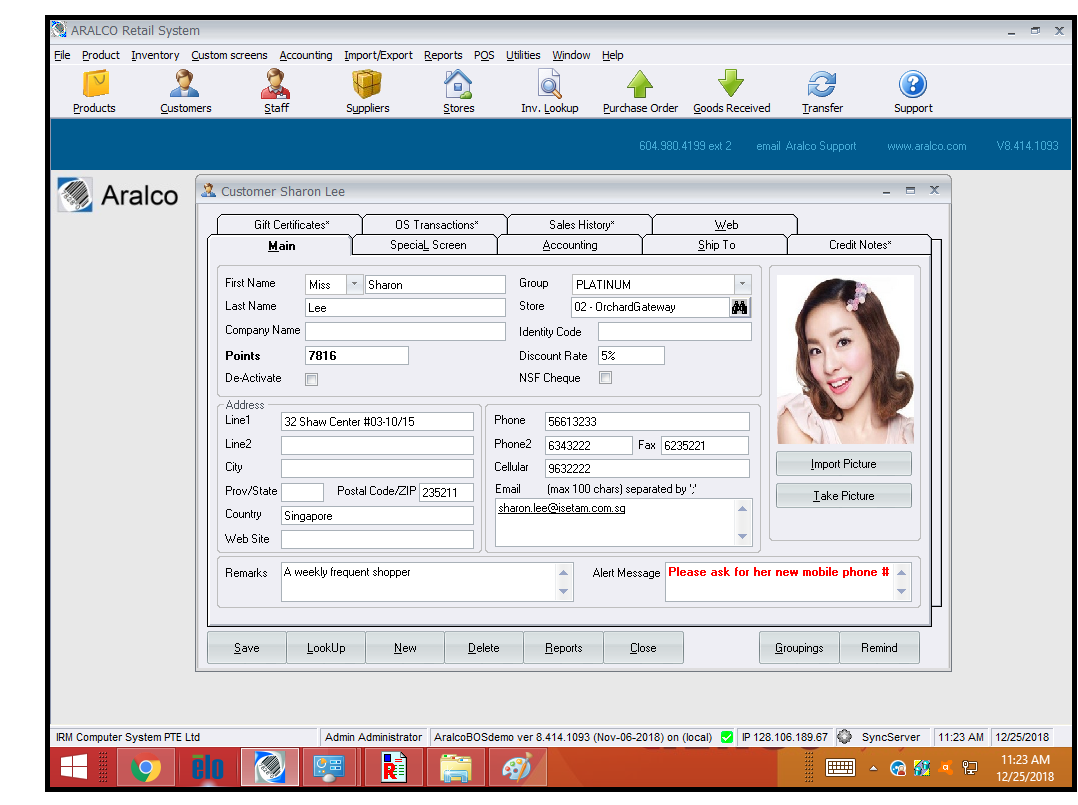 Aralco's CRM is extremely comprehensive and interacts with all modules and POS systems in real-time. With its customer-centric features, this tool can help boost profits in the long run by enhancing customer retention.
Read more about Customer Relationship Management (CRM) module and User-definable Data Fields (UDF) to capture any demographic information of your customers.
FEATURE-RICH FABRIC LINEN CRAFT POS SYSTEMS
Aralco Retail Point of Sale (POS) Software System runs in your retail stores with its own secured local database and functions independently of the central Back Office Server and fail-safe should there be Internet disruption.
Aralco offers comprehensive functionalities never available before in a single POS solution - easy to use and suitable for fabric, linen and craft retailers of any size.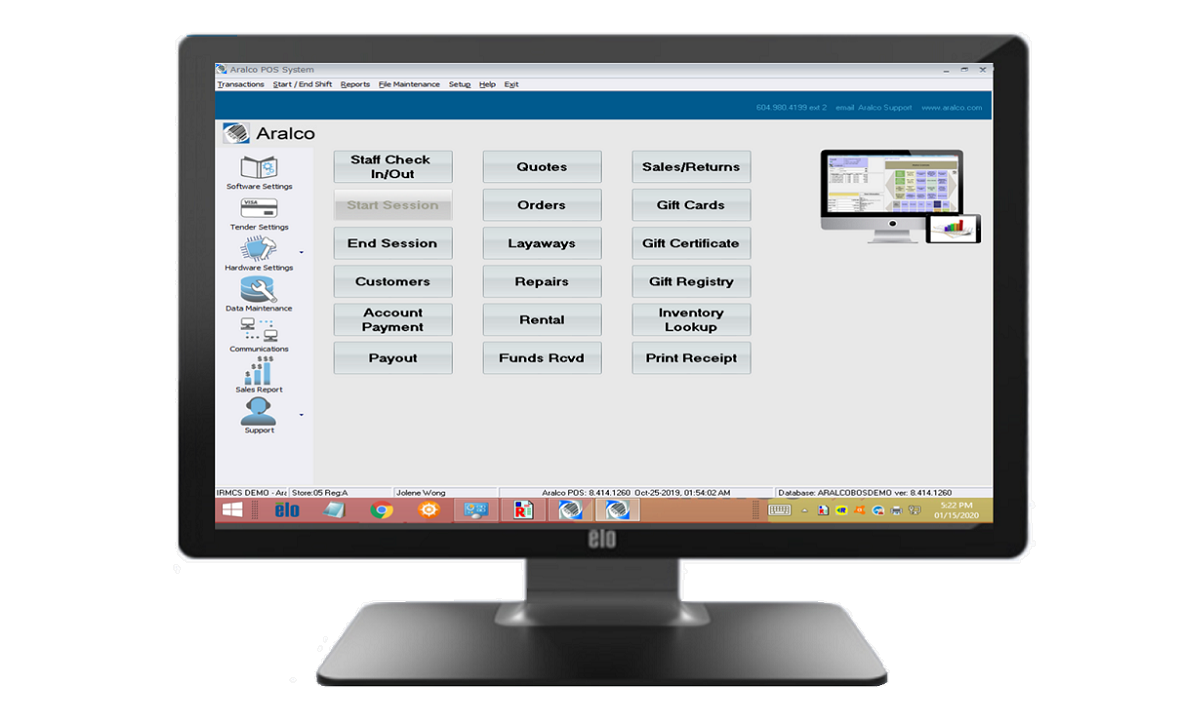 ​
CRAFT & GROW CUSTOMERS LOYALTY 
Create multiple rewards plans to attract new customers and drive up repeat visits to your stores.
Fully automated point calculation and redemption at each POS terminal - processed real-time seamlessly with data synchronized with the central Microsoft SQL database server and across stores via the Internet.
In-store loyalty card printing with member's photo and barcoded ID or magnetic stripe encoding

GIFT PROGRAMS BOOST FOOTFALL
Gift Card program - in-store prepaid stored-value money card redeemable at any POS station at any store location and any unused balance encourages repeat visits. 
Gift Certificate program with system generated ID number  (at the POS) with centralized redemption management at the back office, layered down to transaction date and receipt number

BUNDLES & MARKDOWNS
Package sales such as purchase a roll of fabric plus a craft kit basket get a bundle price
"Special price" control by time, the day of the week
Preset quantity discount by a group of items for upselling, example buy any defined 3 silk pillows for $69.90, save $18
The automatic discount of least performing products at a markdown price
CENTRALIZED PROMOTIONS AND MARKETING CAMPAIGNS
User-definable promotion name with preset start/end date and discount values filterable by brands, product categories, suppliers or range of SKUs
Gift voucher sales and redemption management
Discount coupon management
Email broadcasting for electronic direct mail to your targeted customer base such as regular newsletter, promotions, announcements, reward points statement
Conditional Promotions such as buy any three rolls of yarns get 20% off regular prices, etc
POS SECURITY FEATURES
Fingerprint scanning to identify staff for registering time attendance and log in at the point of sale 
Fingerprint scanning for access rights to controlled areas of the program at the point of sale
All back-office and POS critical functions are password-protected by user group
User-definable access levels ensure only authorized entry to specific areas 
Passwords and access levels can be changed from back office as and when required
USER-DEFINABLE REPORTING SYSTEMS
Stock aging and sell through analysis by season, collection, etc
Best & worst selling items report by style, color, size and other matrix options 
Inventory & sales report by matrix or non-matrix  
Staff Performance and commission
Profitability, cost of goods sold
Year on year, month on month analysis
Tabular, Matrix, Chart and Cube reporting formats
Report Scheduler
Interactive with Microsoft Outlook
Output report as HTML, CSV or to Microsoft Excel, Words and PDF 
Report security access rights by individual and group of employees 
ACCOUNT RECEIVABLES 
Manages deposits, credit limit, credit note, payment status of invoices and sales orders to generating Statement of Accounts.
Accounting interface options to Accounts Payable and General Ledgers
Read more about Aralco POS Systems | Interface Options List  | E-commerce Integration
---
Contact IRMCS for more information.
---