Aralco Report Engine is feature-rich and easy-to-use with real-time and extensive capabilities for producing accurate and superior reports with in-depth analysis so that you can make timely and correct decisions. There are over 100 standard reports that can be further modified to user specifications.
With its user-definable tool to create your own custom or modify reports, extracting any data for reporting is no longer an onerous task for your back-office employees. Aralco Reporting Engine is the perfect data analytics tool for retailers and it will save you countless man-hours preparing reports for analytics every day and periodically.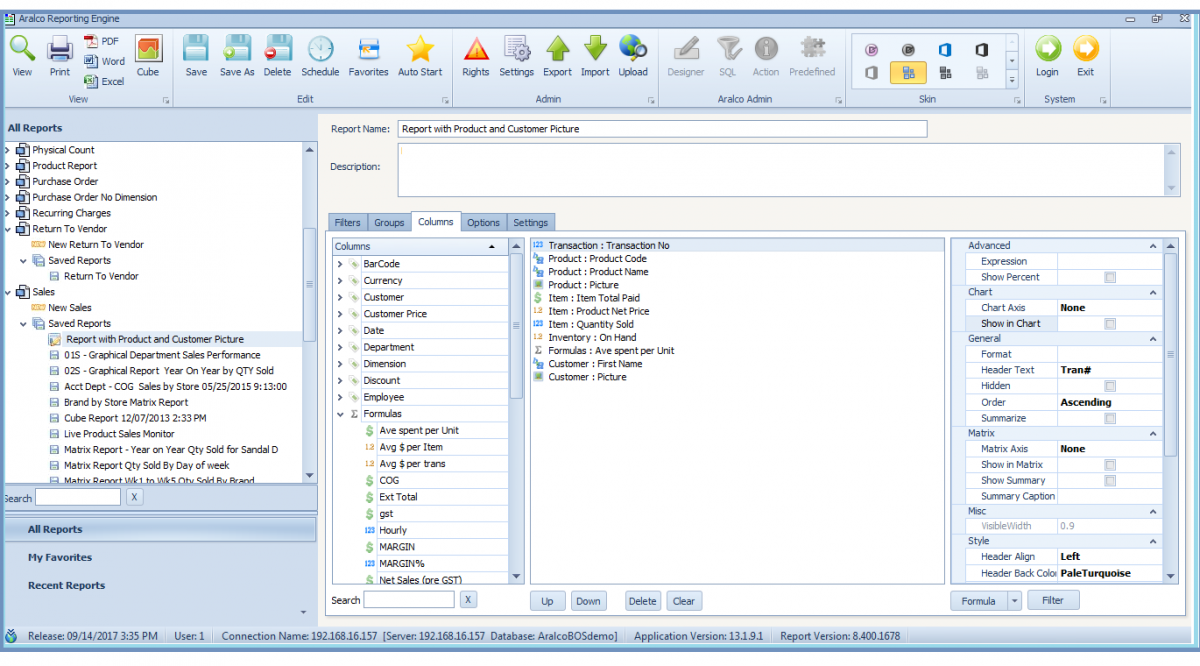 BUILD YOUR OWN REPORT 
You can design a new report on your own easily without the need for costly customization by programmers. Simply use the following tab options to create one quickly or whenever you need to make changes to any existing reports: 
| | |
| --- | --- |
| | FILTERING TAB |
|   | where you define the date range, include and exclude location, brand, department, season, customer type, supplier, etc/ |
| | GROUPING TAB |
|   |  where you specify the grouping for summarizing data by groups such as location, customer, department, supplier, brands season, or any categories |
| | COLUMN TAB  |
|   | where you can define to insert any fields/values in the columns of the report such as Product Code/Name, Cost of Sales, GP%, Margins, Quantity At Hand, etc and frequently used formulas like "Sell Through Rate", "Stock Valuation", "Commission Calculations", "Average Spending". |
REPORT FORMATS AND USAGES
Real-time reporting is another key feature in Aralco Retail Systems, and it comes with the following comprehensive report formats for you to choose from to meet all your reporting requirements: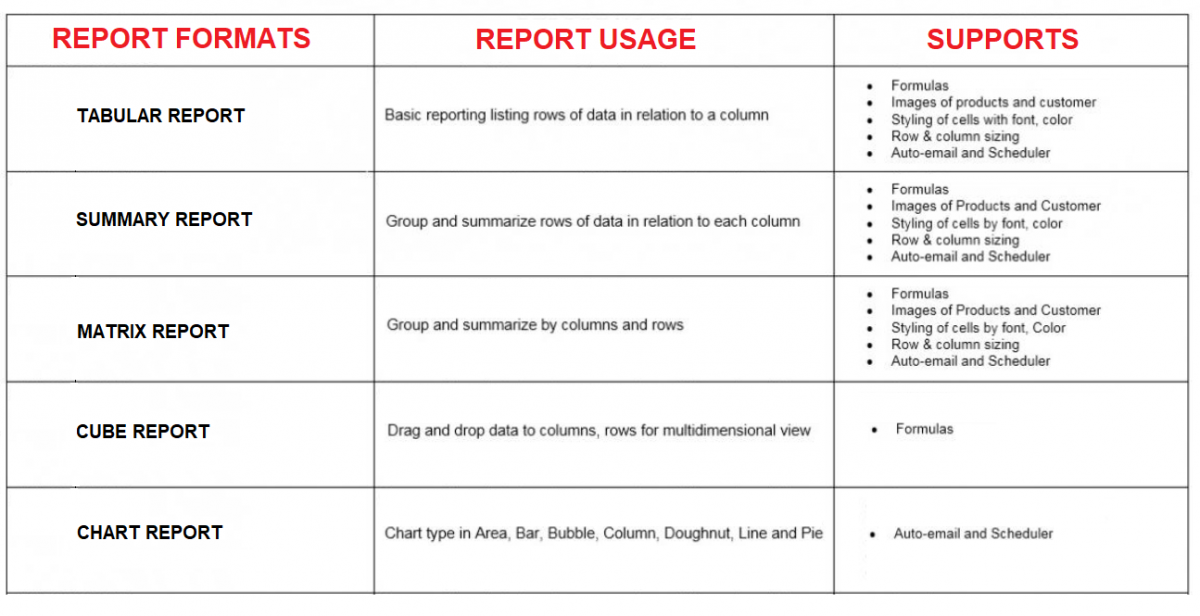 TABULAR REPORT


IS THE MOST BASIC FORMAT

 

 

A tabular report is the most basic type of report you can build and the report output is organized with a single column header with a multirow of data.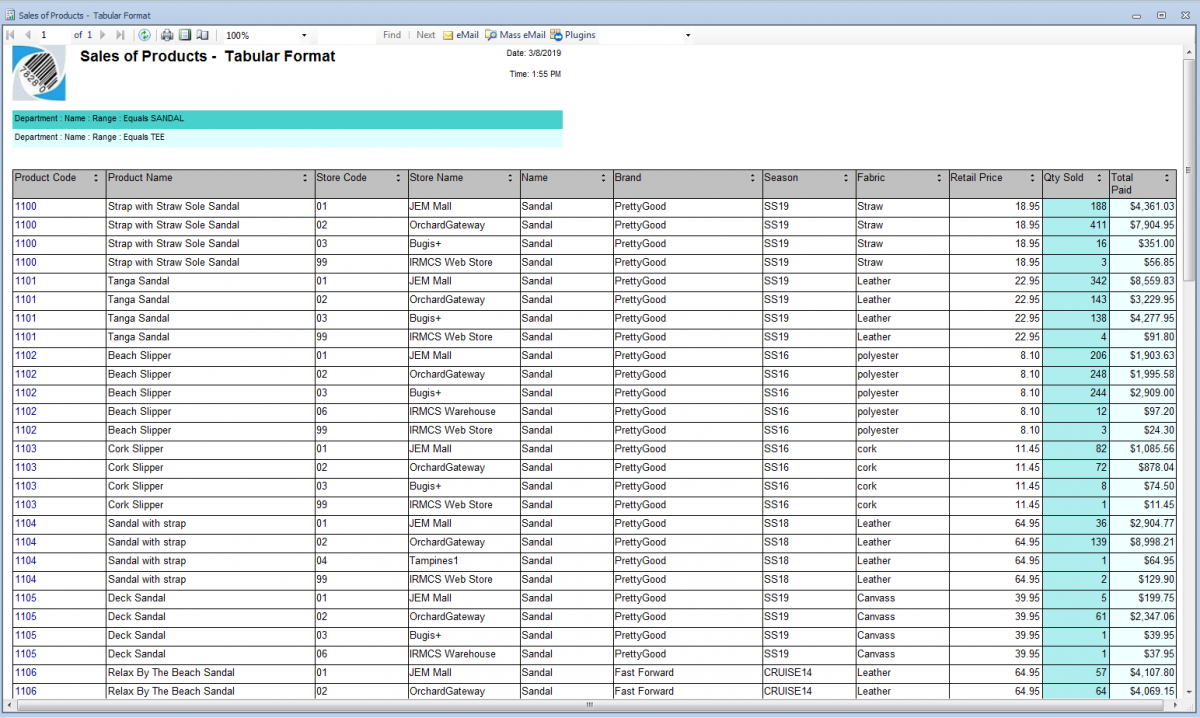 SUMMARY REPORT

 FORMAT 

 

Summary Report is similar to Tabular Reports and you can configure these reports to group by rows of data but with the same column header - below is an example with images included in the report.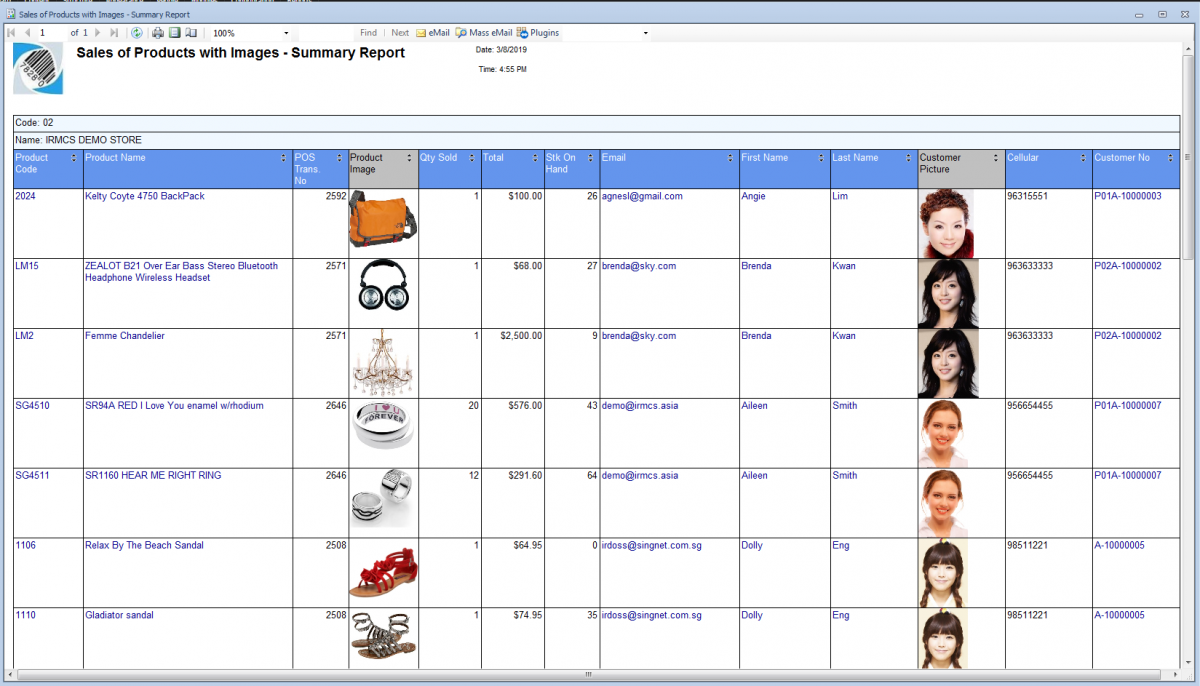 MATRIX REPORT

FORMAT
IS LIKE A PIVOT TABLE

 

Matrix Report is very similar to a table, but it is configured to show data grouped by columns and rows, with aggregate data at the intersections. Some of the data you might expect to see in a row can actually become a column header. This format is similar to a crosstab or pivot table in a spreadsheet.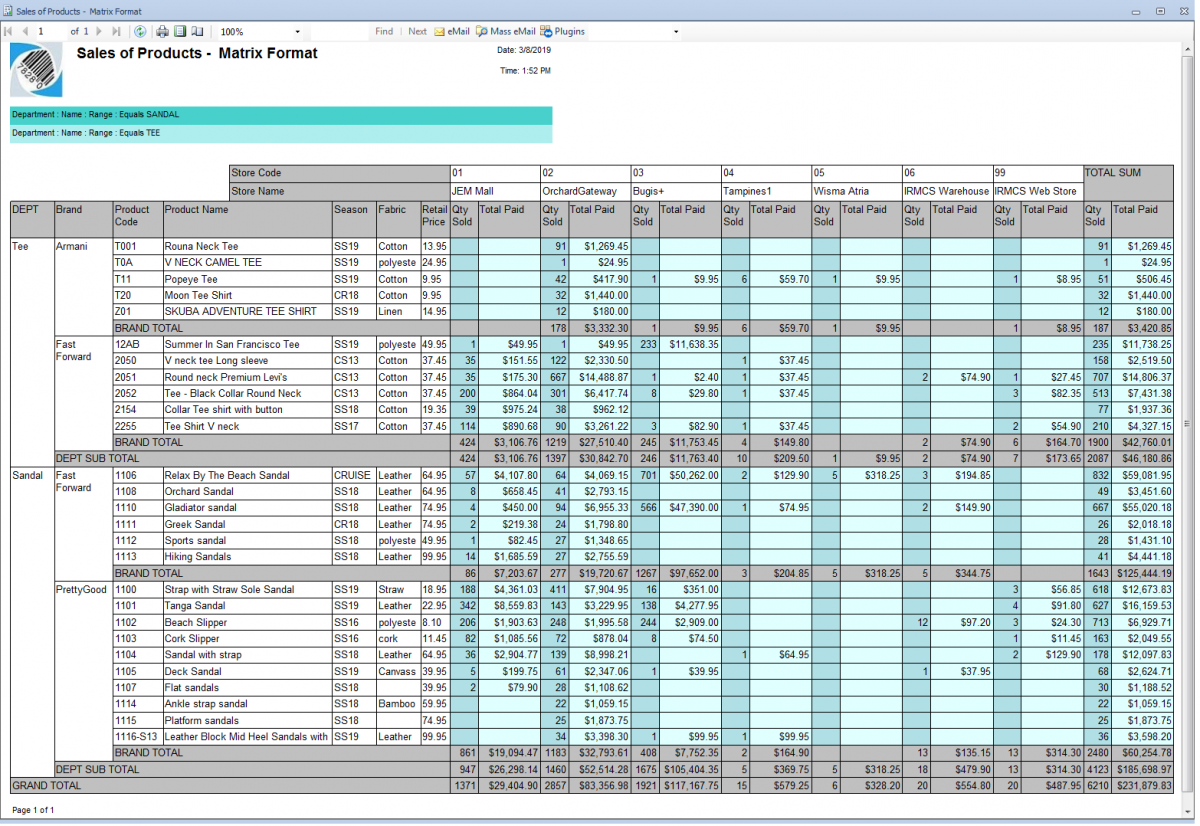 CHART REPORT

FORMAT
WITH VARIOUS CHART OPTIONS

 

 

Chart Report shows data in the form of areas, bars, columns, lines, and other shapes.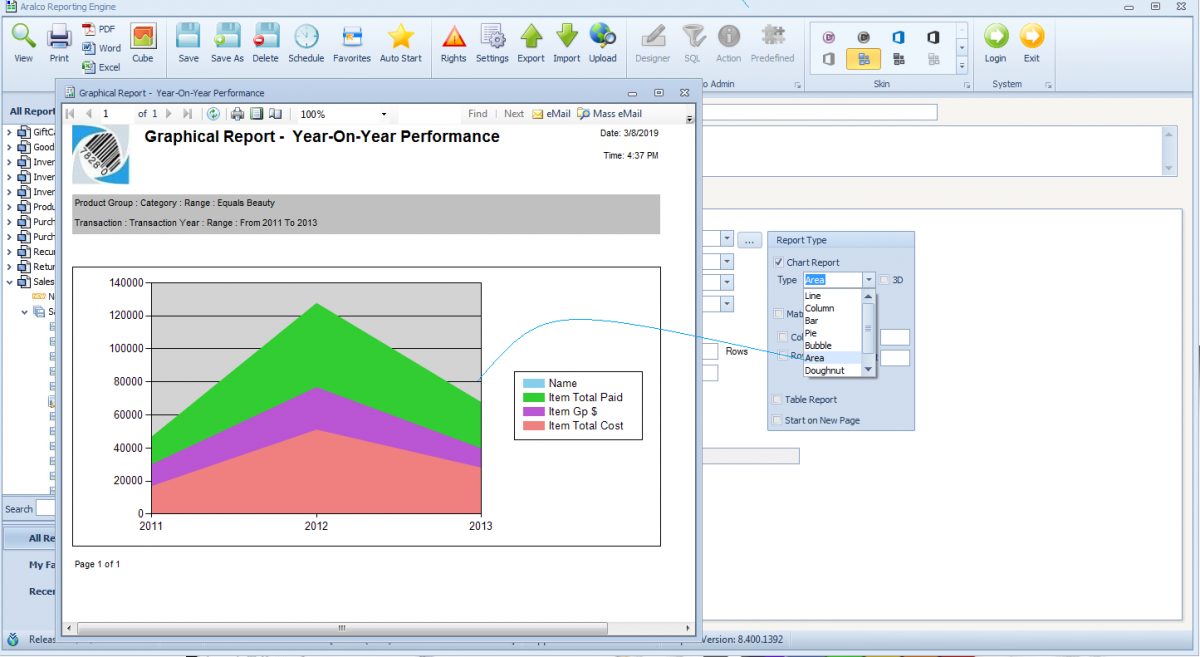 YEAR-OVER-YEAR (YOY) ANALYTICS  
There is no limit to the size of the central database, as a result, Aralco Back Office Systems is built without the necessity for tasks like month-end or year-end processing. Therefore, you can keep valuable data month after month, year after year for historical lookup and create reports to analyze Month-Over-Month and YOY performances of your stores, merchandise, categories, suppliers, brands - in fact, on anything stored in the SQL database.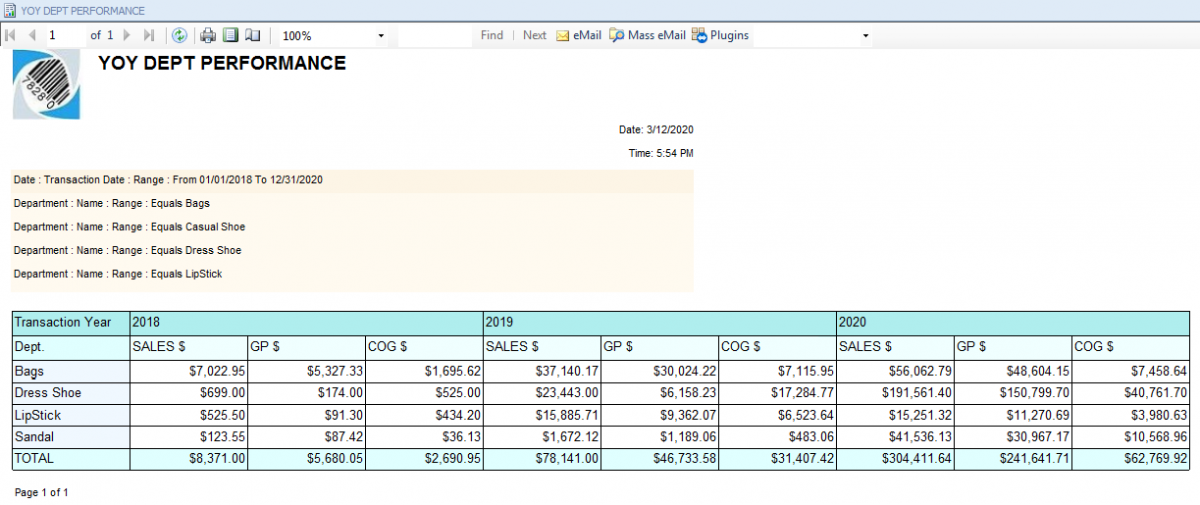 REPORTING INTERFACE

TO
MICROSOFT OUTLOOK, EXCEL, WORD, PDF 

All Aralco reports are prepared as HTML (or ASCII) files and readily convertible with a click of a button to Microsoft (MS) Excel, MS Word or PDF format, wherein any MS documents, you can make a modification such as your own presentation or applications of formulas and other calculations.
For mass price updates or markdowns, Aralco exports the selected product range (by Supplier, Department, Group, etc.) into Excel where you can easily manipulate the data at your convenience, then simply re-import your changes back into Aralco with a simple click. The product price information residing on the Aralco system will then be replaced by your Excel entries.
WATCH VIDEO

ON ARALCO REPORTING ENGINE
---