Body: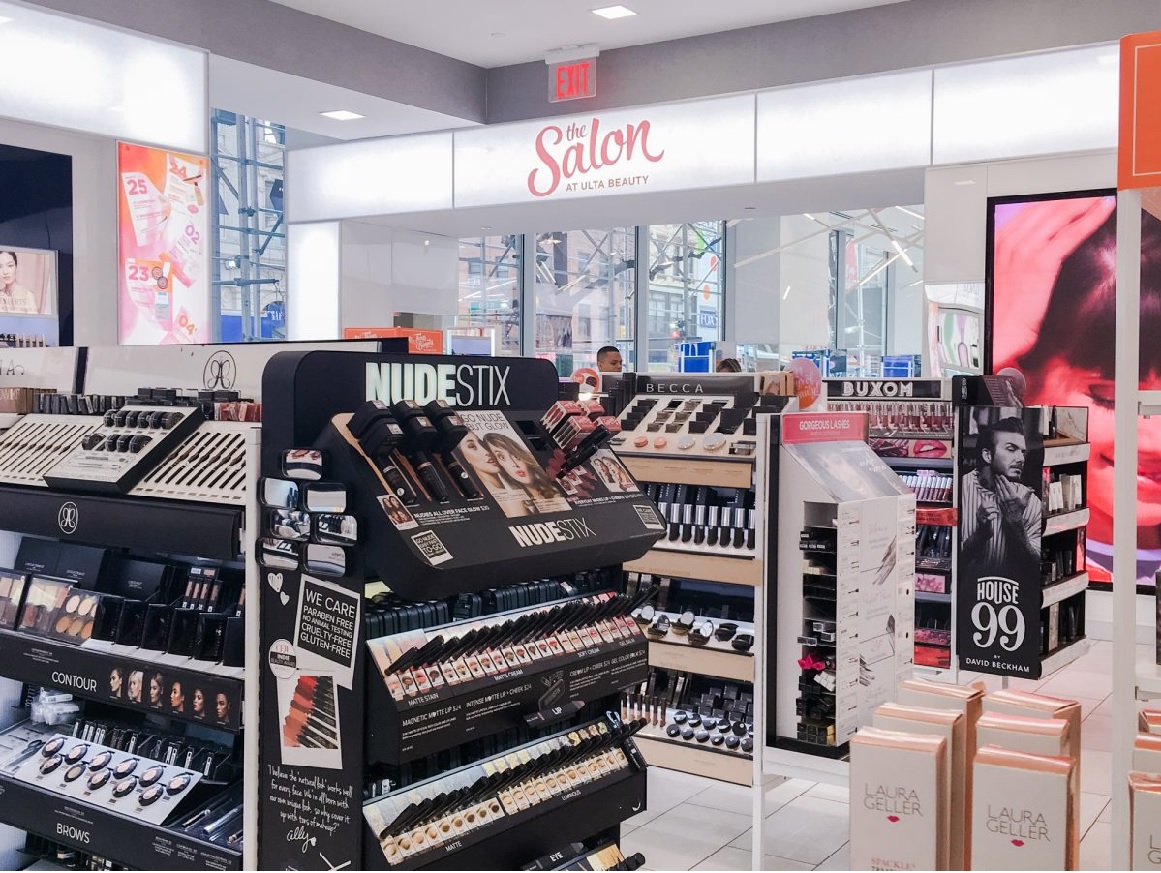 Organizing and tracking inventory for a cosmetics store or pharmacy is very challenging without a computerized cash register. Aralco POS makes it easy to sell items in packages and also control your entire inventory. Our automated inventory tracking and purchasing offer improved order accuracy and quick responses to customer trends.
Cosmetics and pharmacy inventory consists of many small items scattered throughout the store that would be hard to keep track of, and Aralco's point of sale software has been written with this in mind.
Many functional features were built to keep your customers coming back with our customer loyalty program and powerful promotional tools to create irresistible offers and deals such as coupons, quantity discount groups, product bundling and more.
Aralco POS features designed for Pharmacies and the Cosmetics industry include:
Colour Matrix available (e.g. for lipstick, nail polish) to create ONE product with multiple "Colour" attributes
Product ingredient list available to store and print on customer receipts or for review
Customer database tracks purchases supporting product recommendations
Patient Profile to track allergies, specific products used or avoid and recipes record to allow repeat purchases
Message pop-ups at the point of sale warning of drug allergies, reactions, etc.
Package sales and Kitting allow selling products in theme baskets
Aralco has a feature to link the pharmacy prescription receipts to the Aralco POS System in the North American market. This will enable the operator to scan the barcode printed by the "Pharmacy System" (linked to the Medical Plan System), pick up prescription's total value and add it to the Aralco transaction and receipt under a "Prescription" product code which is added to other in-store purchases made through Aralco.
E-commerce links website to warehouse eliminating the need for double entry of orders, simplifying shipping
By using the "sub-grouping" capability of the Aralco Back Office, you can select the "Number of pills per bottle" as well as the "Daily Dosage". When a customer purchases that product, the date of the transaction is recorded and a preset Report can then show all the customers' past purchases and display a list of customers who will be running out of the pills in the upcoming few days. This report can then be used with Aralco's automated target marketing email system that can notify those customers and remind them to come in and refill their prescription/ supplements as they would be running out in say, 8 days.
Model Stock for re-stocking (Min/Max Reorder)
MULTI-LOCATION & REAL-TIME INVENTORY LOOKUP
Inventory Lookup with real-time data is available at the POS or at any BOS workstations showing stock units at hand for any SKU and its movement by location.
Hence your employees and cashiers are able to engage customers with current stock information, and at the same time managers have access to real-time stock status at every store to ensure optimal stock level.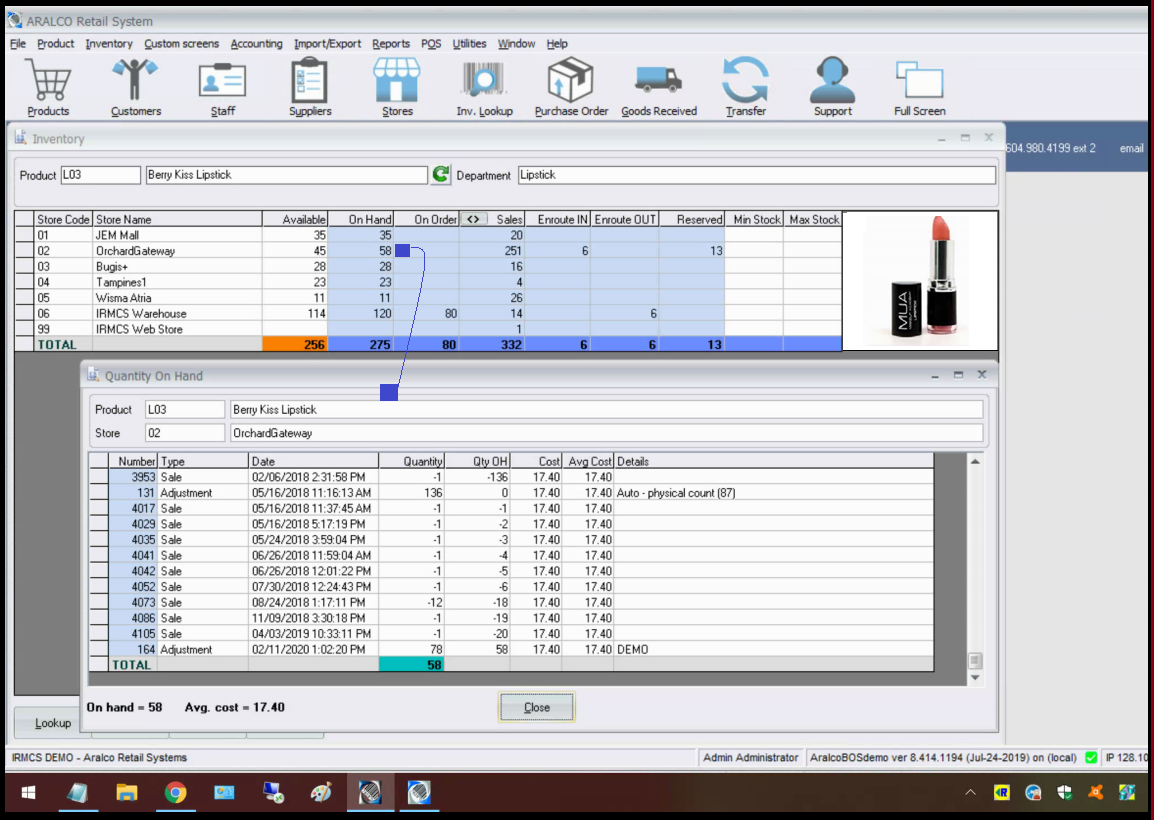 EXPIRY & LOT # INVENTORY LOOKUP
Expiry and Traceability Inventory module is available for tracking products with expiry periods or dates (one or as the first dimension) and lot numbers (as the second dimension if traceability is required). Hence you can create a new product with one or two dimensions.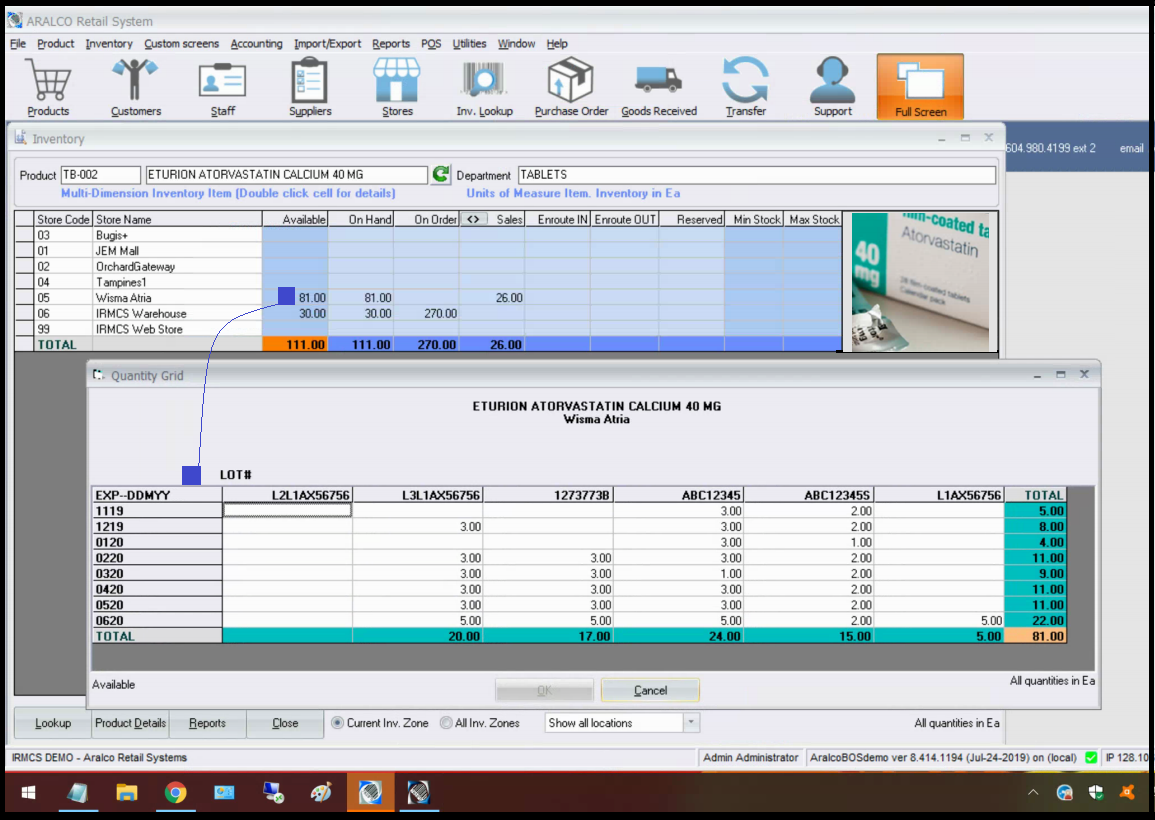 AUTO STOCK REPLENISHMENT SOLUTIONS
This module is particularly a must-have tool for retailers with large inventory lines or a large network of stores as it can help recommend stock order or transfer requirements. The data generated is quick and accurate based on actual sales history, sales trend, stock at hand and numbers of days stock is required. 
The three options available are:
Auto Purchase Orders  - for re-stocking goods
Auto Stock Transfer - allocation for a new shipment of goods
Auto Stock Transfer - stock balancing among stores to manage over/under stock and broken size/color
STOCK PROCESSING SOLUTIONS
Aralco Retail Systems comes complete with all the tools for your inventory needs in the Back Office Systems (BOS) application, available at any POS and BOS workstations. Most of the stock processing functions can be recorded using the standard keyboard, barcode scanners, portable data collectors or mobile devices (IOS and Android) :
Purchase Order (foreign and local currencies)
Goods Receiving
Inter-branch Transfer 
Stock Physical Count (full and cyclical)
Returns to Vendor
Quantity Adjustment
Average Cost Adjustment

Depending on your company policy, any of the above stock processing functions can be centralized or decentralized, and only authorized users are able to access each stock function.
PRODUCT LABELING SOLUTIONS
Aralco's Inventory software module comes with a versatile price labeling systems for printing barcoded price labels with a range of barcode thermal printers, and to any laser printer for A4-paper size labeling for the display shelves.
Each label format is user-definable while label rolls available on plain rolls and swing tags, and you can have as many label types or sizes needed for different product categories such as lipsticks, facial cleansers, perfume, drugs, accessories, etc.
Aralco's labeling supports the following data outputs:
Alphanumeric product code or manufacturers' article numbers
System barcode number or manufacturer barcode number
The unlimited product description on multiple lines when required
Product categories such as brand, collection, etc
Product dimensions such as colors and sizes
Regular or markdown Prices
Electronic Shelf Labeling (ESL) is also available with Aralco Retail Systems, please click here for more information.
ENGAGE CUSTOMERS DEEPER WITH ARALCO'S CRM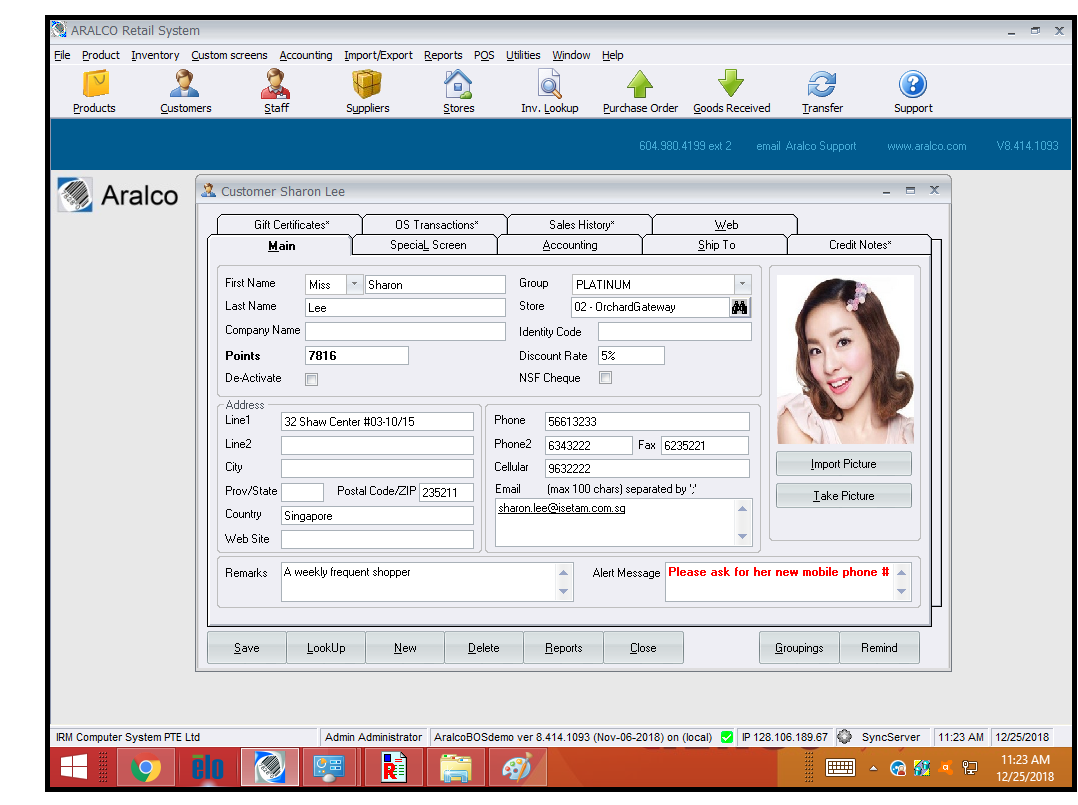 Aralco's CRM is extremely comprehensive and interacts with all modules and POS systems in real-time. With its customer-centric features, this tool can help boost profits in the long run by enhancing customer retention.
Read more about Customer Relationship Management (CRM) module and User-definable Data Fields (UDF) to capture any demographic information of your customers.
FEATURE-RICH COSMETIC & PHARMACY POS SYSTEMS
Aralco Retail Point of Sale (POS) Software System runs in your retail stores with its own secured local database and functions independently of the central Back Office Server and fail-safe should there be Internet disruption.
Aralco offers comprehensive functionalities never available before in a single POS solution - easy to use and suitable for fabric, linen and craft retailers of any size.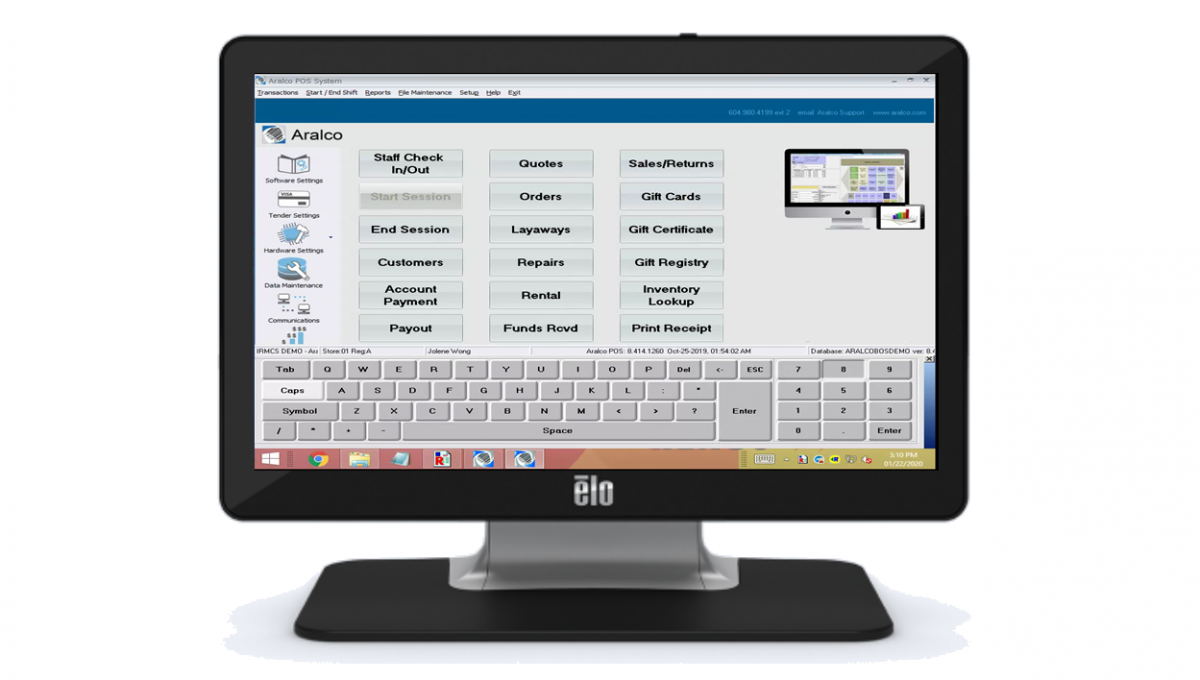 ACCOUNT RECEIVABLES 
Let Aralco manages and tracks your receivables, any outstanding payments from your customers seamlessly as the POS software is fully integrated with the Aralco back-office systems' accounting.
Manages payment status and aging of invoices to generating Statement of Accounts.
Accounting interface options to Accounts Payable and General Ledgers
START BUILDING CUSTOMER LOYALTY 
 
Aralco POS comes standard with a Loyalty Program to help you win over your customers' loyalty - you can create multiple reward plans to attract customers and drive up repeat visits to your stores.
Automated point calculation and redemption at each POS terminal, processed real-time seamlessly with data synchronized with the central Microsoft SQL database server across stores via the Internet.
In-store loyalty card printing with member's photo and barcoded ID or magnetic stripe encoding or QR codes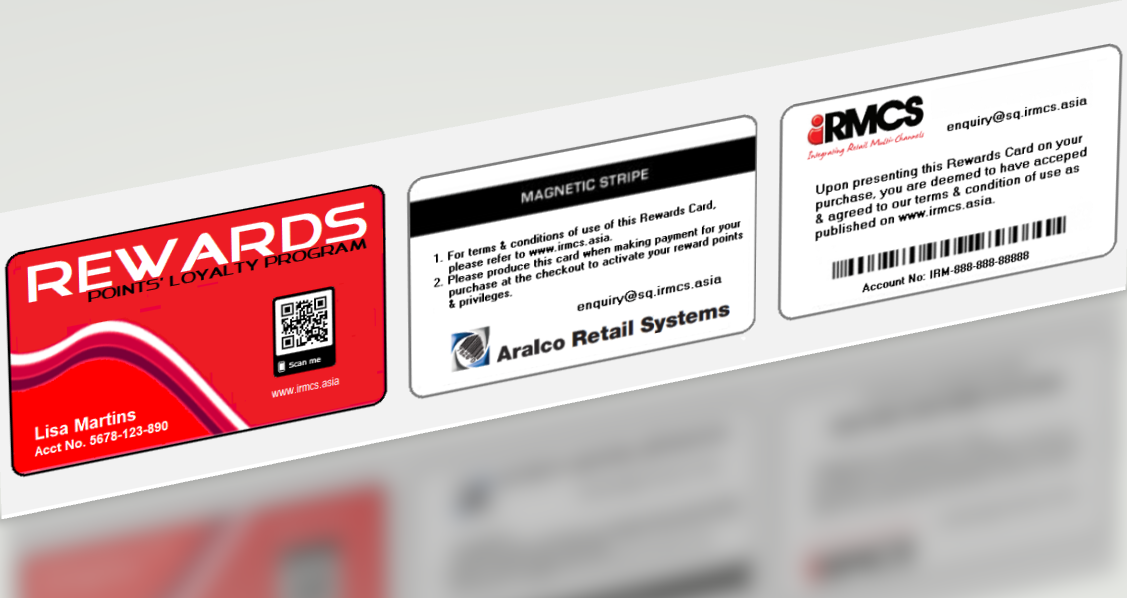 GIFT CARD BOOSTS NEW FOOTFALLS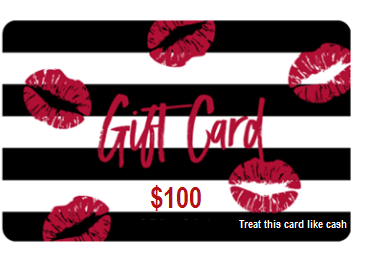 Gift Card is the perfect gift solution for your customers which also benefits you with advance payment when you start to sell gift cards at your stores.
Your existing customers buy the Gift Card at a value of their choice as a gift for friends or family members, and as a result, recipients of gift cards become your new customers.
Therefore, Gift Card generates new footfalls for your business and increases sales revenue from the day they check out your store.
Gift Card can be redeemed in part value and this gives recipients another good reason to come back to your store - read more about selling & redeeming Gift Card at the store POS.
​
ENTICE CUSTOMERS WITH IRRESISTIBLE OFFERS & DEALS 
Aralco Retail Systems has all the tools for upselling bundles, quantity discounts, markdowns, and all sorts of promotions that are centrally managed so that you can entice your customers with irresistible offers every day of the week.
Package for selling product bundling, set meals, etc
Sales of kit set such hampers, gift baskets with inventory auto-deduct or pre-assembled - read more
"Happy hour" price control by time, the day of the week, for example, buy any beer from 5 pm to 7 pm gets 50 cents off per bottle or can
 
Quantity discount for a group of SKUs or single SKU for example, buy an avocado at $3.90 and buy 3 avocados for $10 - read more
The automatic discount of perishable products by time, the day of week i.e Quick Sell 30% Off or at a markdown price
Coupons with purchase value and date validations - read more
 
Date-sensitive promotion for selected SKUs filtered by brands, suppliers or any categories - read more
Conditional promotions - set rules for any mix and match conditions such as buy any 3 bottles of red wine gets a bottle of Bombay Sapphire gin at 25% off  

- read more
DATA & USER ACCESS SECURITY 
The user access security in Aralco Retail Systems is role-based, simply assign each user to a user-defined BOS (Back Office Systems) and POS user groups such as Sales Associates, Supervisors, Store Managers, etc.
Within each BOS or POS group, you can enable or disable functions for users in the respective checklist - read more.
Aralco POS has an option for fingerprint scanning to identify staff for time attendance, log in and access rights to void transactions, refunds, discount, etc - read more
Employees at the retail store are able to log in to the BOS to perform tasks they are authorized to do so such as stock transfers or adjustments, print barcode labels, raise a purchase order to suppliers, etc
Passwords and access levels can be changed from back office as and when required by your back office administrator
USER-DEFINABLE REPORTING SYSTEMS
Aralco Reporting Engine comes standard with 150 standard reports which are user-definable and you can create new reports easily on your own without any programmers. Important reports such as Sell Through and Stock Ageing by seasons are available.
Here are some of the key features for flexible and deep reporting:
Tabular, Summary, Matrix, Chart & Cube reporting options
Create your own formulas in the reports
Report E-mail Scheduler
Supports images of products and customers
Interactive with Microsoft Excel, Outlook, Word and PDF
BI Dashboard (Microsoft Power BI)
Your back office administrator can set up security access rights on reports by divisions of your company such purchase department, accounts department, etc as well as by individual employees.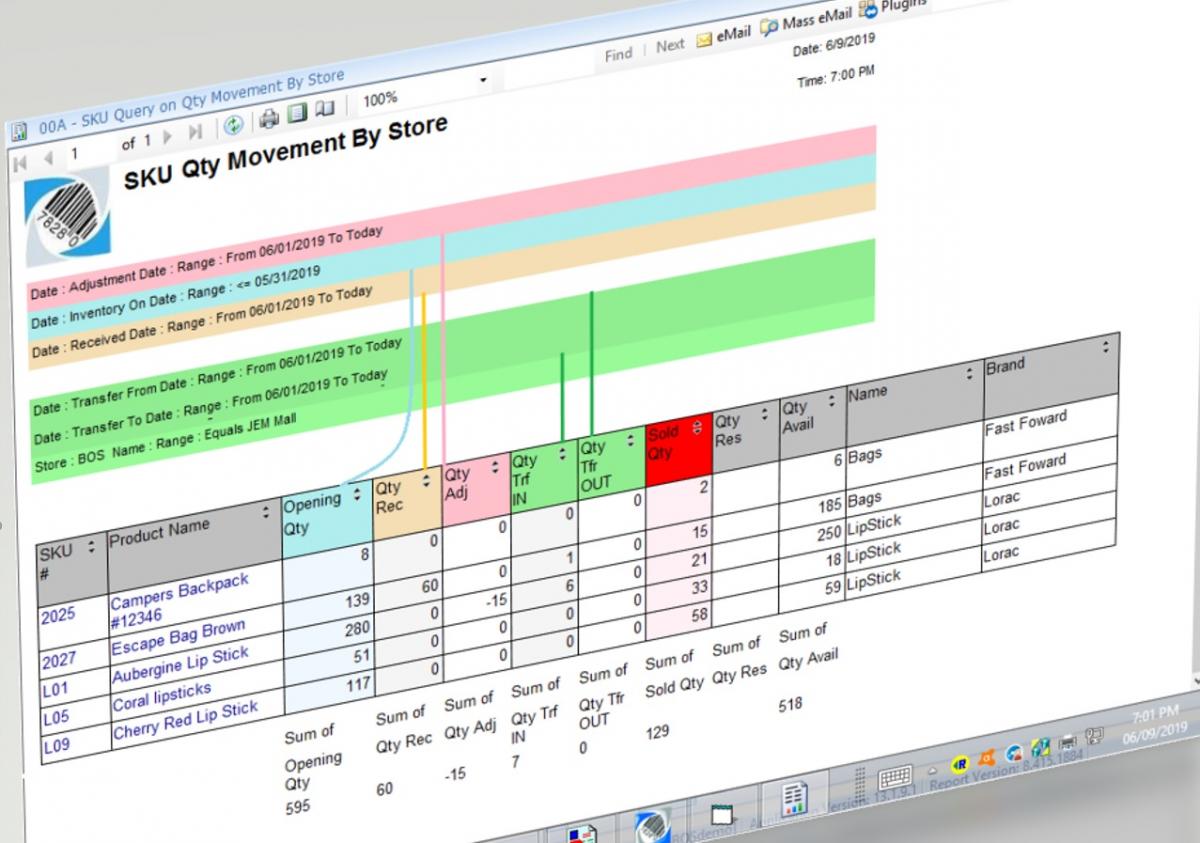 Read more about Aralco POS Systems | Interface Options List  | E-commerce Integration
---
Contact IRMCS for more information.
---