Body:

Organizing and tracking inventory for a cosmetics store or pharmacy is very challenging without a computerized cash register. Aralco POS makes it easy to sell items in packages and also controls your entire inventory. Our automated inventory tracking and purchasing offer improved order accuracy and quick responses to customer trends.
Cosmetics and pharmacy inventory consists of many small items scattered throughout the store that would be hard to keep track of, and Aralco's point of sale software has been written with this in mind.
Many functional features were built to keep your customers coming back with our customer loyalty program and powerful promotional tools to create irresistible offers and deals such as coupons, quantity discount groups, product bundling, and more.
Features perfect for
Cosmetic and pharmacy retailing

Colour Matrix available (e.g. for lipstick, nail polish) to create ONE product with multiple "Colour" attributes

Product ingredient list available to store and print on customer receipts or for review

Customer database tracks purchases supporting product recommendations

Patient Profile to track allergies, specific products used or avoid and recipes record to allow repeat purchases

Message pop-ups at the point of sale warning of drug allergies, reactions, etc.

Package sales and Kitting allow selling products in theme baskets

E-commerce links website to warehouse eliminating the need for double entry of orders, simplifying shipping

Model Stock for re-stocking (Min/Max Reorder)
pharmacy's prescription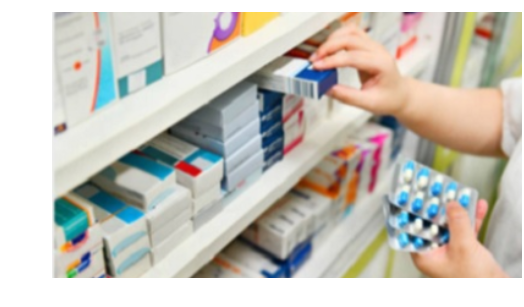 Aralco has a feature to link the pharmacy prescription receipts to the Aralco POS System in the North American market. 
This will enable the operator to scan the barcode printed by the "Pharmacy System" (linked to the Medical Plan System), pick up the prescription's total value, and add it to the Aralco transaction and receipt under a "Prescription" product code which is added to other in-store purchases made through Aralco.
By using the "sub-grouping" capability of the Aralco Back Office, you can select the "Number of pills per bottle" as well as the "Daily Dosage". 
When a customer purchases that product, the date of the transaction is recorded, and a preset Report can then show all the customers' past purchases and display a list of customers who will be running out of the pills in the upcoming few days.
This report can then be used with Aralco's automated target marketing email system that can notify those customers and remind them to come in and refill their prescription/ supplements as they would be running out in say, 8 days.
MULTI-LOCATION &

REAL-TIME

INVENTORY LOOKUP

 

Inventory Lookup with real-time data is available at the POS or at any BOS workstations showing stock units at hand for any SKU and its movement by location.

Hence your employees and cashiers are able to engage customers with current stock information, and at the same time managers have access to real-time stock status at every store to ensure optimal stock level.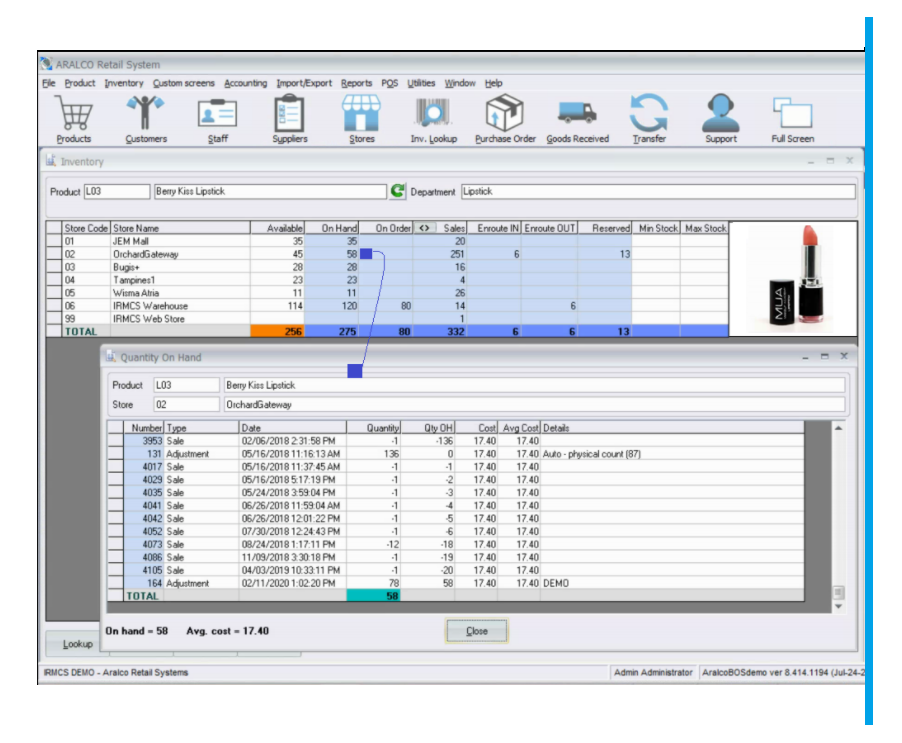 EXPIRY & LOT # INVENTORY LOOKUP
Expiry and Traceability Inventory module is available for tracking products with expiry periods or dates (one or as the first dimension) and lot numbers (as the second dimension if traceability is required). Hence you can create a new product with one or two dimensions.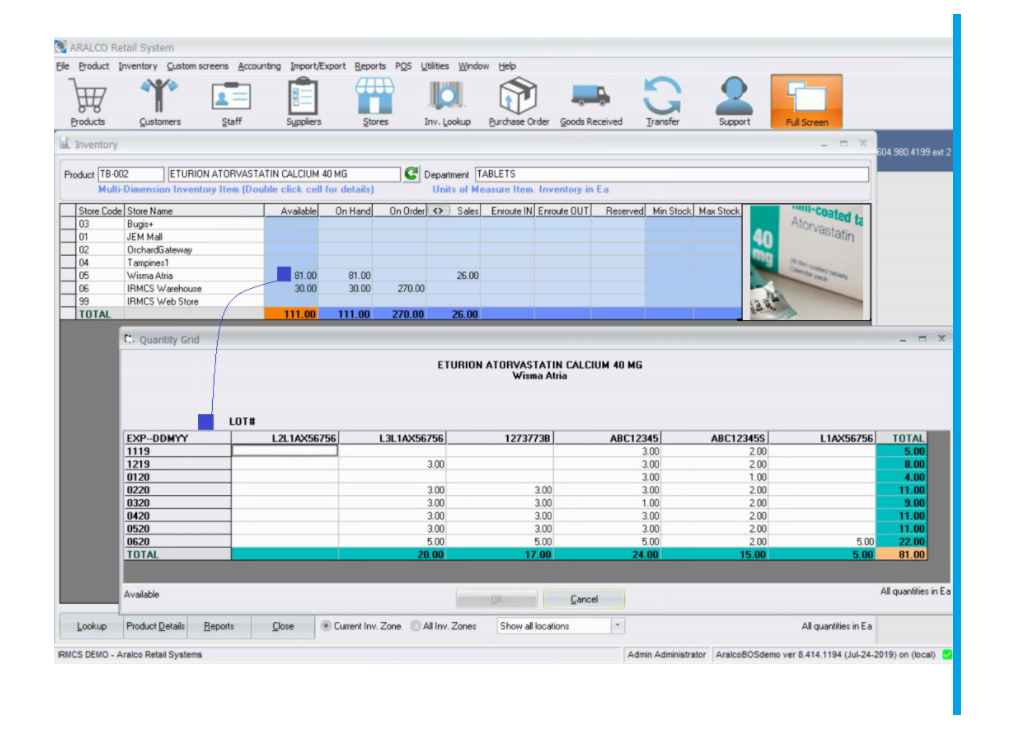 FEATURE-RICH

COSMETIC &
PHARMACY

POS SYSTEMS

 

Aralco Retail Point of Sale (POS) Software System runs in your retail stores with its own secured local database and functions independently of the central Back Office Server and is fail-safe should there be Internet disruption.

Aralco offers comprehensive functionalities never available before in a single POS solution - easy to use and suitable for cosmetic and pharmacy retailers of any size.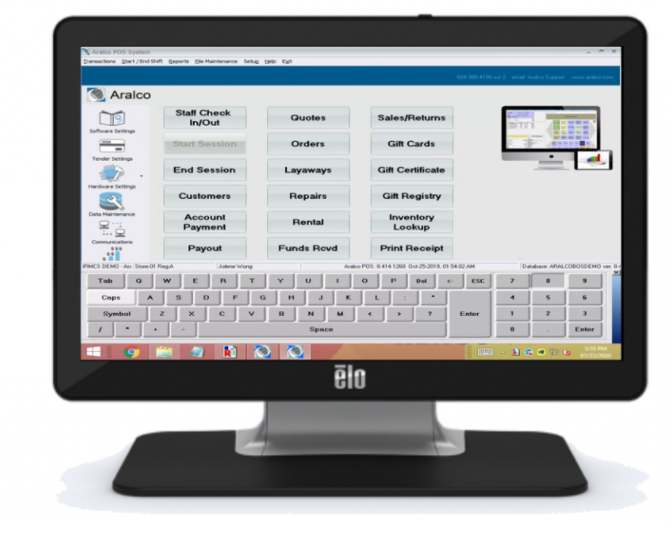 Friendly UI - anyone can learn to use it in minutes

Ease of use with touchscreen option 

Multiple shifts per POS

Float and cash denomination counts

Interface option to Closed Cash system   

Order and delivery management

Comprehensive product search 

Comprehensive customer search options

Gift Receipt

Hold and retrieve transactions

POS Item Menu for setting up touchscreen fast buttons 

20 payment types - support split payments

Access to stock transfer, stock receiving, stock count processing

Access to back-office reporting on sales and stock performances
START BUILDING CUSTOMER LOYALTY
TO GROW MORE PROFIT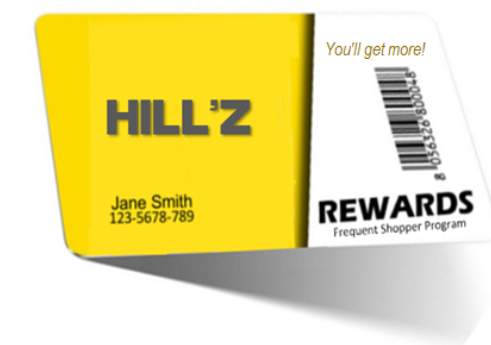 ​Loyalty Program is a standard feature in Aralco and it is fully integrated with the Back Office and POS Systems, making it possible for retailers to implement their very own in-house Frequent Shopper Reward Systems.
Create multiple rewards plans to attract new customers and drive up repeat visits to your stores.
Fully automated point calculation and redemption at each POS terminal - processed real-time seamlessly with data synchronized with the central Microsoft SQL database server and across stores via the Internet.
In-store loyalty card printing with member's photo and barcoded ID or QR code.
With Aralco's Reward Systems, your customers are bound to remember your brand and keep coming back to earn more loyalty points for reward redemption. Read more about Aralco's Loyalty Program.

---