Governments around the world have imposed social distancing regulations and preventive measures to curb the spread of COVID-19 in their communities. It also mandatory to control the number of visitors entering malls, buildiings and event activtities in compliance to the occupancy limit imposed for example the limit of 10 sq m per person of gross floor area.
To manage visitors entering and exiting the premises efficiently and seamlessly against the occupancy limit in real-time, businesses can adopt digital queue management solutions that are touchless and customizable to help control capacity.
VIRTUAL QUEUE & OCCUPANCY CAPACITY CONTROLS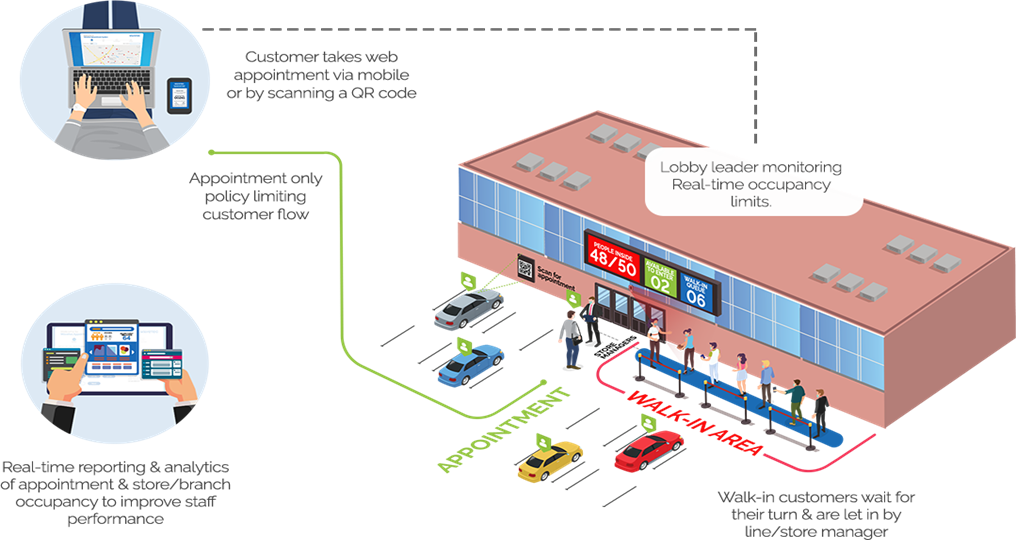 Wavetec's SafeQ is a complete and quick-to-deploy solution for Queuing and Occupancy Controls specially designed to manage queues outside your store virtually ensuring social distancing in a truly touchless experience - no hardware required.
Its cloud platform enables efficient and productive management of queues virtually without any physical contact.
Lobby Leader, one of SafeQ software module from Wavetec is designed for managing and controlling capacity limit at a location or multiple locations.

This is how it works
When a customer arrives at your store, they are greeted by a digital signage (optional TV or tablet), outside the entrance, showing the capacity limit status and the number of individuals in the queue ahead of them. 
- If there is room in the capacity, the customer may enter the store or premises. For full counting automation, people counting devices can be deployed on the ceiling near the entrance.
- If current capacity is at its limit, the customer will scan a QR code poster or standee near the entrance, and receive a virtual ticket via WhatsApp chat.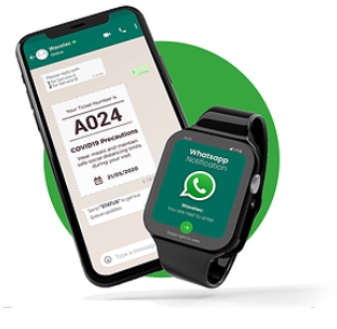 The WhatsApp chatbot will inform them of their place in the queue, the number of customers before them and their estimated waiting time. 
Disperse crowding at the entrance
Customers with WhatsApp (virtual) queue ticket are reminded not to crowd at or near the entrance of the store but wait in their cars or at nearby amenities. 
Regular notifications via WhatsApp inform them of their approaching turn and to proceed to entrance. 
Service staff with the lobby leader application on Android or IOS device verifies the Q-ticket before checking in customer to enter the premises. 
Customer exit
As the customer proceed to the exit, he or she has the option to scan QR code on another poster that allows them to send in their feedback of their experience.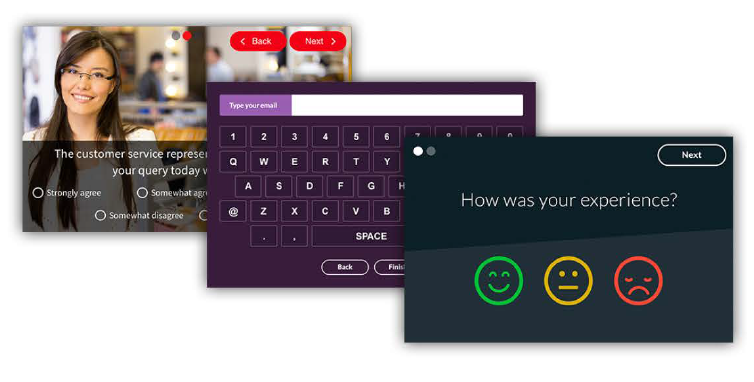 When the customer leaves the premises, a staff with the Lobby Leader app clicked the check-out button to update the "capacity meter" in real-time. For full counting automation, people counting devices can be deployed on the ceiling near the exit.
Wavetec's Capacity Control solution is customizable, fast, simple, convenient and easy-to-deploy. It requires little to no staff training, is contactless and streamlined for improved customer journey flows.