Any frequent travelers

will
most likely relate to this situation:

 

It's late at night and you're heading towards the airport, thinking about the high roaming charges and the possibility that you won't be able to catch any signals at all. Before you even begin to call a cab to take you to the hotel, you will find yourself in urgent need of a network connection. Hence, the first step along your way is to get yourself a SIM card.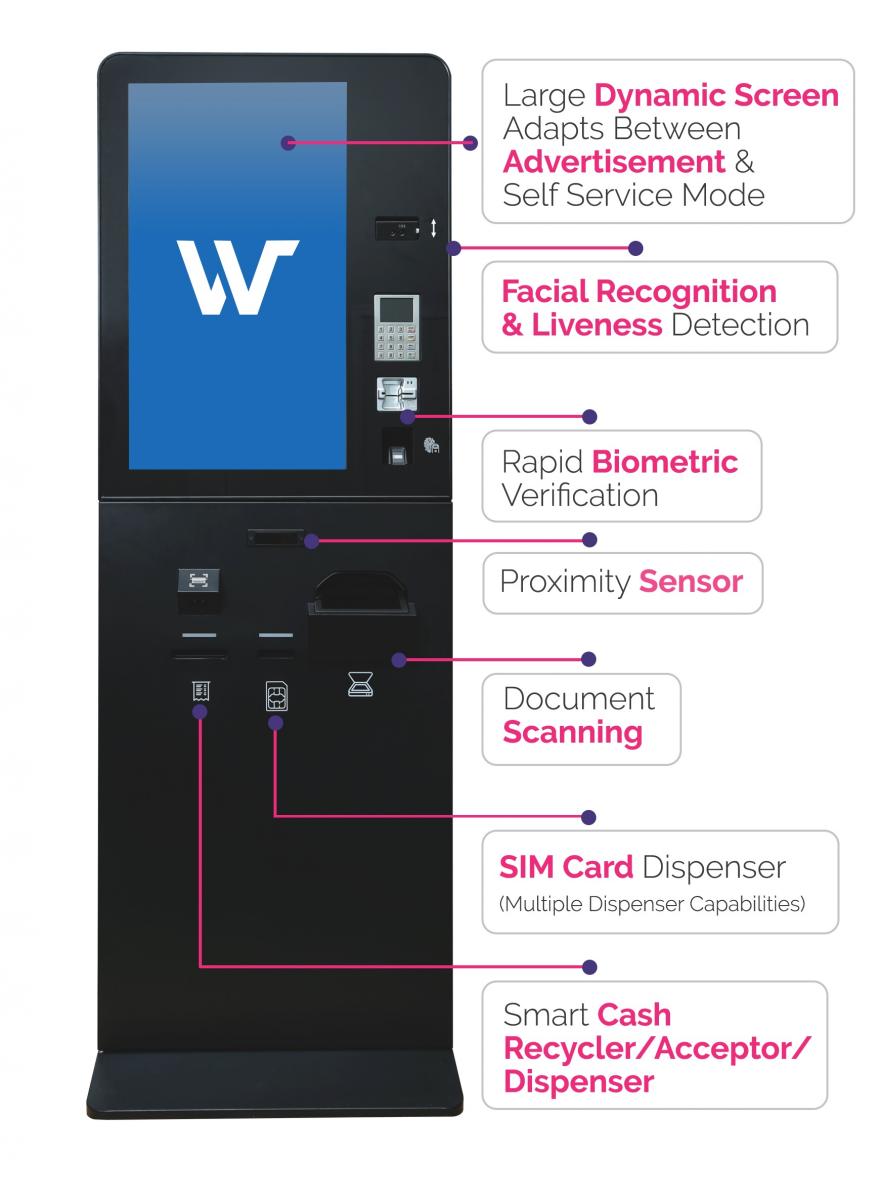 A self-service kiosk enabling the feature of SIM card dispensing kiosk to meet the needs of fast-growing telecom companies. This innovative solution empowers telecom consumers to have 24/7 access to a fast and easy purchase of SIM cards; top-up prepaid mobiles.
The SIM card Dispensing kiosk helps telecom operators to increase their customer base by enabling their in-store staff to focus on helping customers with their queries related to services.
The Kiosk is ideally suited for offsite shopping malls, airports, or railway stations providing ease to consumers anytime and anywhere.
Wavetec came up with the solution to meet the specific market needs where customers are increasingly buying multiple SIM cards for either business or professional use.
According to GFK, a market research company, one in ten mobile phones sold are now dual SIM on average. Therefore, a kiosk that can support up to 4 individual SIM card dispensers is being launched in developing countries.
Wavetec is responding to the strategic challenges faced by telecoms companies that operate amongst the fastest growing and competitive markets in the world by delivering innovation to these markets.
Telecom operators can now optimize their return on investment in the SIM card dispensing kiosks to the fullest with Wavetec's managed services. It offers a vast portfolio of support services which not only increases its availability but also enhances customer experience through constant improvement in operational efficiency by remote system monitoring along with 24/7 help desk support.
This article is contributed by Wavetec FZC0
Explore more about SIM Card Dispensing Kiosk Solutions
About Wavetec
As a global leader in delivering customer experiences solutions to transform customer journey, Wavetec provides a diverse portfolio of solutions from queue management systems, to digital signage, customer feedback systems, service area design and financial displays.