People Counting System
SafeQ is an Automated Crowd Control Solution
SafeQ People Counting System is a technological initiative that can measure, optimize & manage occupancy limits.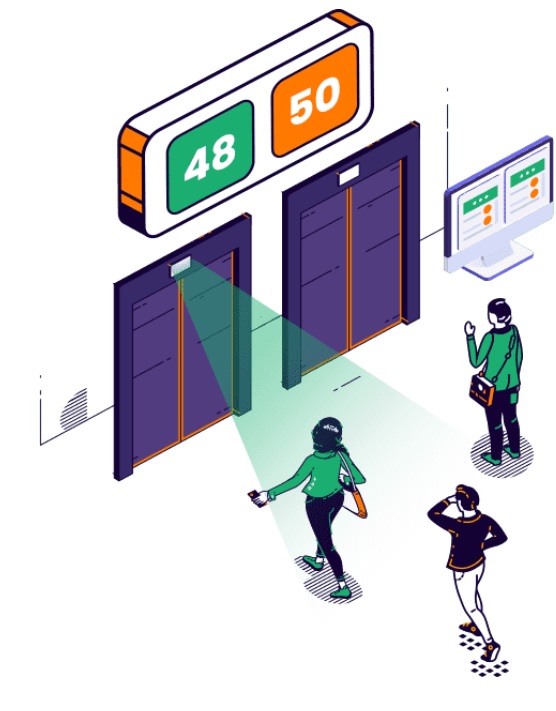 Prioritize
Customer Safety,
Ensure Business Continuity
With People Counting Management
Many businesses around the world have to comply with government guidelines and restrictions on the number of visitors allowed in pharmacies, supermarkets, hospitals, banks, and other essential public service areas.

Smart & Reliable Solutions from Wavetec
SafeQ is a cost-effective, easy to deploy the solution, designed to ensure optimal customer footfall. It consists of:

People Counting Camera & Real-time Occupancy Monitory Systems

 

Real-time dashboard & Reporting System

 
Why Choose Wavetec SafeQ

People Counting Solutions?

 

Help your business grow with a global industry-leading solution provider. Wavetec's Visitor Management solutions ensure customer safety and help manage huge crowds.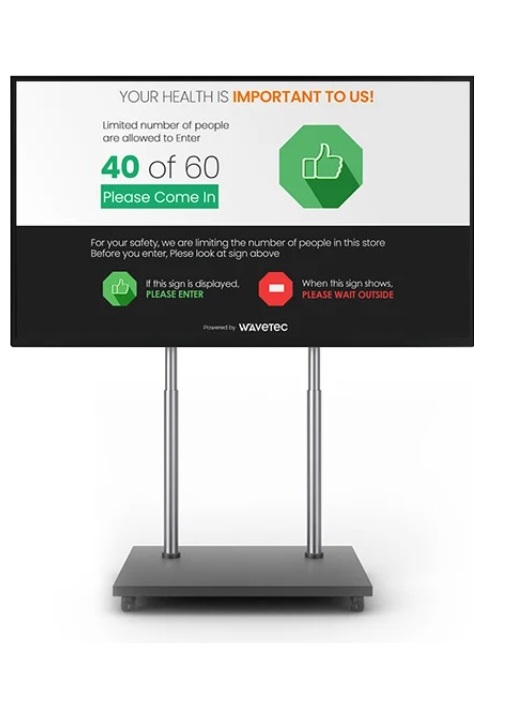 | | | |
| --- | --- | --- |
| |   | |
| Analytics & Real-time Reporting |   | Avoid Congested Areas |
| |   | |
| Simple & Quick Installation |   | High Accuracy Data |
| |   | |
| Reduces long queues |   | Optimize Workforce |
| |   | |
| Standalone, yet Scalable |   | Automatic alerts when occupancy limits exceed |
People Counting
Simplified
Wavetec's people counting platform offers a world-class cloud solution. With our state-of-the-art counting sensors, real-time analytics of occupancy limits with 98% accuracy, we help businesses unlock their full potential.
 
 
 

Real-time reporting & Analytics

 
 
 
 

Protect User Anonymity

With 99% accuracy, count and track customers entering and exiting your business premises.

Our unique visitor tracking and counting software provide real-time data relating to occupancy levels.

 

 
 
 
 

Wavetec's people counting solution is GDPR compliant and protects the anonymity of all your customer data.

 

 

 

 
 
 
 
 
 
 
 
 
 

Centralized

 
 
 
 

Setup Zones

Wavetec's people counting solution can be installed at multiple locations and can be managed centrally.

Users can access the cloud platform and can remotely access and analyze all occurrences and occupancy data in real-time.

 

 
 
 
 

The platform allows users to manage and subdivide the monitoring area into smaller zones.

This helps in ensuring and setting occupancy limits according to defined regulations.

 

 
 
 
 
 
 
 
 
 
 
 

Endless Marketing

 
 
 
 
 

Integrating with a digital signage platform allows you to manage and customize your brand on all digital screens.

 
 
 
 
 
 
 
 
 
 
 

How Does People Counting Work?
People counting, also known as footfall counting, visitor counting, customer counting, or door counting, is achieved using 3D imaging technology.
This is state-of-the-art image quality, effective even in low-light sensitivity and extremely low latency.
Optimize Business Operation
in 4 Simple Steps
Help your business grow with a global industry-leading solution provider.
| | | |
| --- | --- | --- |
| | | |
| Install people counting device |   | Configure device at entrance & exit points |
| |   |   |
| |   | |
| Collect count data |   | Collected data is analyzed and presented via dashboards and reports |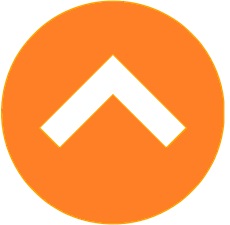 People Counting FAQ
People Counting Applications
Restaurants: Maintain occupancy limits in your establishment and measure your marketing effectiveness
Shopping centers: Manage customer flows and record foot traffic data, and calculate conversion rates 
Airports: Monitor passenger numbers for analysis and better staff planning purposes 
Libraries/Educational Institutions: Record student and visitor traffic efficiently 
Supermarkets: Ensure that you are collecting all the relevant customer flow data for management needs 
Public Transportation: Calculate passenger numbers accurately for insights into improved passenger flow, and occupancy through the route 
About visitor counting technology
People Counting technology makes future planning simple and clear. By monitoring footfall statistics, it allows you to calculate your store conversion rate and footfall patterns, see how you fare compared to others in your industry, and optimize layout plans and staff placements.
All this is geared towards ensuring your customer experience is seamless. Limit long queues and collect high accuracy data.
People Counting Sensors
People counting sensors are devices that count and monitor the numbers and flow of people visiting public spaces like airports, shopping centers, restaurants, and libraries, etc. This solution gathers data by counting the number of people entering and exiting these spaces – done by measuring their sizes and movement.
Technical features
3D high-resolution camera
Web GUI & camera management
Counting accuracy of up to 99%

---