Aralco's CRM software module is extremely comprehensive and interacts with all modules and POS systems in real-time. With its customer-centric features, this tool can help boost profits in the long run by enhancing customer retention.
MANAGE CUSTOMER INFORMATION IN ONE PLACE
With one main database shared in real-time across locations, the back office users or any employees with BOS/POS access rights to CRM functions can view, add or edit the following information anywhere at any time.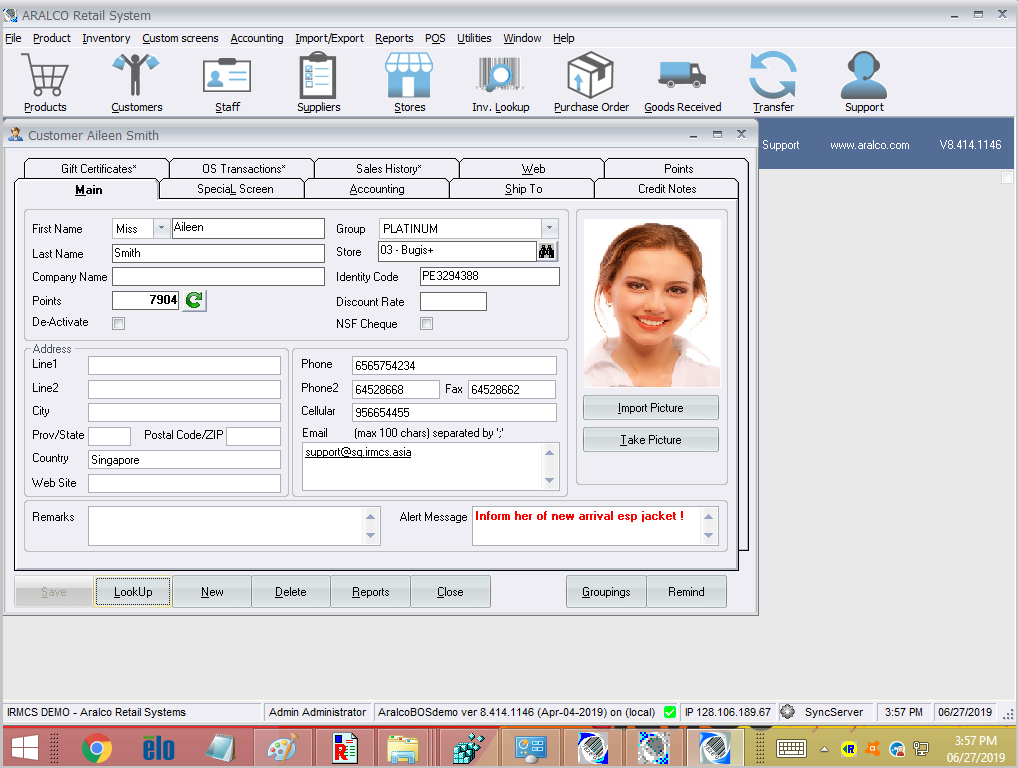 TAB OPTIONS -
MAIN

 
Information such as Salutation, First and Last Name, Addresses, Phone, Fax, Discount Privilege, photo - see above image
 
SPECIAL SCREEN
Information on additional demographic profiling user-defined by you for your industry - read more
ACCOUNTING
Information such as Account Balance, Credit Limit, Terms, Purchase Value, Accounts Receivable, Recurring Fee, etc
SHIP TO
Information such as multiple shipping addresses, contact details, etc
CREDIT NOTES

 
Information on available credit notes if any
GIFT CERTIFICATE
Information on gift certificates if any (purchased from the respective store POS)
OS TRANSACTIONS
Information on any outstanding sales order, layaway, quotation, repair
SALES HISTORY


Information on the customer's purchases and access to digital invoices or receipts
​
POINTS


Audit trail of loyalty points activity

 

WEB 
Information of the customer to access website or e-commerce if integrated with Aralco Back Office Systems
---
SHARED MEMBERSHIP SIGN-UP FORM
 
Every store can share a Google Docs* (on any tablets) for customers to fill out to apply for your store's membership program in order to enjoy discount entitlements or loyalty points benefits. 
The document can be downloaded in Excel format later for import straight into Aralco's main database, using the Data Import Wizard module.
* Google Docs is a free Web-based application in which documents and spreadsheets can be created, edited and stored online. Files can be accessed from any computer with an Internet connection and a full-featured Web browser.
---
Read about Membership Categorization