Aralco's Customer Management software module is extremely comprehensive and interacts with all modules and POS systems in real-time. With its customer-centric features, this tool can help boost profits in the long run by enhancing customer retention.
With one main database shared in real-time across locations, the back office users or any store employees with BOS/POS access rights can view the customer data anywhere at any time.
The system allows only authorized users to edit restricted and permitted areas of customer information.
ACCESS customer data & Transactions
 in one place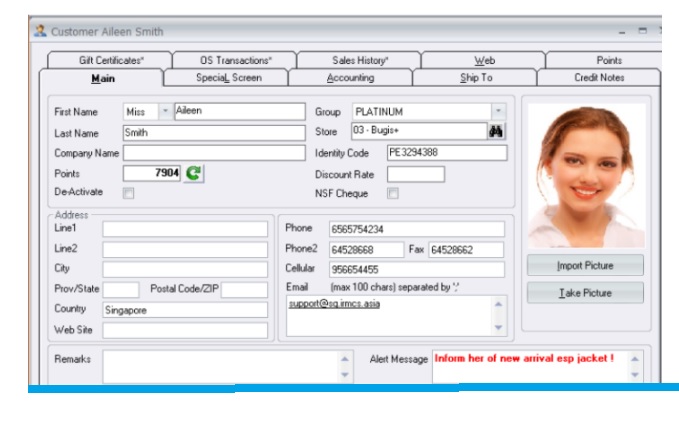 | | |
| --- | --- |
| Tab Functions | Description |
| Main | Store information such as Salutation, First and Last Name, Addresses, Phone, etc. |
| Special | Information on additional demographic profiling user-defined by you for your industry |
| Accounting | Information such as Account Balance, Credit Limit, Terms, Recurring Fee, etc. |
| Shipping | Information such as multiple shipping addresses, contact details, etc. |
| Credit Note | List available active credit notes issued by the store POS |
| Gift Certificate | List available active gift certificates issued by the store POS |
| OS Transactions | List active sales orders, layaways, quotations issued by the store POS |
| History | List customer purchases |
| Points | Points activity log |
| Web | For integrating Aralco's customer data to the e-commerce website |
---