In banking, CDM is short for Cash Deposit Machine and it performs the opposite function to an ATM or Automated Teller Machine; it accepts deposits against a customer's bank account instead of dispensing cash from the same account.
CDMs are freestanding kiosks that may be wall mounted as well and they have a very similar interface and user experience to more recent iterations of the ATM.
The Origin of CDMs
Technically, the first cash deposit machine in the world was introduced and deployed in 1989, but it wasn't until the 2000s that it became popular in regions like the United States.
It became popular because customers wanted easy access to deposit cash just as conveniently as they could withdraw it using ATMs. The convenience of a 24/7 access kiosk is what drove the success of both, the ATM and the CDM.
Enhancing
The Customer Experience
The initial deployments of CDMs were met with negative critique from naysayers, but soon people realized the undeniable benefits of the technology.
With banks and financial institutes being able to move more transactions from branches to kiosks, customers would no longer have to enter branches for everyday tasks like making a deposit or withdrawing some cash.
The ability to install freestanding kiosks in public locations unlocked scenarios that were previously impossible:
Bank customers could access basic financial services 24/7 through CDMs since they aren't limited by branch operational hours.
 
Kiosks rarely require customers to form queues since their customer service times are so short and they aren't limited to any specific operation hours within a day.
 
Physical branches became less crowded for transactions that required human tellers who also experienced job enrichment since they weren't processing deposits all day long.
Not Just Deposits
Beyond, deposits modern banking kiosks are able to achieve a lot more and provide immense value to customers and banks. Since 1989, CDMs have come a long way and bank kiosks can now be programmed and configured to perform a number of different workflows:
Cash deposits
 
Check deposits
 
Bill payments
 
Debit/credit card dispensing
 
New customer registration & onboarding
Some more advanced kiosks also provide services such as the ability to pay income taxes and even apply for loans, or school fees in a campus.
The Anatomy of a CDM
Many self-service solutions providers will allow you to configure a banking kiosk that works for you and your use cases. Here we have a pretty standard example of a modern Cash Deposit Machine.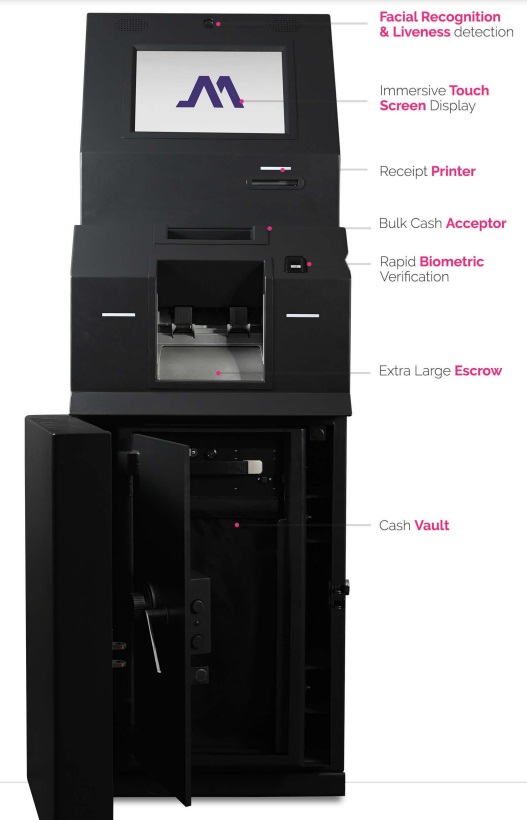 The Future of CDMs
According to our trend analysis within the banking and self-service industries, CDMs have become a staple in North American and European markets, and are slowly making their way over to developing markets as well.
CDMs are not only convenient, but they offer a means to increase financial inclusion rates in regions with a higher number of unbanked individuals and a small network of bank branches.
The ease of access to this technology for both online banks and customers makes this an easy solution to test out services in regions with less financial coverage. Also, digital transformation with self-service is the future for a lot of these industries including telecom, retail and quick-service restaurants.
Source: https://blog.wavetec.com/en/whats-a-cdm
CQuick Cash Deposit Machine
(CDM) from Azimut
Azimut, a subsidiary of Wavetec, develops and manufactures self-service cash deposit solutions to digitize your branch experience, helping you support meaningful visitor experiences while meeting the demands of a new generation of clients.
Banking is evolving fast – from Fintech and Neobanks to online channels meeting everyday financial needs. Consumers expect their banks to conduct operations as top technology brands would.
CQuick recognized and adapted to this need for digital engagement, adhering to a singular cost-efficient solution for all cash transactions. The goal is always to optimize the customer experience!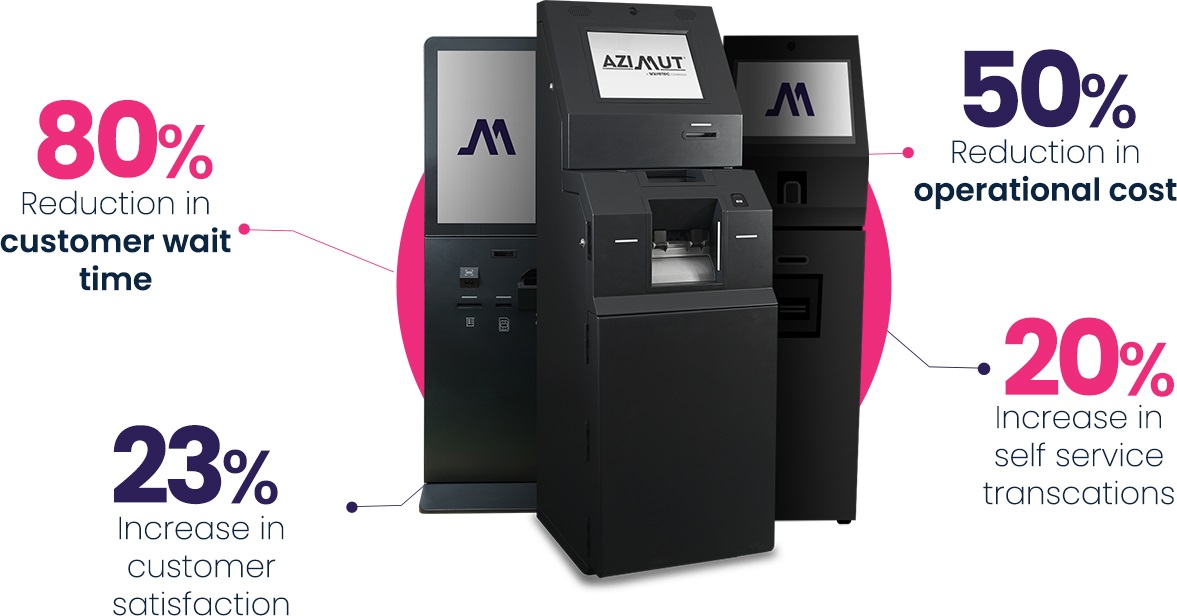 Reach out to our self-service experts today to configure the perfect CDM solution for your financial institution or banking needs.
---
What's the difference between a CDM and an ATM?
As opposed to an ATM that only dispenses cash, a CDM performs the opposite function i.e. it accepts cash deposits into a specified bank account.