Image: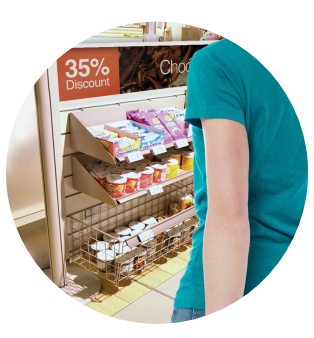 Title:
DONATELLA LINEA DISPLAY SCREEN
content:
Donatello Linea is ideal to create futuristic retail environments offering customers dynamic information along with convenience as they shop. It is easy to configure, install, even in the smallest of spaces for strategic deployment purposes.
VIBRANT CHECKOUT AREAS
The crux of retailing experience takes place at the checkout areas where people wait in the queue to pay. Merchandising your checkout lines coupled with digital displays has proven to increase impulse sales as well as keeping your customers engaged.
CAPTIVATING SHELVING
Displays fixed at product shelving have the power to drive up retail margins while adding elegance to the retail ambiance. Communicate with your customers using Donatello Linea to advertise the latest offerings and promotions.
EFFICIENT SERVICE/PAYMENT COUNTERS
Service counters are one of the most important areas of a retail outlet. Donatello Linea is strategically placed to present retailers with the last opportunity to inform and attract customers before they exit.
SPECIFICATION:
Display size: 42" and 48"
Processor: Cortex A9 1Ghz
Memory: 4GB expandable to 32 GB
Ports: WiFi, LAN and USB
Weight: 15 Kg and 18 Kg
Outer Dimension of 42": 109 cm (H) x 31.1 (V) x 5.86 (D)
Outer Dimension of 48": 133.7 cm (H) x 27.6 (V) x 7.84 (D)