Body: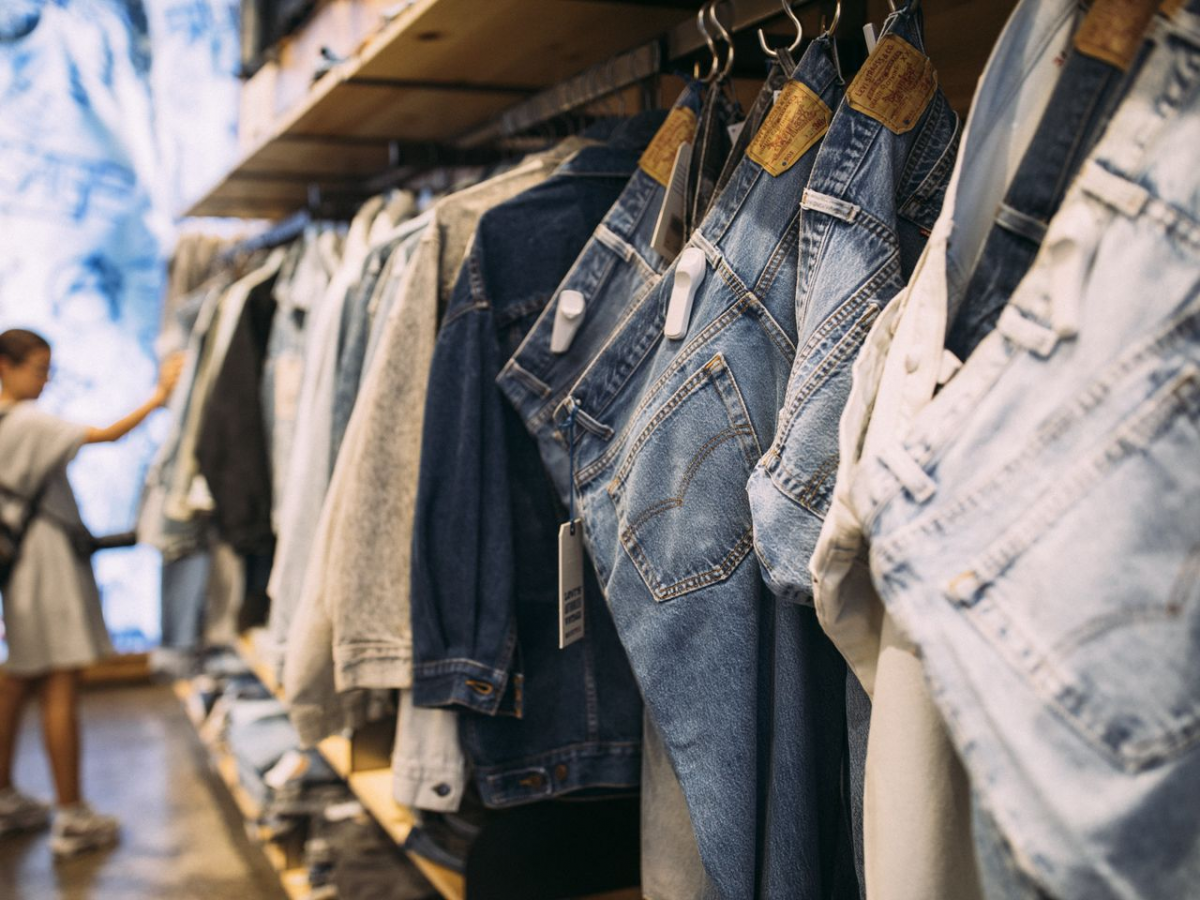 Apparel, lingerie, and accessories stores can have a high turnover of inventory to keep up with the latest trends as well as seasonal products. It is important that you have an accurate point of sale and inventory management system that can keep your business organized.
Apparel and other retailers can benefit from the Aralco POS system because they automate virtually every part of the business for you, and the Aralco Back Office Systems offers centralized management of your merchandise, inventory, promotions, loyalty programs, and gift card systems.
With sophisticated functionalities and real-time data with Aralco Retail Systems, you have absolute control to take your business to the next level. 
MANAGE COLOR & SIZE INVENTORY EASILY
 
Aralco simplifies your inventory management with a grid matrix setup allowing multiple details per product such as size, color, and etc. As a result, you no longer need to create different product codes for each color and size of the same style which is tedious and cumbersome.
Separate dimension tables consisting of user-defined colors and sizes, even for length (dimension of sleeve or pants) can be set up for each group of apparel - for example, you can uniquely define a size dimension table for men's wear, ladies' wear, and kid wear, etc. 
Color and size management with the dimension tables keep your apparel inventory organized and allows for fast retrieval of data on inventory status and sales performance of styles and its dimension values. 
Products sold with a particular color and size sold are recorded and printed clearly on the Aralco POS receipt. Furthermore, Aralco Retail Systems supports the following features to optimize your inventory management and provide perpetual stock information to your back office and store employees.
Inventory On-hand Lookup with Color & Size
Digitize stock movements of each product
Unlimited user-definable product categories such as brand, season, collection, fabric, top, bottom, etc and these are filterable for reporting
Non-matrix items such as accessories, alterations, and other personal shopping services are supported
Minimum and maximum stock level by store, distribution center, and company 
Product images and sound links to products for digital catalog
Bin numbers
System generated barcode and, alternate barcode sets
Supplier and product lead time
Model Stock for re-stocking (Min/Max Reorder)
MULTI-LOCATION & REAL-TIME INVENTORY LOOKUP 
Inventory Lookup with real-time data is available at the POS or at any BOS workstations showing stock units at hand for any SKU, even drilling down to color and size availability and stock movements by location.
On-hand Inventory Lookup is also available within the POS transaction process allowing the cashier to instantly engage the customer on the current stock availability.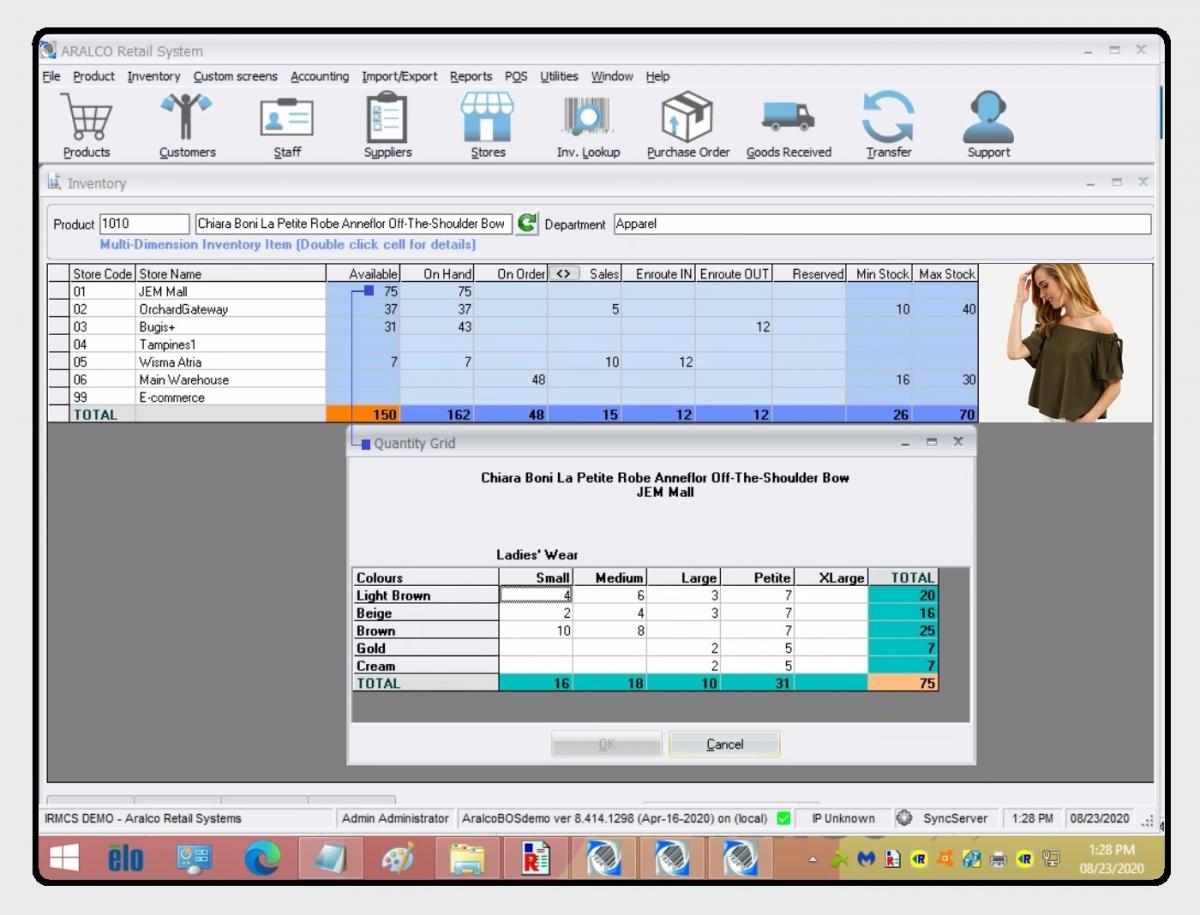 STOCK PROCESSING ANYWHERE
Aralco Retail Systems has a complete set of tools for your inventory needs in the Back Office Systems (BOS) application, available at any POS and BOS workstations. Most of the stock processing functions can be recorded using the standard keyboard, barcode scanners, portable data collectors or take it further with Aralco Mobile Systems that run on Andriod and IOS smartphones or devices:
 
Purchase Order (foreign and local currencies)
Goods Receiving
Inter-branch Transfer 
Stock Physical Count (full and cyclical)
Returns to Vendor
Quantity Adjustment
Average Cost Adjustment
Depending on your company policy, any of the above stock processing functions can be centralized or decentralized, and only authorized users are able to access each stock function.
REGULAR STOCK LABELING 
Aralco's Inventory software module comes with a versatile price labeling systems for printing barcoded price labels with a range of barcode thermal printers, and to any laser printer for A4-paper size labeling for the display shelves.
Each label format is user-definable while label rolls available on plain rolls and swing tags, and you can have as many label types or sizes needed for different product categories such as apparel, bags, shoes, accessories, etc.

Aralco's labeling supports the following data outputs:
Alphanumeric product code or style numbers
System barcode number or manufacturer barcode number
The unlimited product description on multiple lines when required
Product categories such as brand, collection, etc
Product dimensions such as colors and sizes
Regular or markdown Prices
OPTION TO DIGITIZE YOUR SHELF LABELS
Due to demands from retailers, Aralco has built an interface for any brand of Electronic Shelf Label (ESL) systems where product data with new or changed prices are automatically generated by the inventory system every other minute for "pickup" by the store' ESL server.
Read more on ESL Interface with Aralco.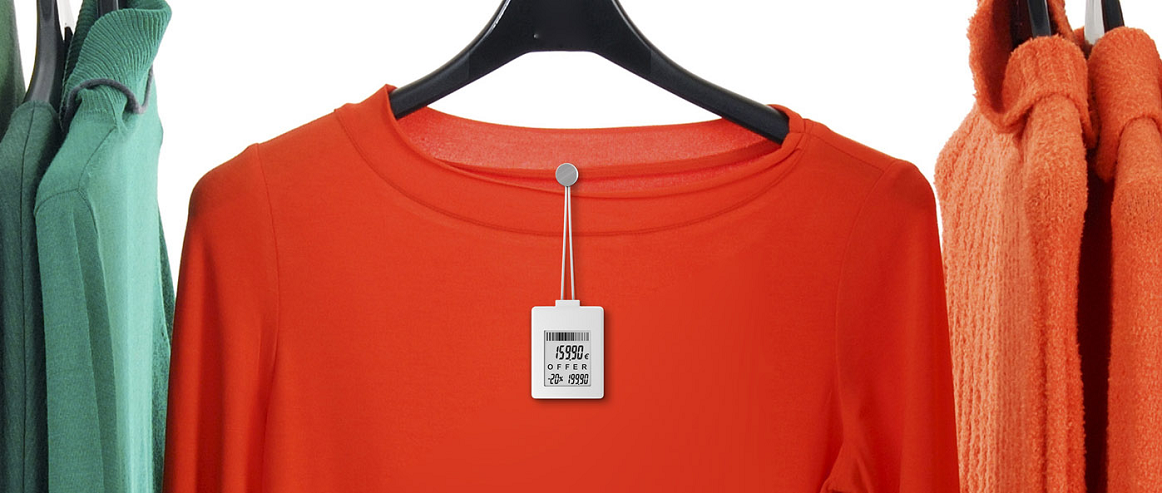 ENGAGE CUSTOMERS DEEPER WITH ARALCO'S CRM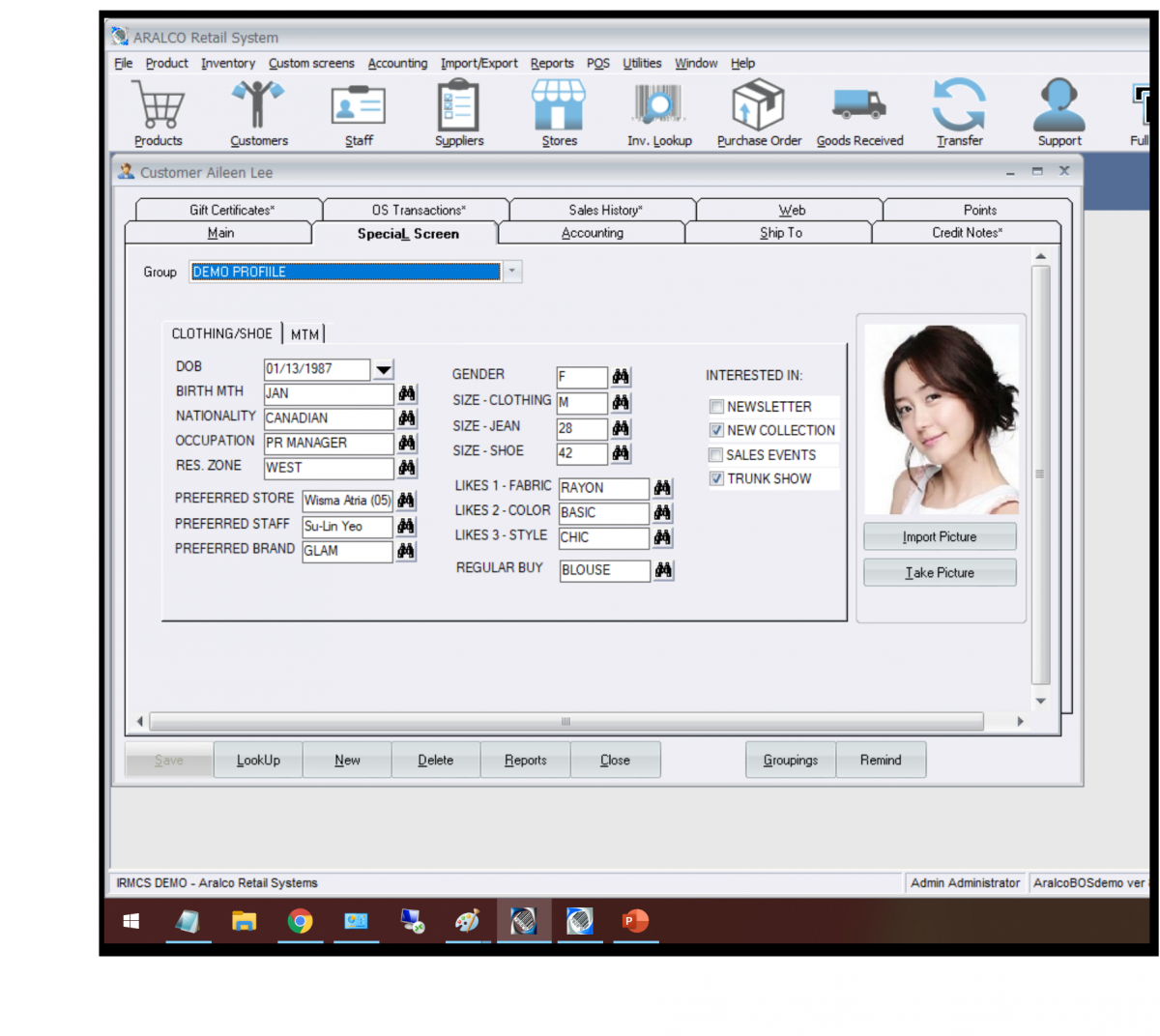 Aralco's CRM module is extremely comprehensive and interacts with all other modules and POS systems in real-time. With its customer-centric features, this tool can help boost profits in the long run by enhancing customer retention.
Read more about the Customer Relationship Management (CRM) module and User-definable Data Fields (UDF) to capture any demographic information of your customers.
FEATURE-RICH APPAREL POS SYSTEMS
Aralco Retail Point of Sale (POS) Software System runs in your retail stores with its own secured local database and functions independently of the central Back Office Server and fail-safe should there be Internet disruption.
Aralco offers comprehensive functionalities never available before in a single POS solution - easy to use and suitable for apparel retailers of any size.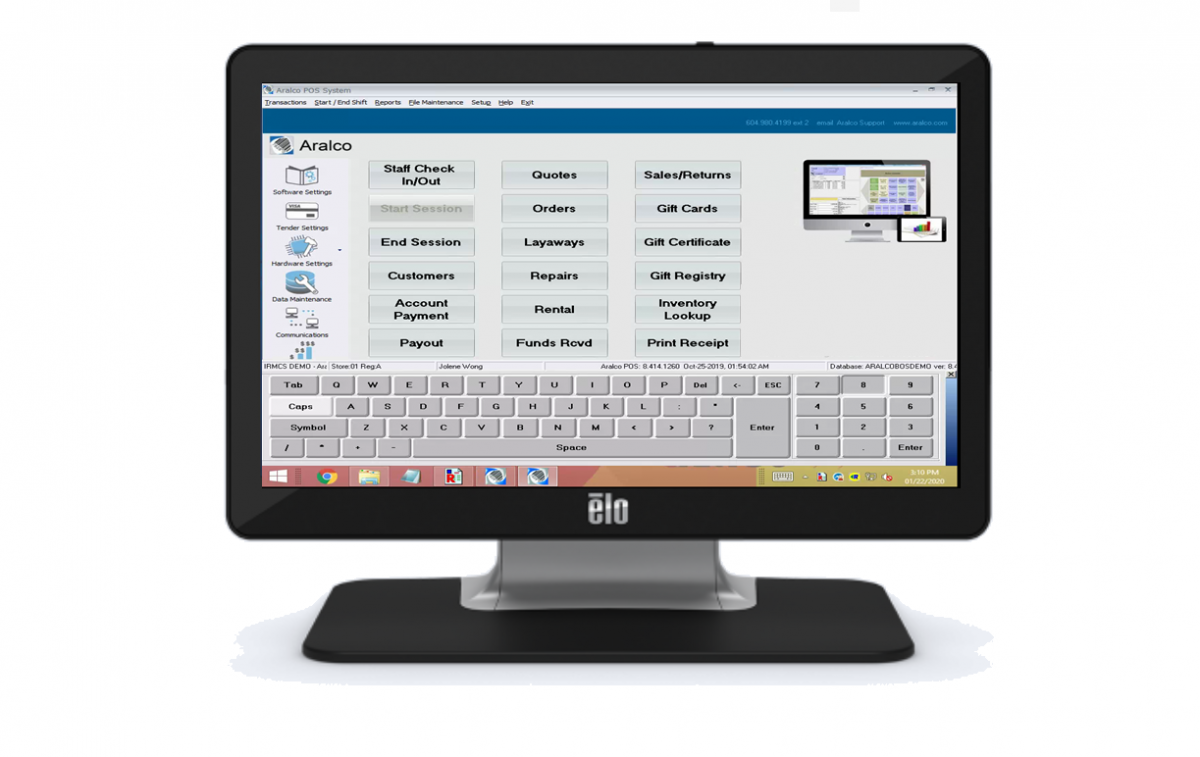 ENTICE CUSTOMERS WITH IRRESISTIBLE OFFERS & DEALS
Aralco Retail Systems has all the tools for upselling bundles, quantity discounts, markdowns, and all sorts of promotions that are centrally managed so that you can entice your customers with irresistible offers every day of the week.
Package sales such as a shirt with a tie or any bundles - read more
Sales of kit set such hampers, gift baskets with inventory auto-deduct or pre-assembled - read more
"Happy hour" price control by time, the day of the week
 
Quantity discount for a group of SKUs or single SKU for example, buy a pair of socks for $12.90 or buy 3 pairs for $30 - read more
The automatic discount of SKUs from past seasons at a markdown price
Coupons with purchase value and date validations - read more
 
Date-sensitive promotion for selected SKUs filtered by brands or seasons or any categories - read more
Conditional promotions - set rules for any mix and match conditions such as buy any Top Apparel with a Bottom Apparel get 15% off  

- read more
BUILD & STRETCH YOUR CUSTOMER LOYALTY 
Aralco POS comes standard with a Loyalty Program to help you win over your customers' loyalty - you can create multiple reward plans to attract customers and to drives up repeat visits to your stores.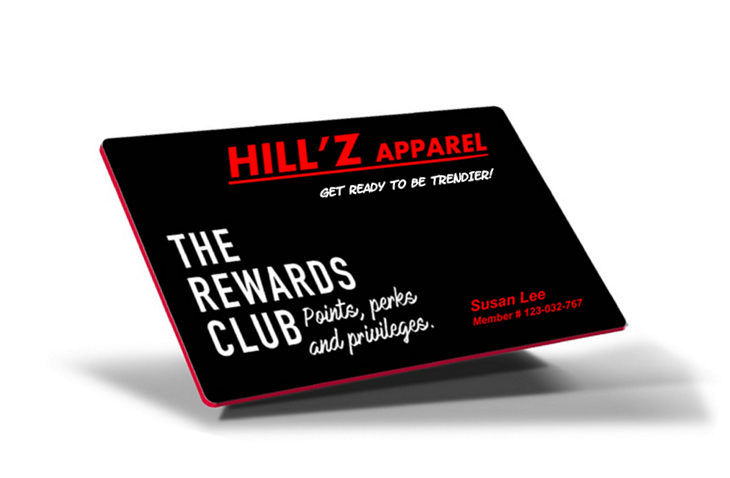 Automated point calculation and redemption at each POS terminal, processed real-time seamlessly with data synchronized with the central Microsoft SQL database server across stores via the Internet.
In-store loyalty card printing with member's photo and barcoded ID or magnetic stripe encoding or QR codes
GIFT CARD BOOSTS NEW FOOTFALLS
Gift Card is the perfect gift solution for your customers which also benefits you with advance payment when you start to sell gift cards at your stores.
Your existing customers buy the Gift Card at a value of their choice as a gift for friends or family members, and as a result, recipients of gift cards become your new customers.
Therefore, Gift Card generates new footfalls for your business and increases sales revenue from the day they check out your store.
Gift Card can be redeemed in part value and this gives recipients another good reason to come back to your store - read more about selling & redeeming Gift Card at the store POS.
​

DATA & USER ACCESS SECURITY 
The user access security in Aralco Retail Systems is role-based, simply assign each user to a user-defined BOS (Back Office Systems) and POS user groups such as Sales Associates, Supervisors, Store Managers, etc.
Within each BOS or POS group, you can enable or disable functions for users in the respective checklist - read more.
Aralco POS has an option for fingerprint scanning to identify staff for time attendance, log in and access rights to void transactions, refunds, discount, etc - read more
Employees at the retail store are able to log in to the BOS to perform tasks they are authorized to do so such as stock transfers or adjustments, print barcode labels, raise a purchase order to suppliers, etc
Passwords and access levels can be changed from back office as and when required by your back office administratoR
USER-DEFINABLE BACK OFFICE REPORTS
Aralco Reporting Engine comes standard with 150 standard reports which are user-definable and you can create new reports easily on your own without any programmers. Important reports for apparel businesses such as Sell Through and Stock Ageing by seasons are available.
Besides reporting on the current year, you can generate year-on-year data on SKUs and any categories to compare historical performances as there is no limit to how much historical data can be stored in the SQL database server.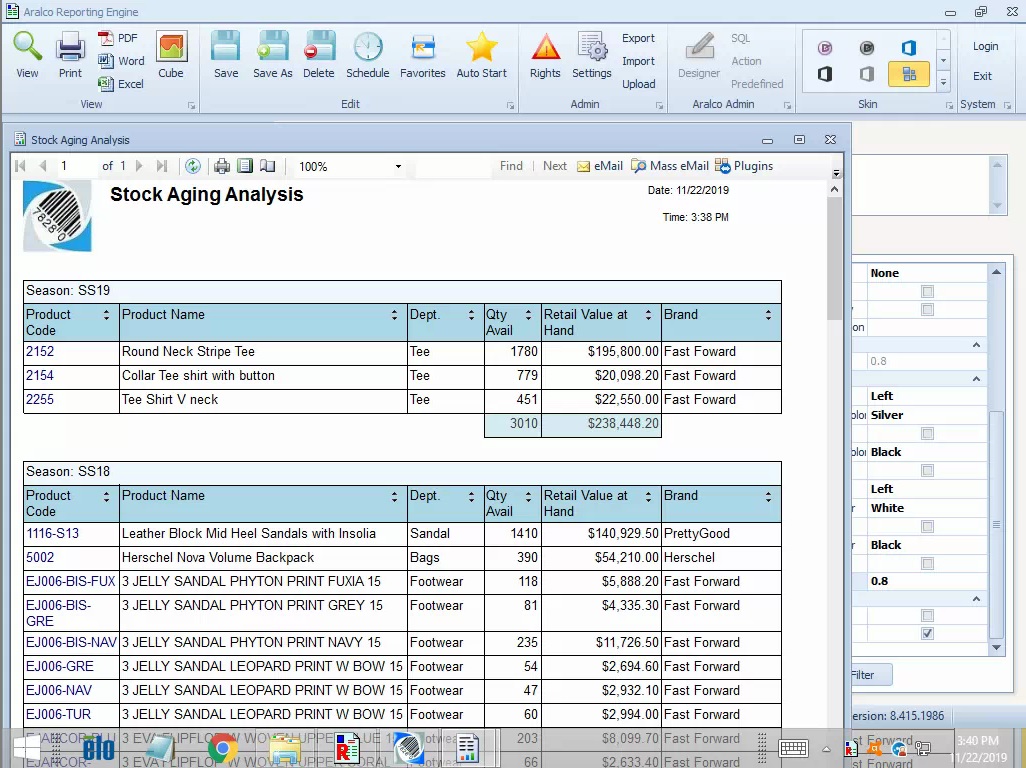 Here are some of the key features for flexible and deep reporting:
Tabular, Summary, Matrix, Chart & Cube reporting options
Create your own formulas in the reports
Report E-mail Scheduler
Supports images of products and customers
Interactive with Microsoft Excel, Outlook, Word, and PDF
BI Dashboard (Microsoft Power BI)
Your back office administrator can set up security access rights on reports by divisions of your company such purchase department, accounts department, etc as well as by individual employees.
---
Read more about Aralco POS Systems | Interface Options List  | E-commerce Integration
---
Contact IRMCS for more information.
---