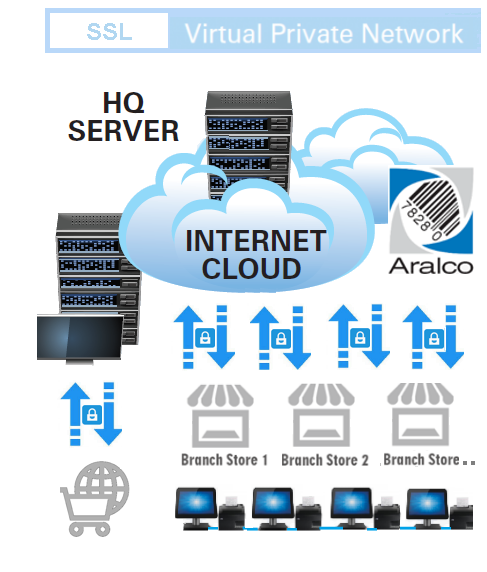 The Aralco Retail Systems is designed to work in a large multi-store network or in a simple single store operation. Aralco is capable of multiple registers within one location using local area networking (ideal for department stores or multi-lane grocery operations), or single POS register in each location.
POS STATION - DATA SYNCHRONIZATION
The communication software engines for data synchronization between the central SQL server and each POS is developed by Aralco.
As a result, Aralco POS terminals communicate with the Back Office Server directly and the two-way data traffic takes place every few seconds giving up-to-date information all the time on every aspect of your business.
 
The central server and POS terminals including BOS workstations are configured by IRMCS team to communicate within a secured computer virtual private network via the Internet.  Here is how it works -
Outgoing data - Each completed sales transaction at each POS is auto-synced instantly to the central server for updating sales, inventory sold or returned, customers' purchases, and etc.
 
Incoming data - Any latest or changed data on products, prices, promotions, customers and etc. are auto-synced from and by the central server continuously to each POS station.
BOS WORKSTATION - CLIENT/SERVER DATA COMMUNICATION
In the back office, Aralco Back Office System (BOS) workstations connect concurrently to the central server within the same private network enabling real-time and secured data processing that writes directly to the central SQL database.
CENTRAL SQL DATABASE  SERVER
The central server can be hosted on-premises or at a data center of your choice to maximize security and to ensure minimal 95% uptime.
Incoming data - Sales from each transaction synced from each POS are updated in chronological order in the central SQL database including adjustment of stock on hand, customer's purchase, and etc.
 
Outgoing data -  Upon saving of any new or changed data at any BOS station, the information is auto-synced instantly to each POS station from and by the central server.