Body: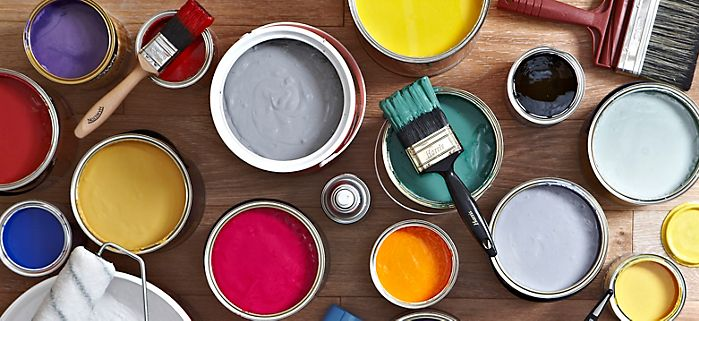 Successfully manage your sales, your special orders, your customers, your inventory, and your accounting - Aralco POS Software is designed for Paint, Hardware and Auto Parts Stores.
These stores of all sizes can benefit from the Aralco point of sale system because they automate virtually every part of the business for you.
Aralco POS software boosts efficiency and productivity in your store environment and allows you to ring up items quickly and easily, manage time and inventory and develop customer loyalty. Aralco POS software allows you to keep the real-time inventory of all kinds of products from paint cans to the copper wire by metre.
Aralco POS features designed for Paint, Hardware and Auto Parts stores include:
Customize colors for clients using Tint Ingredients
Lookup of "tint history" for customer repeat orders
Grid, non-grid inventory supported (inventory by color)
Special pricing by customer group (e.g. designers, contractors, tradespeople)
Product image and sound links for multi-media catalogs
Accounts receivable and statements emailing
Payment on account is taken at stores as well as H.Q.
​
 
INVENTORY LOOKUP WITH REAL-TIME DATA
Comprehensive Inventory Lookup with real-time data on stock units at hand by part number with drill-down to colors available, movement by locations at any POS or Back Office System (BOS) workstations. Inventory Lookup is also available within the checkout process allowing the cashier to instantly engage the customer on the current stock availability.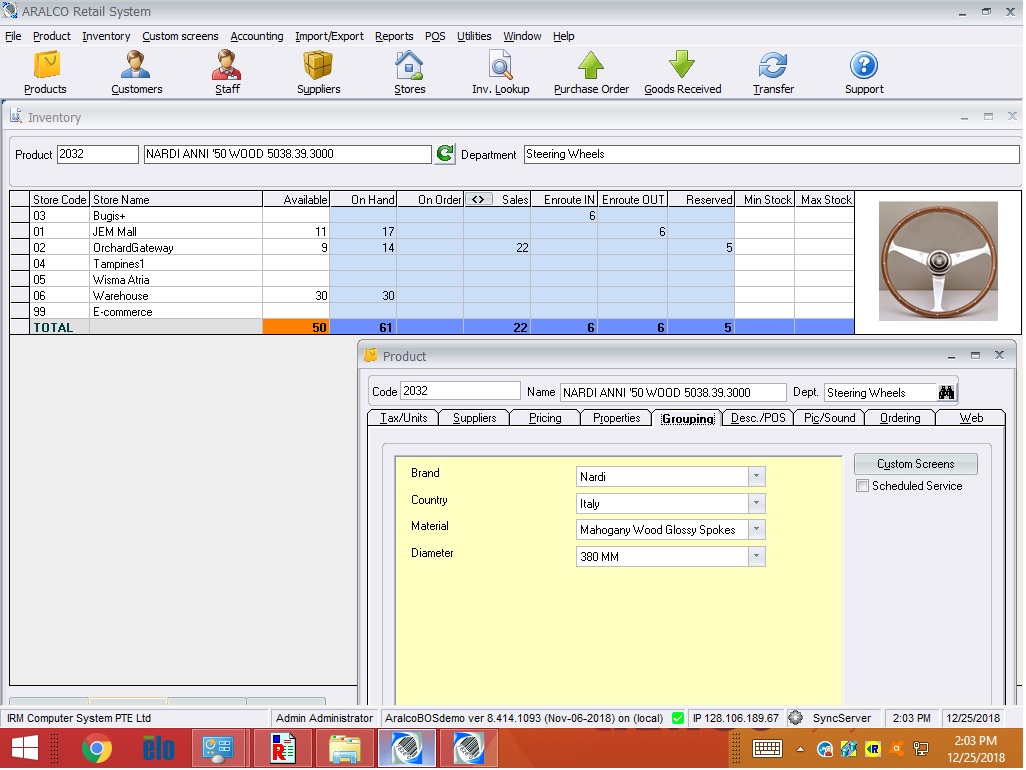 ​
---
MODEL STOCK (MIN/MAX) SYSTEM FOR RE-ORDERING
To ensure the efficient use of inventory on SKUs, Aralco Retail Systems has the standard re-ordering system to prevent over-ordering thus reduces the needs for clearance markdowns:
Pre-set ideal inventory levels by product and location are ideal for retailers who order repeat items
Model stocks by store type allow multi-location operations to reduce data entry and monitoring
Reports of shortages/overages in current on-hand-levels provides alerts for management
The report also shows shortages/overages at different store locations to drive transfers of product from over-stocked stores to under-inventoried locations
AUTO STOCK REPLENISHMENT SOLUTIONS
This module is particularly a must-have tool for retailers with large inventory lines or large network of stores as it can help recommend stock order or transfer requirements. The data generated is quick and accurate based on actual sales history, sales trend, stock at hand and numbers of days stock is required for. 
The three options available are:
Auto Purchase Orders  - for re-stocking goods
Auto Stock Transfer - allocation for a new shipment of goods
Auto Stock Transfer - stock balancing among stores to manage over/under stock and broken size/color
STOCK PROCESSING SOLUTIONS
Aralco Retail Systems comes complete with all the tools for your inventory needs in the Back Office Systems (BOS) application, available at any POS and BOS workstations. Most of the stock processing functions can be recorded using the standard keyboard, barcode scanners, portable data collectors or mobile devices (IOS and Android) :
Purchase Order (foreign and local currencies)
Goods Receiving
Inter-branch Transfer 
Stock Physical Count (full and cyclical)
Returns to Vendor
Quantity Adjustment
Average Cost Adjustment

Depending on your company policy, any of the above stock processing functions can be centralized or de-centralized, and only authorized users are able to access each stock function.
PRODUCT LABELING SOLUTIONS
Aralco's Inventory software module comes with a versatile price labeling systems for printing barcoded price labels with a range of barcode thermal printers, and to any laser printer for A4-paper size labeling for the display shelves.
Each label format is user-definable while label rolls available on plain rolls and swing tag, and you can have as many label types or sizes needed for different product categories such as paint cans, paint brushes, ladders, drilling tools, etc.
Aralco's labeling supports the following data outputs:
Alphanumeric product code or part number
System barcode number or manufacturer barcode number
The unlimited product description on multiple lines when required
Product categories such as brand, collection, etc
Product dimension such as colors
Regular or markdown Prices
Electronic Shelf Labeling (ESL) is also available with Aralco Retail Systems, please click here for more information.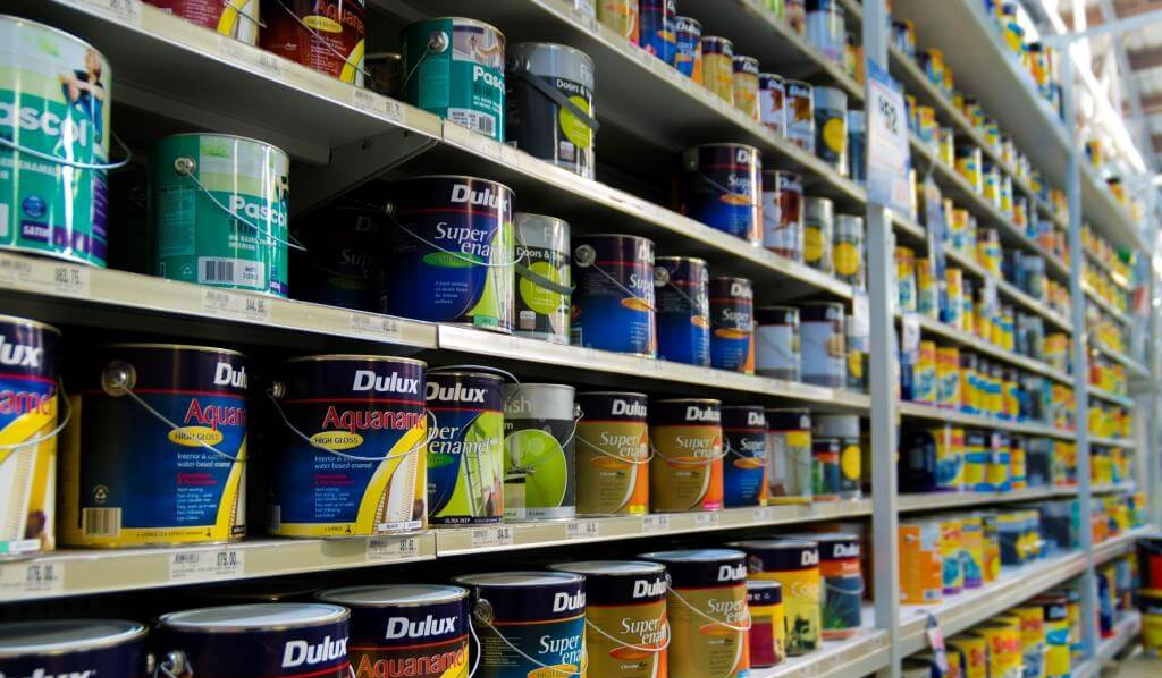 ---
CUSTOMER RELATIONSHIP MANAGEMENT
Aralco's CRM is extremely comprehensive and interacts with all modules and POS systems in real time. With its customer-centric features, this tool can help boost profits in the long run by enhancing customer retention.
Sales history with full receipts
Sales order tracking with full receipts
Accounting details ( perfect for corporate customers )
 
User definable customer's demographic profile, recording preferred brands, personal information, preferences etc.
User definable reporting on customer purchase history and demographics for email targeted marketing 
Email Broadcasting with email merging capability
Membership card system with user definable member group and privileges
Membership and loyalty card systems are interactive with a webcam to capture the picture of the customer for in-store card printing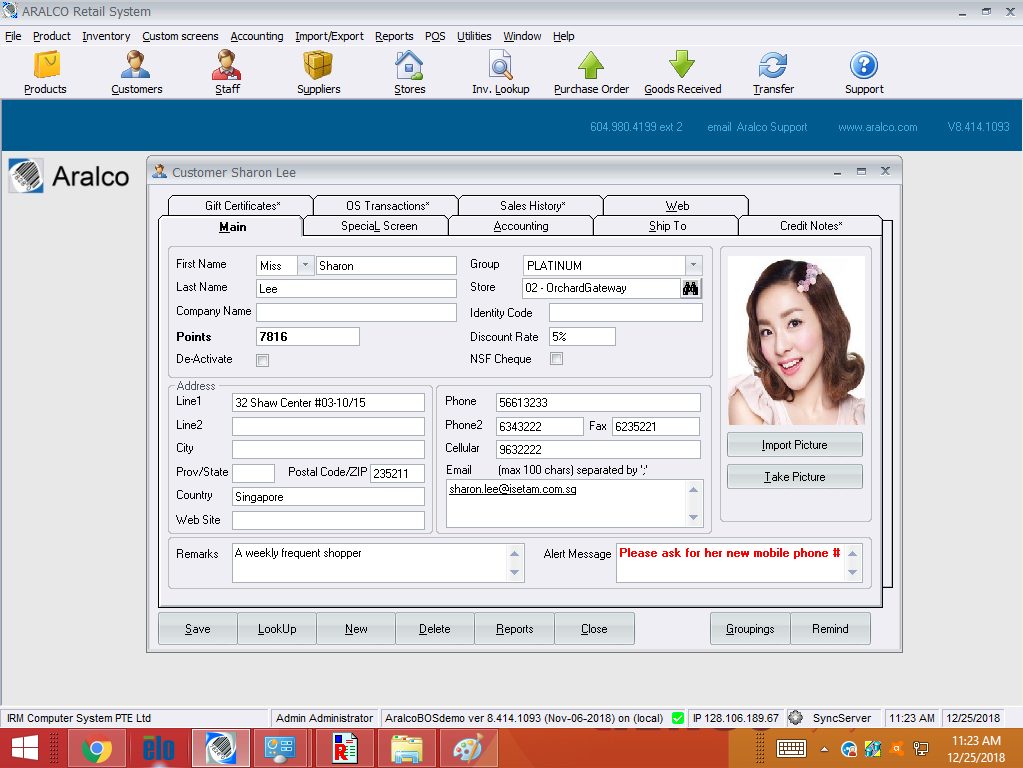 ---
FEATURE-RICH RETAIL POS SYSTEMS FOR PAINT, HARDWARE & AUTO PART STORES
Aralco Retail Point of Sale (POS) Software System runs in your retail stores with its own secured local database and functions independently of the central Back Office Server and fail-safe should there be Internet disruption.
Aralco offers comprehensive functionalities never available before in a single POS solution - easy to use and suitable for retailers of any size.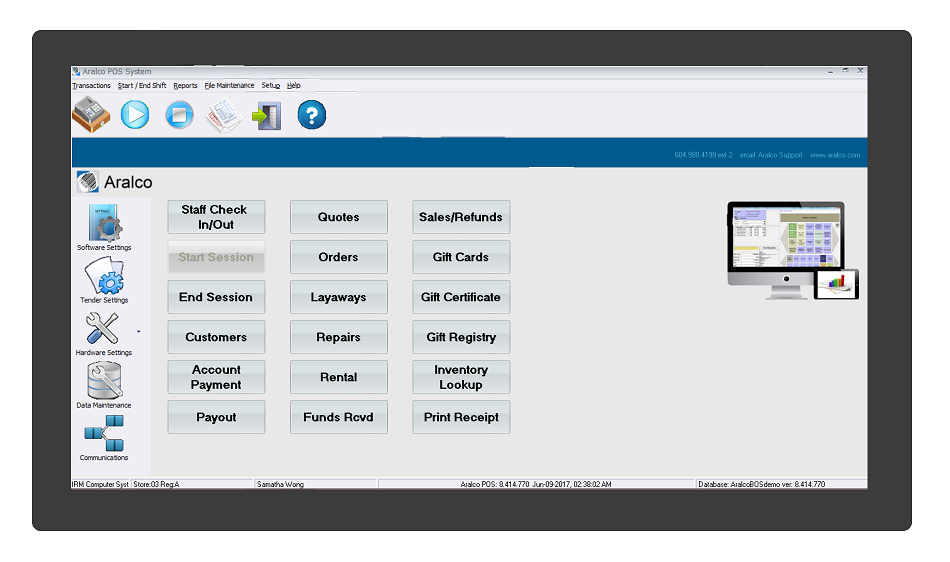 Friendly user interface - anyone can learn to use it in minutes
Ease of use with touchscreen option 
Multiple shifts per POS
Float and cash count by note/coin denominations at start and end of the day (applicable only to standard cash drawers)
Interface option to Closed Cash Management System   
Order and delivery management, with web on-line option
 
Comprehensive product search options
Comprehensive customer search options
Gift Receipt
 
Hold and retrieve transactions
User-definable POS Item Menu for setting up fast buttons for SKUs without bar code labels such as repairs, delivery fee  etc
20 payment types - support multiple and unlimited tenders per transaction
Managerial access to stock transfer, stock receiving, stock adjustment, and stock count processing
Managerial access to back-office reporting on sales and stock performances
---
ENTICE CUSTOMERS WITH IRRESISTIBLE DEALS
Aralco Retail Systems has all the tools for upselling bundles, quantity discounts, markdowns, and all sort of promotions that are centrally managed so that you can entice your customers with irresistible offers every day of the week.
Package sales such as paint items for painting a 120 sq.m 5-room apartment at a bundled price - read more
Quantity discount for a group of SKUs or single SKU for example, buy paintbrush for $3.90 or buy 3 for $10.00 - read more
The automatic discount of SKUs on least performing products at a markdown price
Coupons with purchase value and date validations - read more
Date-sensitive promotion for selected SKUs filtered by suppliers, brands or any categories - read more
Conditional promotions - set rules for any mix and match conditions such as buy $600 worth of paint cans get 30% of any ladders  

- read more
GENERATES NEW TRAFFIC WITH GIFT CARD
Gift Card is the perfect gift solution for your customers - sell, redeem the gift card at the POS checkouts with in-store card printing option.
Your existing customers buy the Gift Card from your store as a gift for friends or family members, and in turn, the recipients of Gift Card becomes your new customers when they visit your store. 
Gift Card can be redeemed in part value against their purchase at any store POS and this gives recipients the reason to come back to your store again.
​

---
DATA & USER ACCESS SECURITY 
The user access security in Aralco Retail Systems is role-based, simply assign each user to a user-defined BOS (Back Office Systems) and POS user groups such as Sales Associates, Supervisors, Store Managers, etc.
Within each BOS or POS group, you can enable or disable functions for users in the respective checklist - read more.
Aralco POS has an option for fingerprint scanning to identify staff for time attendance, log in and access rights to void transactions, refunds, discount, etc - read more
Employees at the retail store are able to log in to the BOS to perform tasks they are authorized to do so such as stock transfers or adjustments, print barcode labels, raise a purchase order to suppliers, etc
Passwords and access levels can be changed from back office as and when required by your back office administratoR
USER-DEFINABLE BACK OFFICE REPORTS
Aralco Reporting Engine comes standard with 150 standard reports which are user-definable and you can create new reports easily on your own without any programmers. Important reports for apparel business such as Sell Through and Stock Ageing by seasons are available.
Besides reporting on the current year, you can generate year-on-year data on SKUs and any categories to compare historical performances as there is no limit to how much historical data can be stored in the SQL database server.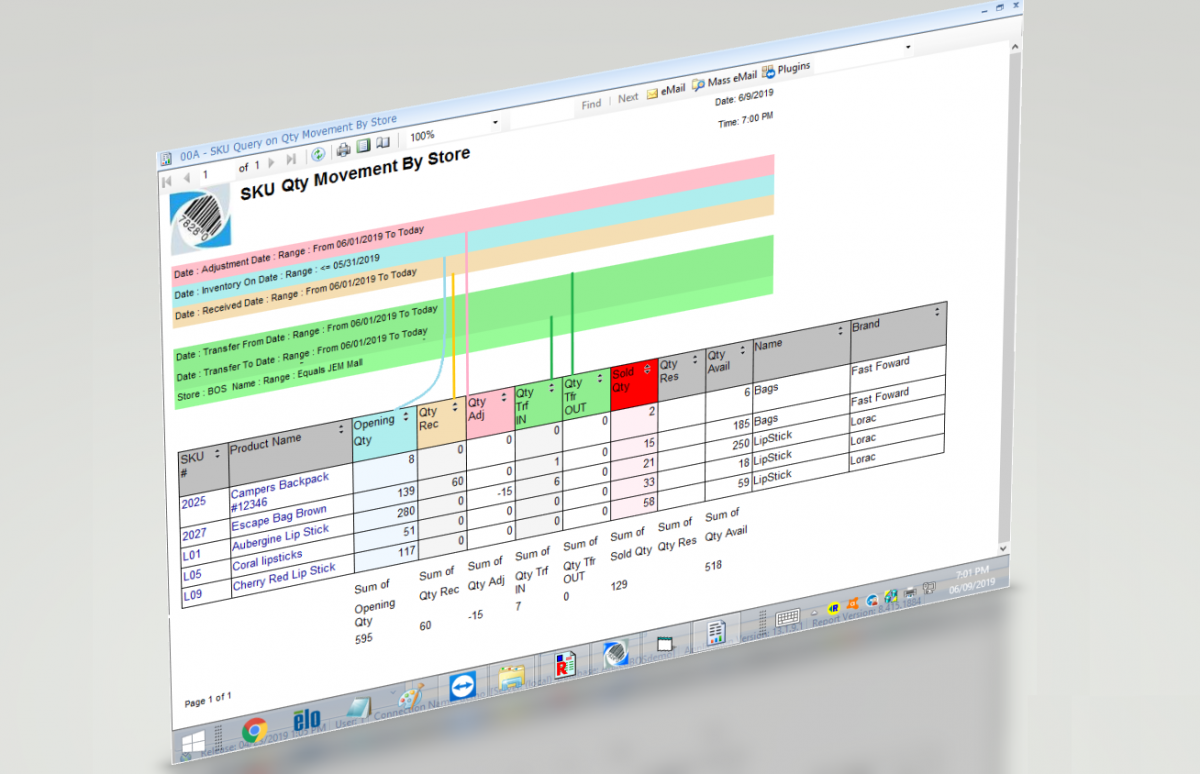 Here are some of the key features for flexible and deep reporting:
Tabular, Summary, Matrix, Chart & Cube reporting options
Create your own formulas in the reports
Report E-mail Scheduler
Supports images of products and customers
Interactive with Microsoft Excel, Outlook, Word and PDF
BI Dashboard (Microsoft Power BI)
Your back office administrator can set up security access rights on reports by divisions of your company such purchase department, accounts department, etc as well as by individual employee.
MOBILE SYSTEMS
Aralco offers mobile solutions for simple and functional POS including stock processing features such as Purchase Order, Stock Transfers, Receiving and Stock Count - useful for pop-up stores, events, and store-in-departmental store format.
The mobile solution is highly flexible,  user-friendly and it can run on any IOS, Android smartphones or tablets and handheld computers. 


UNIFIED COMMERCE
Any retailers who have extended business channels such as wholesale distribution, as well as online store, will find the perfect fit in Aralco Retail Systems. With the same central Microsoft SQL Database, Aralco is able to unify all your retail stores, distribution and E-commerce divisions on one single platform in real-time. 
With the single platform, retailers will benefit significantly from the seamless workflows, gain total visibility from the back office to every business divisions - resulting in rapid operational growth with the improved efficiency and productivity.
Read more about Aralco POS Systems | Interface Options List 
---
Contact IRMCS for more information.
---