The POS Conditional Promotion Management module is a versatile tool from Aralco that allows retailers to set up discounting and promotion rules in the back office that will be applied at POS at the time of customer purchase. 
Conditions can be set up as follows:
If a customer purchases a certain quantity of items or minimum purchase amounts from a department or sub-departments/categories, they will receive a preset number of items at a percentage or dollar discount for the same or any department or sub-department/category or a specific brand or a range of brands. 
There are optional settings such as a restriction to stipulate that in order to receive the promotion rewards, customers must purchase items at a full retail price rather than discounted values. Also, there is a setting that can be set up so the 'reward' items should be of a lesser value than the least expensive item in the 'purchase' condition.
ARALCO POS ADDS BIG POWER TO YOUR PROMOTIONAL CAMPAIGNS  
Conditional Promotion Management is in addition to the standard promotion modules already available in Aralco Retail Systems to help you manage all sort of promotions, even complex ones accurately at the store POS such as:
Aralco Retail Systems gives you extensive POS promotion features on a single platform, and the Conditional Promotion Management module adds even more power to your marketing campaigns. It becomes so easy for your marketing team to plan, set up and executes conditional promotions at the POS on SKUs or on broad product categories - brands, seasons, departments, etc, and even on purchase total such as spend $300.00 on any items in one receipt to get a 'reward'.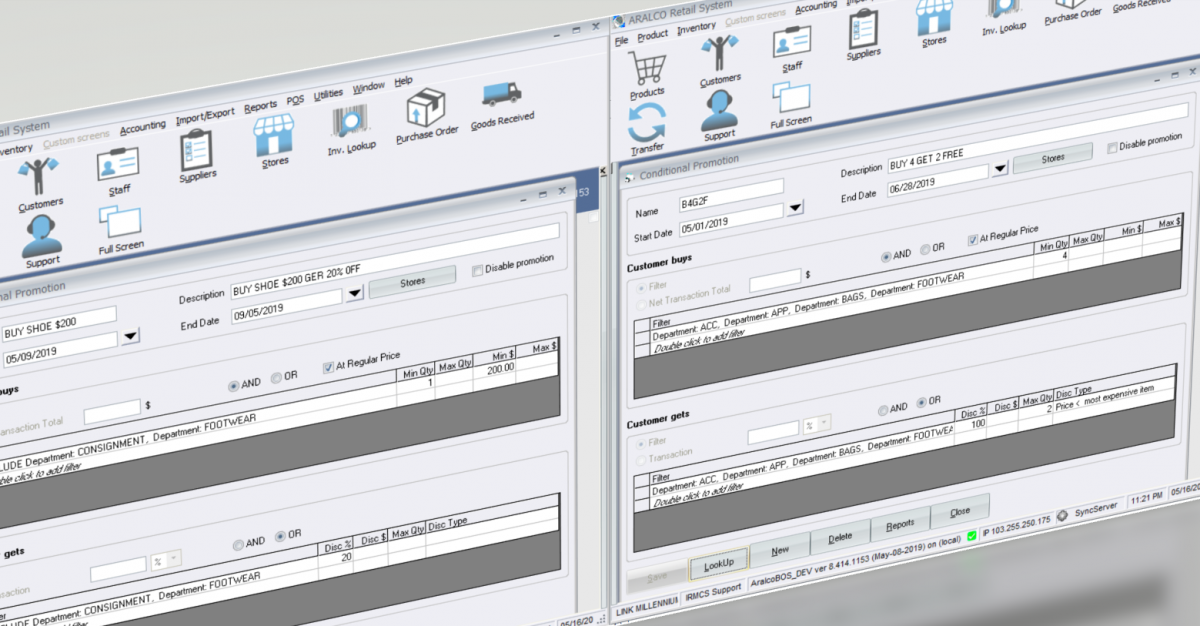 With the flexibility of running concurrent buying and selling conditions, your store employees will have powerful promotion tools to further engage customers and upsell to them seamlessly at every store.
Conditional Promotions prote
ct your margin with conditions to maximize your revenue and profit. 
Here are two examples of promotional conditions for a specified period and stores on regular-priced items: 
1 - BUY $200 of FOOTWEAR GET 20% DISCOUNT
Buy $200 worth any footwear, except consignment footwear
Get 20% discount on the footwear, except consignment footwear
Buy any 5 pcs of Accessory, Bags, Apparel, and Footwear
Get 2 pcs of Accessory, Bags, Apparel or Footwear for Free (whichever least or most expensive as defined)