Ecommerce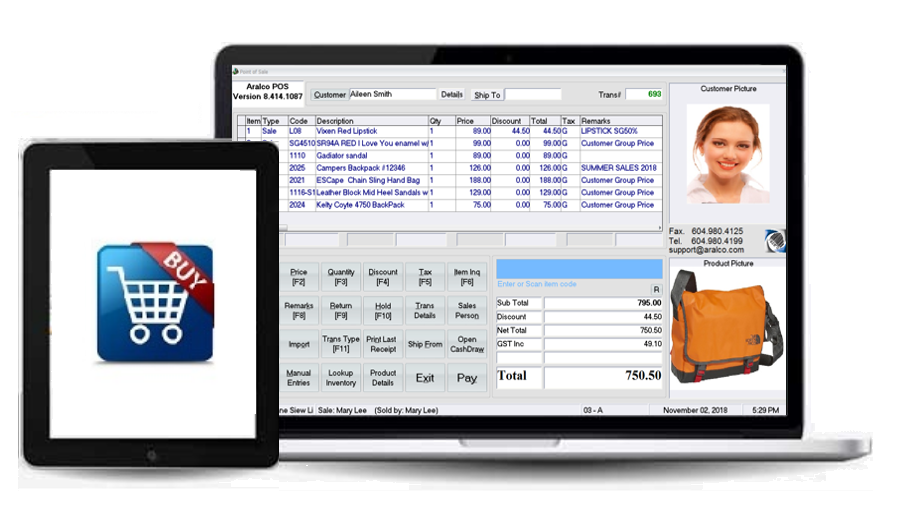 Managing retail business and online store on two separate systems is an extremely difficult task, inefficient with zero visibility on current inventory status. 
As a result, goods are sold online with the insufficient stock at hand or is it always spending too much time hunting for physical inventory during picking? This causes cancellation of web orders and late fulfillments to your customers.
Aralco Retail Management Systems closes this gap with its capability to integrate your CMS/E-commerce where both shares the main Aralco's main retail database - synchronizing product data, gift card status, inventory on-hand status, customers' loyalty points. 
Inventory adjustments, stock picking for order fulfillment and billing are entirely managed by the Aralco Retail Management Systems.
CONTENT MANAGEMENT SYSTEMS (CMS) & E-COMMERCE PLATFORMS
Our project team is able to design and build a functional website in accordance to your corporate requirements, including interfacing any hosted payment gateways of your choice for the checkout payment such as Paypal, Stripe, Wirecard, OneCash, etc.
For clients who need not replace their existing website, we are always staying on top delivering functional bridging solutions between Aralco Retail Systems' API and their existing site.
Aralco Retail Systems integrates with most popular CMS and E-commerce platforms such as Wordpress. Joomla, Magento, Shopify, Woocommerce, open cart, etc.
MANAGE PRODUCT IN ONE PLACE
With E-commerce integrated to Aralco Back Office Systems, simply check "E-commerce" box on each product designated for listing on the website, and similarly, you can uncheck it to remove products from the online store.
There is no further need to manage the CMS separately on the web server. Information stored in Aralco's central SQL database for synchronization with the E-commerce includes:
Additional Product or Web Name for E-commerce
Additional Product Description - long names with 4000 characters that can be used for product specification or any other purposes
Product images
SEO Description and keywords
Product web status for Promotion, New Arrivals, etc
Packagings' weight and dimension for freight calculation during checkout when applicable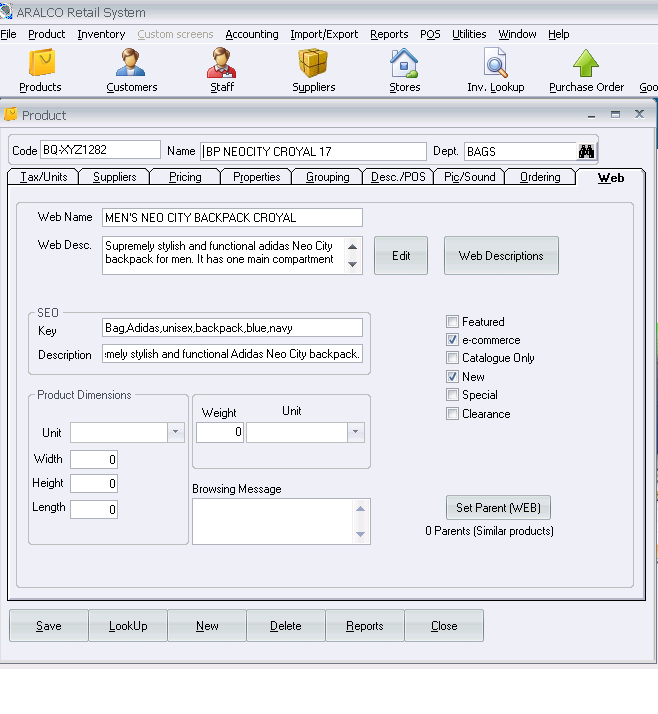 ONLINE ORDERS
Orders submitted or paid on the E-commerce are instantly synchronized real-time to the Aralco Retail Systems' central Database Server for simplified and seamless order fulfillment in the back office.
Whenever required,  the E-commerce server can be "programmed" to synchronize each online order in real-time to a third-party logistics provider (3PL) for SKU pickup by location and sorting before they make delivery to customers.
INTEGRATED LOYALTY REWARD PROGRAM
Online checkout and in-store POS are configured for issuance or redemption of loyalty points and they communicate real-time with the Aralco's central server via the Internet on points status instantly and reliably.
Customers are able to login to the E-commerce site with their account credentials anytime to see their loyalty reward points status.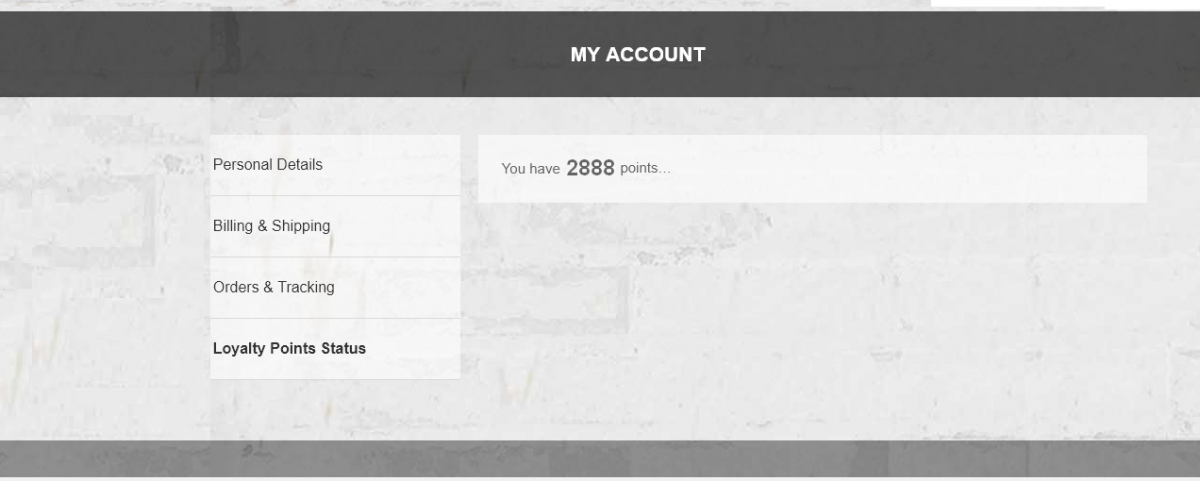 UNIFIED COMMERCE - RETAIL STORE & E-COMMERCE
Your customers can shop anywhere seamlessly with unified commerce in place - online customers can visit any physical stores for goods exchanges, make further purchases using the same account number.
With one central database on a single platform, unified commerce increases your productivity, gives you full visibility of the whole business and consolidates real-time data on everything for you -
---
RECENT E-COMMERCE PROJECTS 
Little Farms Gourmet Grocery Chain Store 
---
Click on the E-commerce options below for more information.
ARALCO BUILT-IN ECOMMERCE/CMS
Whether you are an on-line store retailer, in-store retailer or distributors, or any of these combinations, IRMCS has the complete Ecommerce solutions for any businesses. The Aralco Retail Base Module Management software has the capability to integrate with your CMS/Ecommerce seamlessly.
Aralco Built-in Ecommerce Solutions
Aralco's own built-in solution operates with direct connection to the main retail database for fast, accurate, low maintenance ecommerce operation.
Here are some of this system's highlights:
Directly interfaces with the Aralco Back Office & POS
Instant view of new/ modified "web" designated products on the shopping site
Instant upload & view of product pictures, descriptions and web prices on the shopping site
 
Integrated Shipping, Payment, Invoice
Automatically import web customers to Aralco master database
Automatically import web orders to Aralco POS Order Entry System, within seconds
 
Automatically generated web order reports can be viewed and/or emailed to the warehouse logistics staff so they can expedite the web orders and use the Aralco POS to ship the orders to customers anywhere in the world.
Automatically adjusts product inventory levels and optionally display "Available" quantities by location
 
Map display of store location that show available inventory by location to web shoppers
Aralco offers customizable solutions with this option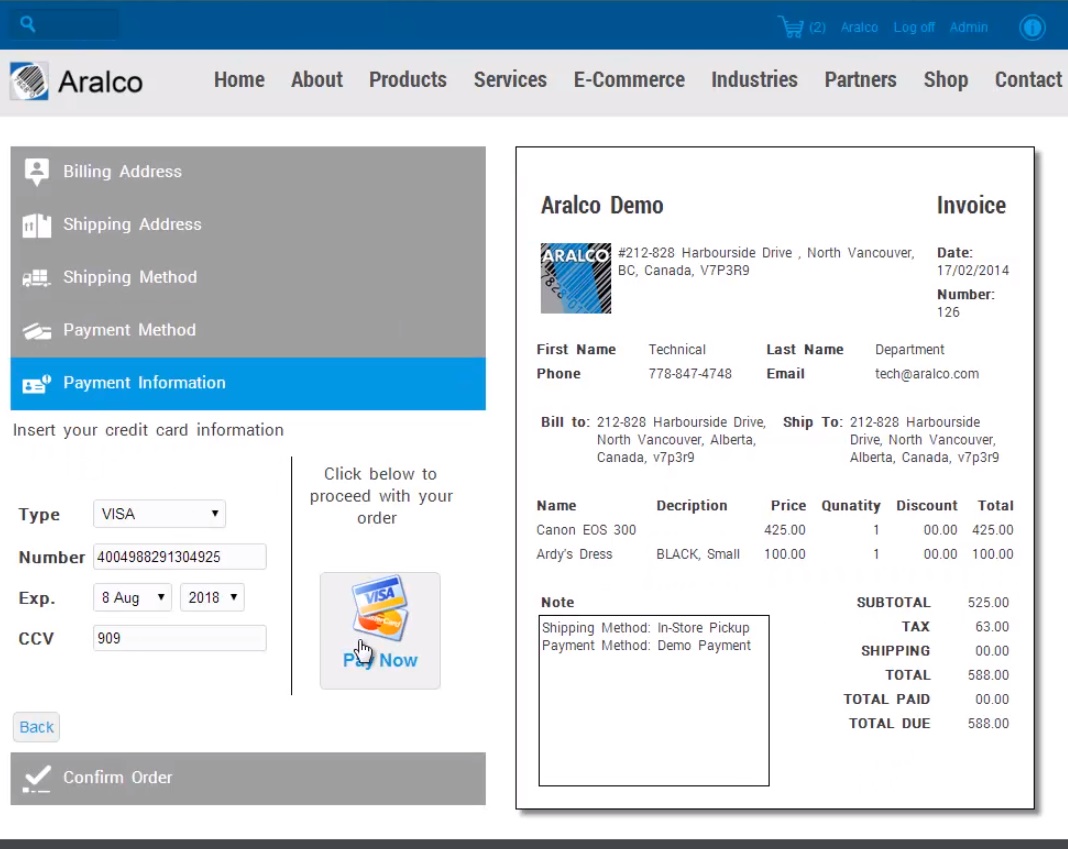 Optional Features:
Gift Cards (Sales & Usage as method of payment) fully integrated to the Brick & Mortar system where you can buy gift cards in stores or online and use them in stores or online
 
Upcoming: Frequent Shoppers Reward/Points System that rewards point to online shoppers based on back office settings that are also used for regular stores. Customer can view their Point Status, earn points and use points as a method of payment for on line purchases
 
Upcoming: Payments on Account can be made by "Account" customers with available credit setup up on the back office systems applied to in-store and online customers. Customer can view their account status and make payments online by invoice or toward accounts balance 
Read about industries we serve
INTERFACE TO THIRD PARTY ECOMMERCE/CMS
Interface to Third Party's Ecommerce
This option is offered by Aralco through our Universal Data Interchange (UDI). With this solution, clients can utilize third party shopping cart applications and have their developers interface with Aralco's UDI data base.
When you create a product in the Aralco back office system, the information is written into the UDI database which can reside on the same server or external to the brick and mortar database.
Web Orders are also automatically imported from UDI into the main database for viewing and shipping through the Aralco POS. The information in the UDI database can be limited to what the ecommerce site requires such as product information, web-orders, web customers etc.

Here are some of the services Aralco offers for interface to a third party ecommerce system:
Aralco can offer technical assistance to your ecommerce developers
UDI database only holds information for ecommerce use so it can reside anywhere
Web designated product information is passed on to third party shopping cart through UDI
 
Automatically import web orders and customers to Aralco's main database 
Automatically exports web orders to Aralco POS Order Entry system
 
Automatically generated web order reports can be viewed and/or emailed to the warehouse logistics staff so they can expedite the web orders and use the Aralco POS to ship the orders to customers anywhere in the world.
Automatically adjusts product information including, inventory levels, product pictures, descriptions and prices
Read about industries we serve