Aralco's Goods Receiving functions are extensive and you will certainly find features that match any of your inventory requirements.
The system is designed for inventory receiving all product types in any retail industry from Apparel and Footwear (color and size tracking), Electronic Goods (serial number tracking), Grocery (weight and measures) to any Specialty Stores.
Aralco Retail Systems supports user-definable Weight and Measures' tables for:
| | |
| --- | --- |
| | Purchase in Rolls and Sell by Meter or Yard |
| | Purchase in 30Kg-Carton and Sell by Gram or Kilogram |
| | Purchase in 100Litre-Drum and Sell by Litre |
| | Purchase in Bulk Units and Sell by Pack of Units |
CENTRALIZED OR DE-CENTRALIZED
GOODS RECEIVING
Goods Receiving can be processed centrally in the Headquarters and warehouse, or the management can opt for de-centralized goods receiving at each store controlled by Back Office User Group Policy in the Aralco Retail Systems.

Receive products into inventory from outstanding purchase orders, backorders, or directly without a Purchase Order

Accept entire order with one click or change received quantities in the event of discrepancies

Option to use barcode scanners to import goods received by scanning supplier barcodes that reference your products

Identify and tag "Back Ordered" products, if the policy allows

Automatic landed cost calculation based on the exchange rate of the respective foreign currency

Weighted average costing

Receive goods at POS terminals, at the warehouse, or at any back-office workstations

Print barcoded stock labels for goods received

Goods Received Report will show backorders as well as discrepancies with the original Purchase Order
Screenshot example:
Goods Receiving for footwear merchandise with color and size dimensions: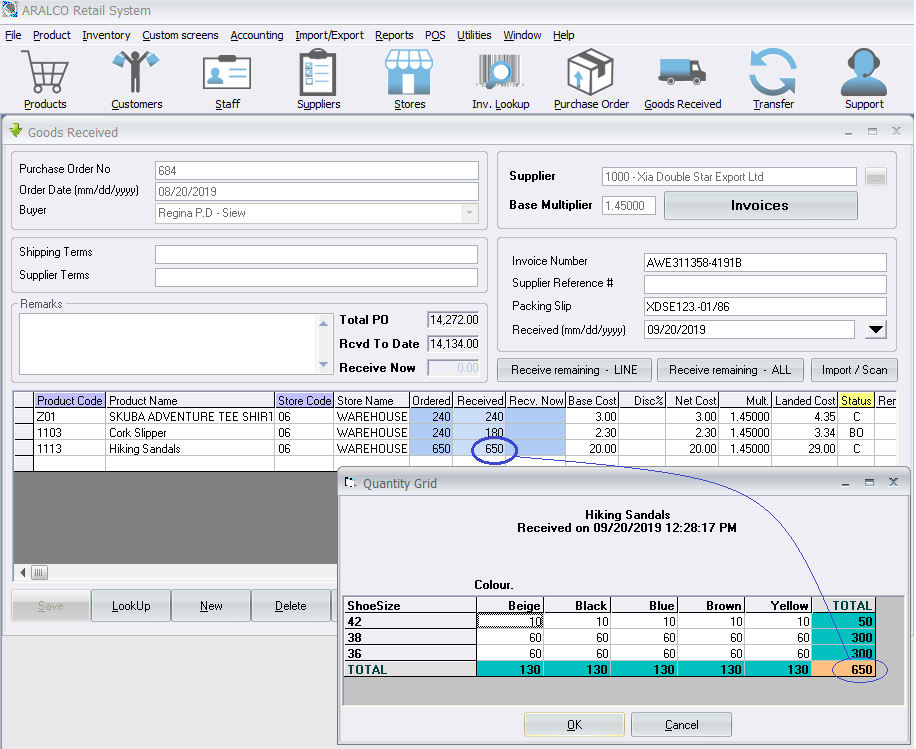 REPORTING

PURCHASES

 

Aralco has standard reports for analyzing your purchases by supplier or group of suppliers, etc for any filtered period including year-on-year. The reporting system is user-definable and comprehensive in providing information on every part of your business in various formats such as tabular, summary, matrix, chart, and cube.

 

In the example below is the matrix format* where you can edit the filter area to include a store location, department range, etc or exclude any contents. You can easily add, edit or delete any data fields, group, and summarize by columns or rows similar to a pivot table.

 

* Matrix format system is also a data summarization tool available in Aralco Reporting Engine for summarizing, sorting, reorganizing, grouping, counting, summing, or averaging data extracted from the central SQL main database. It allows users to transform columns into rows and rows into columns and group by any data field.
Matrix reports are especially useful with large amounts of data that would be time-consuming to calculate manually by hand or to turns a set of data to view it from different perspectives.
---