Aralco's Inventory Management software offers comprehensive features to help you track inventory in multiple locations, re-order points, cycle counts, shrinkages, stock replenishment, and the bottom line are to ensure that you have enough inventory on hand in the right location to meet demand.
From the back office to every POS in stores, Aralco provides your employees with real-time data on inventory status so that they can instantly interact with customers on current information accurately.  

MANAGE VARIETIES OF INVENTORY TYPE
Over the years, Aralco has successfully helped different retail sectors to enhance the inventory software with unique features specific for their industry, hence Aralco Retail Systems is bound to meet all of your inventory requirements.
Color and Size tracking of apparel or a pair of shoe with quick lookup function on what is available for customers at your location or elsewhere; run replenishment reports for any "broken" sizes/colors of any style number at the store.
 
Lot or Batch Number for Traceability so that if it turns out that a specific batch was defective, you can quickly locate all affected items. This is the purpose of inventory traceability by lot number. 
 
Serial Number which uniquely identifies the item, and there can only be one item with a specific serial number. This allows stock count by serial numbers as well as the fast lookup for the date of purchase by serial number for repair within the warranty period.
 
Weight and Measures definable for any products to be purchased from suppliers and sold to customers in different units of measurement example by weight or length or volume.
 
Expiry Date so that you can look up or report inventory available are either about to expire and needs to be price marked-down for a quick sale, or expired and needs to be removed and write off from stores quickly.
 
Product Configurator is designed to manage furniture products such as a sofa with a variety of non-stock options such as fabric choices or leather grades, colors; leg options, etc, and only required them when sold with the sofa. Therefore, this module supports Cost and Price jumps for every different configuration, eliminating the needs to create hundreds and even thousands of products/SKUs in the inventory systems.

REAL-TIME INVENTORY LOOKUP, ANYTIME ANYWHERE 
This feature is available at any POS and BOS workstations or with Aralco Mobile Systems on-the-go for looking up stock availability of an individual stock item among your store locations, down to size and color or serial number, lot numbers or expiry date.
It provides you with an immediate real-time inventory status by product or SKU eliminating long search time - giving retail staff the tool to respond quickly to customers, and as a result, it improves the customer shopping experience.  
Explore Inventory Lookup further for your industry.  
ELECTRONIC STOCK CARD SYSTEMS
Aralco keeps an electronic audit trail of every product from first goods receipting, movement between locations, returns, adjustments, a sales order to a sales receipt. 
It can give you complete information in chronological order with click and drill-down to many layers of details associated with the product. 
Retrieve historical information on products for any number of years and there is no limit to data storage.
MODEL STOCK (MIN - MAX QUANTITY) MONITORING 
Pre-set ideal inventory levels by product and location are ideal for retailers who order repeat items
Model stocks by store type allow multi-location operations to reduce data entry and monitoring
Reports of shortages/overages in current on-hand-levels provides alerts for management
The report also shows shortages/overages at different store locations to drive transfers of product from over-stocked stores to under-inventoried locations
Reduces need for markdowns, prevents over ordering

STOCK DEMAND FORECASTING SYSTEMS
Aralco offers automatic stock replenishments based on factors such as past sales history, trend-based year-on-year data, stock at hand and numbers of days stock is required. 
A must-have tool for retailers with large inventory lines or a large network of stores to ensure optimal stock level to meet demand accurately, preventing out of stock or overstock.
The three options available are:
Auto Purchase Order for re-stocking
Auto Stock Allocation for a new shipment of goods
Auto Stock Balancing between retail stores to manage over/under stock, broken size/color
GOODS RECEIVING
Goods receiving process allows data entries via standard keyboard, bar code scanners and portable hand-held terminals:
Receive products into inventory from outstanding purchase orders, back orders, or directly (without a P.O.)
Accept entire order with one keystroke or change in the event of discrepancies
Identify back-ordered products, if the policy allows
Centralized or de-centralized receiving i.e. receive goods at POS terminals, at warehouse/s or at the back office
INTER-BRANCH STOCK TRANSFER
Stock transfer processing allows data entries via standard keyboard, bar code scanners, and portable hand-held terminals.
Transfers can be initiated or completed at the POS terminals or BOS workstation
Transfers can be completed at stores for increased efficiency
Transfer Report allows monitoring from Back Office
Real-time communication ensures all locations can view and receive transfers instantly
PRODUCT COSTING & PRICING
Supplier landed or average cost for each product
Utilize supplier price lists to generate landed costs using a multiplier
Unlimited price levels by customer group or date sensitive promotions
Original price or the current price can be used for the retail value of inventory
Multiple selling price zone
Selling prices in different currencies based on store locations anywhere in the world

STOCK ADJUSTMENTS
Stock quantity adjustments (increase or decrease), example write off stock for reasons such as damaged, defective, expired, sample and so on
Average cost adjustments
PHYSICAL STOCK COUNTS 
Stock counting process allows data entries via standard keyboard, bar code scanners, portable hand-held terminals or using Aralco's Mobile Systems that can run any IOS and Andriod mobile devices.
The physical count does not affect normal operations (eg. sales processing, goods receiving, transfers)
The system takes a snapshot of the inventory file that is used to compare to the actual physical count
Provides ample opportunity to enter, check and correct count entries
Printed count sheets for manual inventory - ideal for inventory by department
Handheld computers can be used to scan barcodes
Data from handhelds can be imported to back office directly or via POS terminal
Counted items report by store indicates onhand quantities, shortages/overages, cost & retail values of discrepancies
Uncounted items report by location shows products overlooked or missing from the count
COMPREHENSIVE INVENTORY REPORTING
Aralco .NET Reporting Engine comes with standard reports and you can create your own inventory reports in various formats. The reporting system is user-definable making it easy for you to build simple ones to any complex reports on any data available in the central SQL database.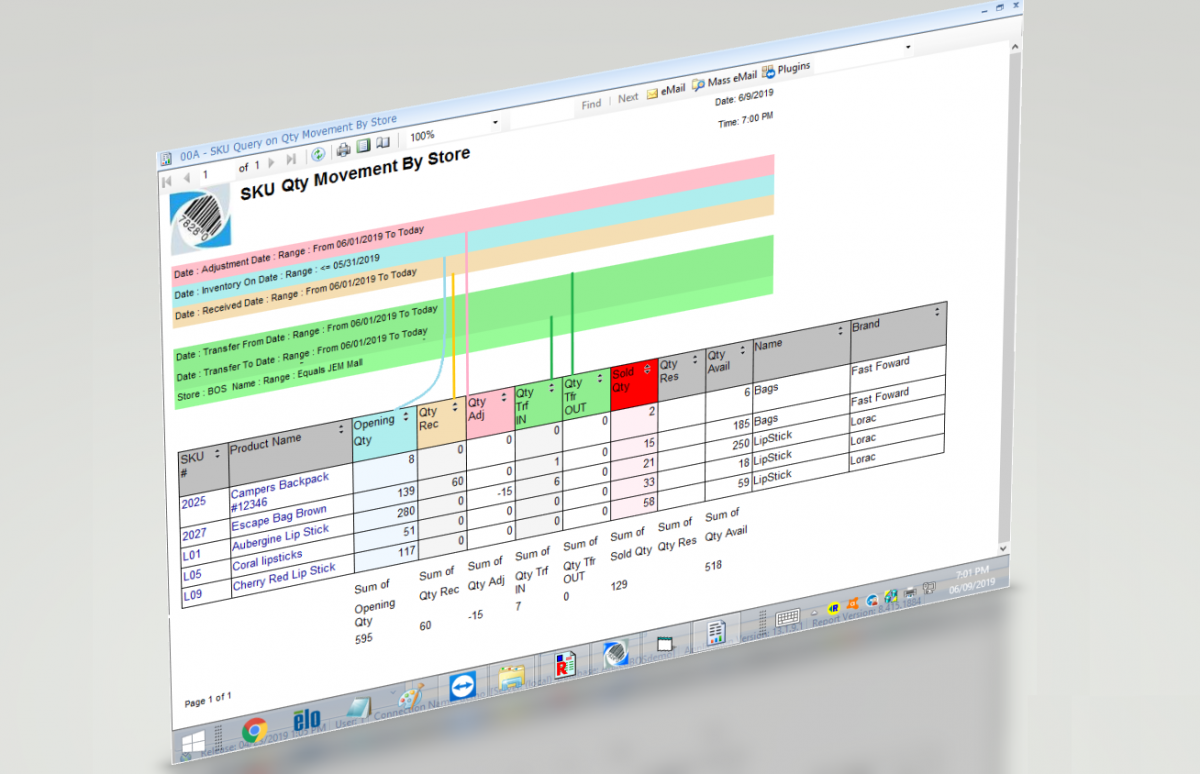 Explore Aralco's Reporting Engine
BAR CODE LABELING & SHELF LABEL PRINTING MODULE 
Aralco's inventory module comes with the following stock labeling features:
Use EAN, 128A, code 3 of 9, or UPC standards
User definable label layout, data fields, dimensions, font type and sizes
Print barcodes from purchase orders, goods received, store inventory records or manually by product code
Product and shelf labeling
Create system generated barcodes or you can add unlimited manufacturer barcodes to each product
Read about Aralco's LOT# Traceability Inventory
---