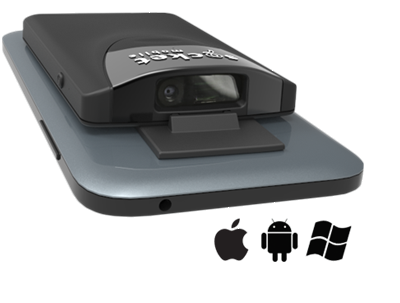 Socket 800 Series of mobile scanners allow you to attach it to your smartphone for a one-handed solution with Universal Klip, Klip Case or DuraCase. You'll have a convenient, one-handed solution that's easier to carry for any stock processing!
The small and light 800 Series turns your smartphone into a professional barcode scanning device with fast scan rate, within a second of pushing a button - everything is compactly rolled into one.
Socket Mobile currently offers Klip Cases for the Apple iPhone SE/5/5s/5c, Apple iPod touch (5th & 6th generation) and Samsung Galaxy S4 as well as a Universal Klip.
Aralco Mobile Application runs on Android and IOS smartphones or tablets and you can simply pair them wirelessly with Socket 800 Series of Mobile Scanners
ARALCO MOBILE APPLICATION
The Aralco Mobile Systems has a simple functional POS that can also be paired with Zebra wireless mobile printer for queue-busting actions during peak hours wherever your customers are. 
It synchronizes real-time data with the main central MS SQL server giving you current information always at any time.
Other beneficial features for increased productivity are physical counts, product and inventory lookups as well as goods receiving - that's awesome power on a small footprint!
Explore Aralco Mobile Systems
---
Contact IRMCS for more information.
---