Body:
4th November 2019 - Get more and do more with the latest Aralco Mobile Systems with mPOS, which is secure, quick, and very easy to use. Software licensing fee is subscription-based and now available for download on Google Play and App Store 
Aralco has been working on different technologies since 2016 to adapt its core system to these changes and new ways of accessing data, providing key features and functions through various mobile devices running on Android, iOS, and Windows operating systems.
The mobile solution is extremely suitable for pop-up stores, store-within-a-store, in-store add-ons, trade shows, or showrooms. It links your mobile phones or any handheld computer terminals to communicate directly with the main central database server.

ARALCO TRAITS
Aralco Mobile Systems is developed with distinguishing powerful features of Aralco Retail Systems allowing retailers to optimize the solution significantly for Mobile Customer and Inventory Management, besides the mPOS for out-of-the-counter actions and queue busting.
With Aralco Mobile Systems, you got the right tool to help you engage your customers at the next level wherever they are!
GET MORE,
DO MORE ON THE GO!
Aralco Mobile Systems is the perfect on-the-go application for stock or transaction processing and looking up product or customer information.
​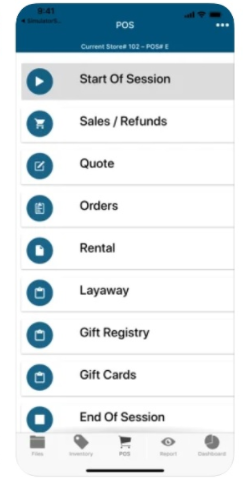 Lookup Functions

Inventory

mPOS supports

Product Lookup

Physical  Stock Count

Sales Receipting

Inventory Lookup by Location

Inter-location Transfer

Regular SKUs

Customer/
Purchase History Lookup

Purchase Order

Serial # SKUs

 

 

Weight & Measure SKUs

 
 

Dimensional SKUs
(Apparel/Footwear)

 

 

Discounts
(Manual/ Auto)

 

 

Returns/Void/Exchange