Body:
9th March 2021 - Wavetec is proud to announce achieving ISO 9001:2015 quality standards certification based on new ISO 2015 guidelines.
Wavetec dedicates itself to ensure quality management in all its functions for this prestigious accomplishment, and has been maintaining the ISO standards since 15th September 2004.
For more than 14 years, Wavetec has continuously focused on improving the quality standards in product design, customer support, and other business functions.
 
With the goal of high-quality service and excellent management practices, Wavetec aims to take the business to the highest standards.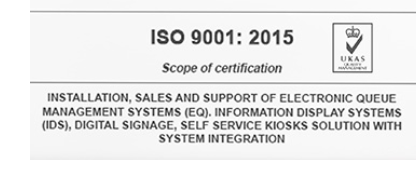 A great success and a piece of mind – thank you to the Bureau Veritas for support during the certification process, and to our Wavetec team. Striving for excellence in services and products has been a constant work in progress – anything to keep quality exceptional!

Zia Siddiqui, Regional Director, Wavetec
Quality assurance, the guarantee of seamless support and frictionless customer journeys enabled by Wavetec's products and enterprise level expertise is how they differentiate themselves from competition, which would not have been possible without the continued trust and loyalty of their clients.