Body:
28th September 2021 - IRMCS is always sourcing for robust and unique hardware, today we are pleased to introduce our new small form factor (SFF) computer CPU unit.
It is designed to be extremely compact to save precious space at the checkout counter. It also gives POS users more power and speed to complete sales transactions smoothly with plenty of ports available for POS peripherals such as receipt and laser printers, biometric and barcode scanners, cash drawers, traffic counters, customer display, etc.  
IRMCS is ready to ship out this impressive book-size CPU unit with Windows 8/10 Pro, offering store employees the option to run Microsoft Office, or other applications, and Aralco POS programs concurrently without any compromise in POS performance.

Features:

Compact Design

Commercial Grade

Metal Casing

Aluminium Top Cover (heatsink)

Fanless System Design
Specifications:

Intel® Core i5 & i7 processors

1 x 250GB SSD

1 x 8GB Ram

4 x Serial Port, COM ( w/ +5V, +12V selectable )

6 x USB Ports

1 x Ethernet, 10/100/1000 Mbps (RJ45)

1 x PS/2 keyboard/mouse port

1 x VGA, DB-15 VGA Interface

1 x Parallel Port, DB25

1 x Cash Drawer, RJ11

Audio   AC'97 Codec Audio

Operating Systems: Windows XP/XPE , WEPOS , POS Ready 2009 , Windows 8, Windows 10 

System weight  2.3 kgs

Dimension (WxHxD) mm 200 x 78 x 196
Add CPU Power to your POS
yet Save precious checkout counter space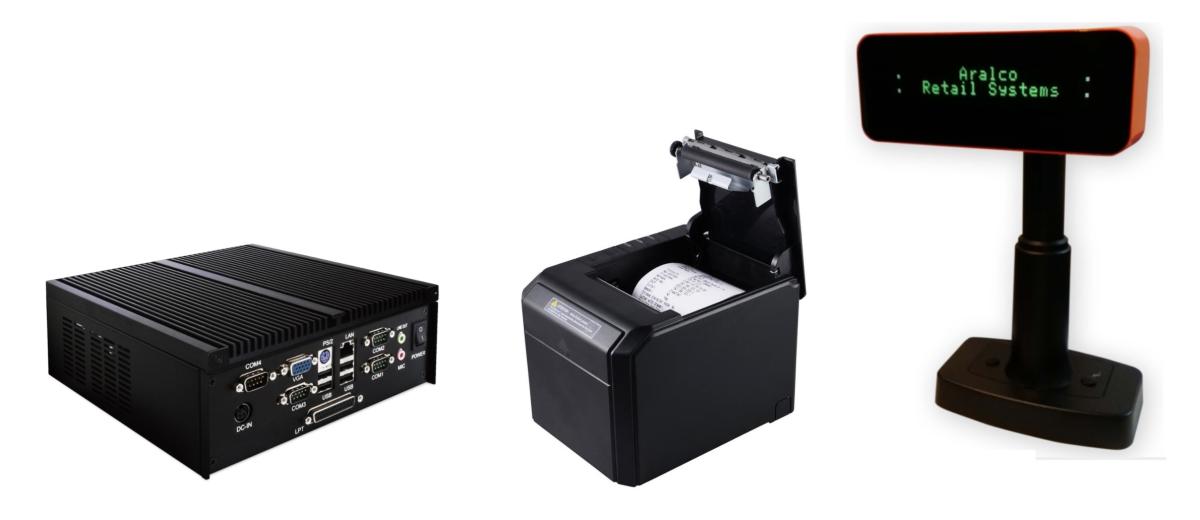 Contact us for more information.