In December 2015, the Management Team at Little Farms Group selected IRMCS to implement the Aralco Grocery Retail Management Software & POS Systems for the first retail unit in Singapore.
After a formal tender process, Aralco Systems was selected as it provided a rapidly deployable platform, within budget and time constraints, delivering the inventory controls, operational efficiency with real-time reporting from the POS to the Back Office System (BOS), supported by a comprehensive Reporting Module.
 
In addition, Aralco Retail Systems offers two essential features for grocery stores with its ready interface solutions for - 
Honeywell Stratos Series In-counter Unit
The bioptic scanner captures a barcode from almost any angle at incredible speeds, and it has a built-in weighing scale that transfers the weight data of the SKU to Aralco POS to calculate selling prices of weight-based products.
This all-in-one device optimizes the speed and accuracy of the POS checkout improving their customer's shopping experience.
Digi Scale Printer Unit (Weigh-Price-Label)
For in-store pre-weighing and barcoded price labeling of produce or meat, and tray-packed for sales. 
With the interface from Aralco, this option eliminates the lengthy steps-driven programming of each SKU or PLU on the weighing scale unit so that the latest product data and pricing can be imported quickly for weigh-price-label packing.
The complete Aralco Retail Systems went live on the scheduled go-live date and on budget.
 
" Little Farms Group allocated a 12-week role out phase to ensure full optimization of the BOS Reporting Module and the subsequent interface of our E-Commerce and Wholesale Divisions. 
Worthy of note has been the responsiveness of the IRMCS' Team during the pre-planning and implementation phases which allowed the efficiency of dual planning and problem solving to deliver the project on time. 
Little Farms Group believe the Aralco Retail System s will allow us to sustain rapid operational growth due to the flexibility of the BOS interface to facilitate multiple retail units and business divisions "  
-  Mr. Jonathan Miles Allum, Supervisory Board,  Little Farms Group
SUPPLEMENTS
Little Farms' Expansion and New Cafe, December 2017:
Little Farms Group has expanded with the extension of its grocery retail space together with the opening of Little Farms Cafe at its Valley Point store in Singapore on 7th December 2017. 
Aralco POS terminals were added to support the retail extension and the cafe operations complete with kitchen and beverage printers.
With Aralco Retail Systems, Little Farms offers every customer a seamless checkout experience where the purchase of any cafe's food or beverage items can be processed at any of the 3 grocery checkout lanes. Cafes' orders are instantly sent electronically to the kitchen and beverage printers for preparation. The customer can then dine in or pick up their takeaway orders with their receipt at the new cafe.
Vice versa, customers can make payment for their grocery purchases at the Aralco Cafe POS, except for products requiring scale weighing for pricing.
In addition, Little Farms' member customers get to enjoy the same loyalty points systems extended to the Cafe POS.   
Little Farms Expands with 3 More Grocery Stores in 2018:
Little Farms Group is little no more with the opening of their 3 new stores at United Square Mall, Tanjong Pagar Center and most recently Holland Village in August 2018.
Customers continue to enjoy benefits of Loyalty Points Systems when making purchases at any of Little Farms' stores. Each Aralco POS station seamlessly processes checkout transactions with real-time points issuance and customers can redeem by paying with points accumulated from any in-store purchases.
The Loyalty Reward Program is a standard feature in Aralco Retail Systems and centrally managed by the Back Office server.
Gift Card at Little Farms 
Little Farms Group launches the perfect gift solution for their customers in the second quarter of 2018 with the Gift Card Program from Aralco Retail Systems - an optional software module fully integrated from Aralco Back Office to each POS checkout which validates fund available on each gift card presented for payment, real-time across all stores.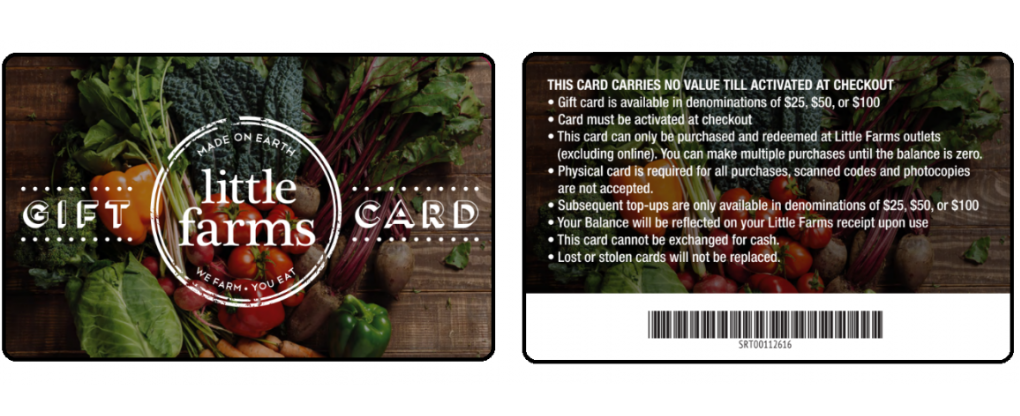 About:
At Little Farms, we believe in delivering outstanding quality food and exceptional customer service – from the farm to your table in 48 hours. Since our inception, we have worked hard to build relationships with our farmers and producers all across the world to find people who share our commitment to delivering only the best products.
 
While Little Farms' retail focus is a more traditional and personal grocery shopping experience, we are also developing an online delivery business, allowing us to extend our customer relationships straight to their homes.
From The Management Team @ Little Farms Group
7th March 2016
---
Read about Grocery POS from Aralco Retail Systems