Project Images: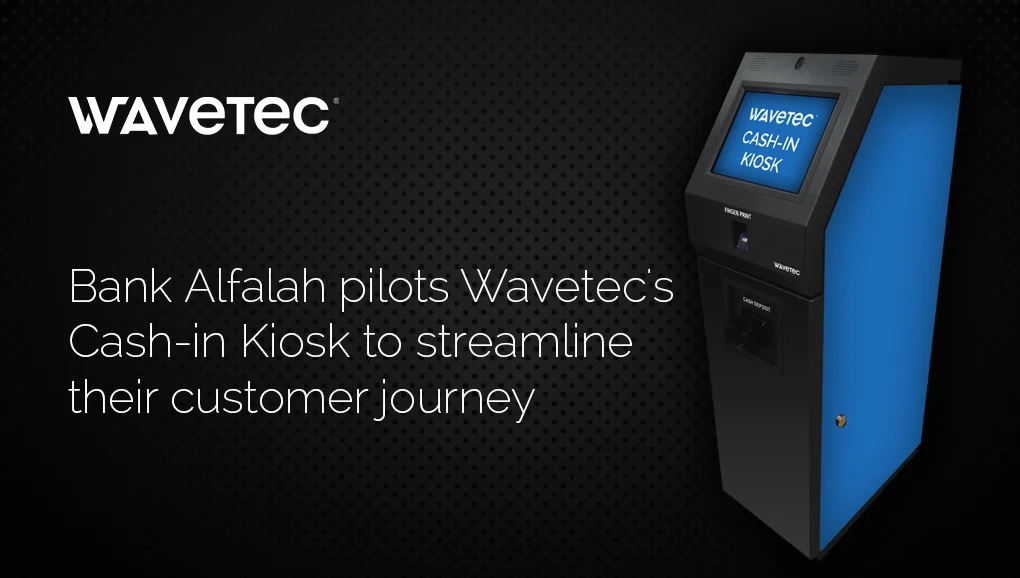 Location:
Pakistan | WAVETEC CASH DEPOSIT MACHINE (CDM)

Bank Alfalah

,

one of the largest private banks in Pakistan,




Deploys Wavetec's CDM Self-Service Solutions

to
Improve Operational Efficiency

 

 

 

Business Case & Challenges
High Cash in Circulation
Demanding high volumes of physical cash management, leading to the increased time spent by tellers per customer. This is a problem that is inherent to most banks and credit unions in developing countries with high cash dependency.
Limited Operational Hours
Limited banking hours, while operational hours for most businesses conclude much later. Day-end deposits have to be made the next working day, adding to risk and inconvenience.
Acceptance and Adaptation period for Customers
As with most new technologies, the adjustment period can be lengthy and difficult. Customers must first accept, then understand the need for and then finally adapt to the new channel. The solution is a user-friendly interface, full of features, easy to use, and centric on customer convenience and security.
Part of the Wavetec group, Azimut is a software developer that specializes in self-service solutions for the banking industry. Their modular software and hardware are designed and customized with their customer in mind.
CQuick Cash Deposit Machines are designed to prioritize efficiency in operations management by providing self-service options. The solution increases the speed of service, is geographically mobile, and is guaranteed to raise customer satisfaction standards.
Azimut hopes to inspire businesses to join a global interlinked banking ecosystem, with the capability to complete all tasks on one machine – be it paying utility bills or school fees or internet bills, buying tickets to a movie or for the bus, sending remittances or withdrawing cash to pay for a meal.
Solution
Azimut's CQuick Cash Deposit machines and reverse ATMs are contactless and conveniently safe solutions. The solution is based on extensive research and development, built by industry-recognized software developers and engineers, with extensive experience in digitized self-service solutions for the banking sector.
The Smart Cash Deposit machines and reverse ATMs ensure operational efficiency, speed of service, and customer satisfaction – all while being scalable and geographically mobile.
A key to adaptation and success is the interlinked banking ecosystem, offering a "one-stop" alternate channel to completing many tasks – be it customer registration, account opening with KYC, interbank fund transfers, paying utility bills, third-party payments, buying tickets, or sending remittance.
Bank Alfalah recognized the importance and need for such a smart digital channel, and has since then deployed it in 200+ branches nationwide. Further with the pandemic and the new norms of social distancing, Bank Alfalah has still been able to deliver its customer's commitment through self-service and contactless options. And it is gaining popularity, as is clear from our exhaustive list of deployment locations – https://www.bankalfalah.com/list-of-cdms-conventional/.
CQuick Cash Deposit Machines help them facilitate:
Bulk Deposits
Our Cash Deposit kiosk accepts deposits in bulk, reduces time spent queueing and enhances the deliverability of services offered. We have designed our cash recycling and depositing solution with one key goal – to automate the cash handling process. For by recycling cash and upgrading branch analytics, Azimut can help you reduce costs and raise profitability.
Extra Cash-In capacity
Bulk escrow-enabled Cash Deposit of upto 500 notes in one go, with speedy processing and a total storage capacity of up to 10,000 notes.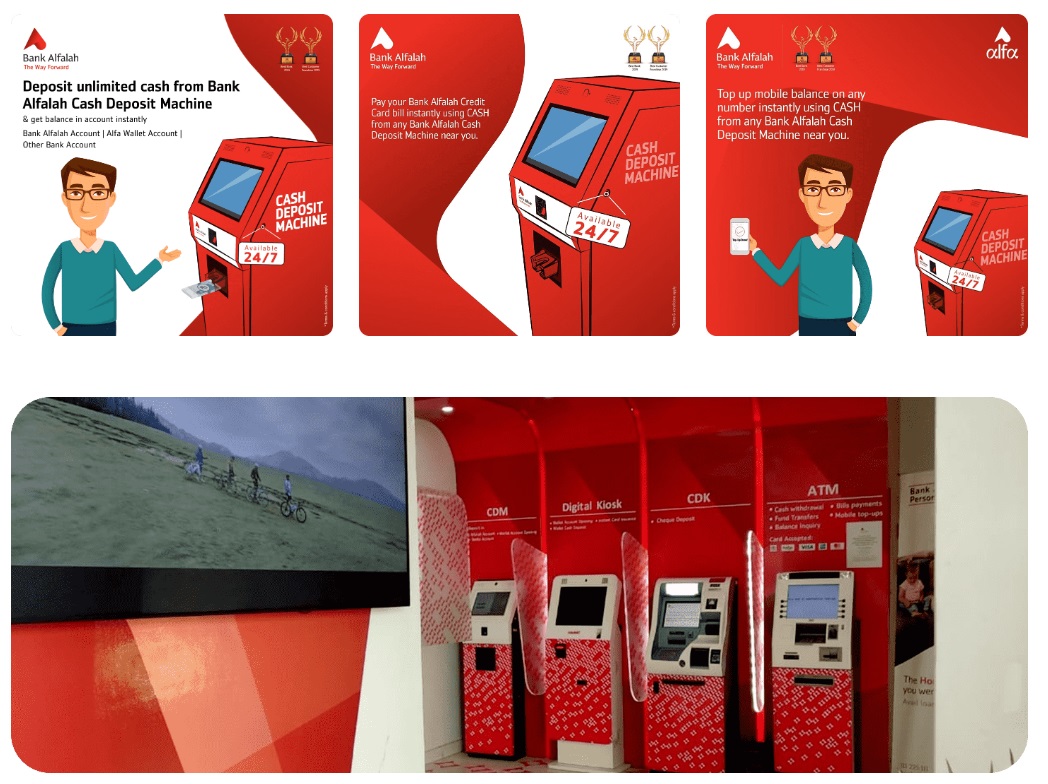 Multimodal biometrics

Transactions equipped with advanced biometrics – finger and facial recognition for KYC verification, thereby eliminating instances of identity theft and fraud.

 

Modular Cash-In kiosk

Robust design, low cost of ownership, and ease of maintenance for convenient deployment in agent networks and public spaces.

 

Cardless Transactions

CQuick establishes a class of its own by integrating both banking and mobile financial wallets and allowing customers access to the full range of cash transactions.

 

Live video-enabled remote assistance

Customers can opt for the live-help option, and be assisted by a remote staff member via video chat. This further helps aged and inexperienced customers to confidently adapt to the new technology.

 

Multi-channel Self-Service

An option to prestage transactions, using a mobile-initiated QR code generator – aiding the customer in saving time, and reducing time spent using the solution.

 

Real-time monitoring

Monitor all connected kiosks and components for flexible alerts and escalation policies.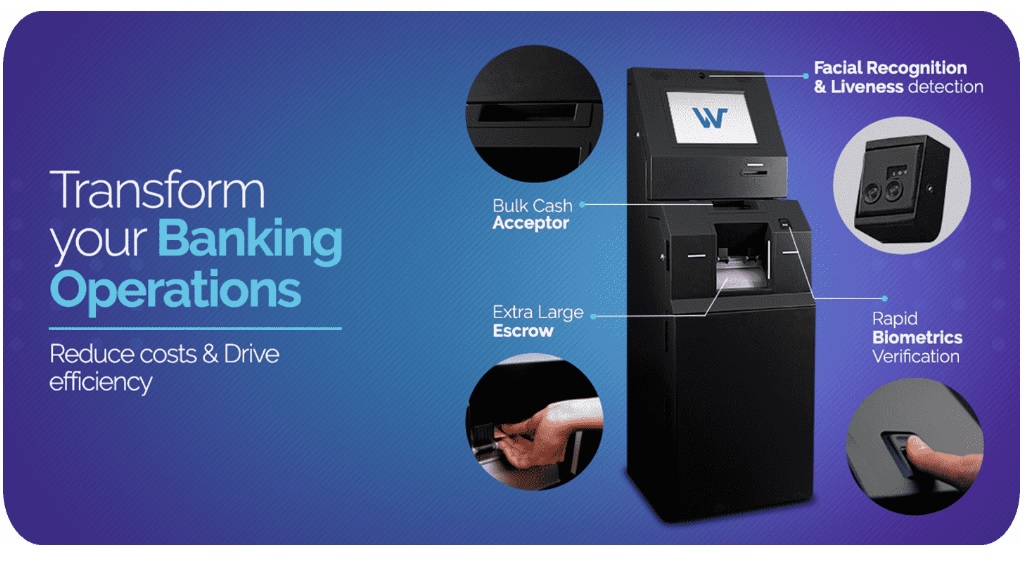 Analytics

Track transactions, revenue, and profitability using real-time actionable intelligence to improve revenue while optimizing deployments. Know what is happening, at all times.

 

Inventory Management

Efficiently record inventory levels, orders, sales, and deliveries using real-time data.

 

Enterprise User Access Controls

Enterprise-level user access control with customizable data visibility and the right to manage individuals and groups.

 

 

 

Operation Management

Deliver day-to-day operation overviews to managers to help them implement practices for increased efficiency, quality, and control.

 

Resilient and sturdy design

Equipped with a large escrow to enable simple transaction rollback –

Fitted with a secure electronic journal and real-time detailed cash and inventory administration including deposits, replenishments, pick-ups, or other transactions.

Real-time information about transactions is readily available for ensuring the business runs smoothly.

 

 

 

 
Results
Substantial increase in Self-Service transactions, every month
 
More socially-distanced and contactless journeys enabled
 
Minutes saved per teller increased
 
Minutes saved per customer increased
 
25% increase in women making transactions
 
24/7 coverage of financial and transactional needs
A journey that started with just 40 kiosk deployments has now ched to 200+ cash deposit machines in under two years.
About:
Bank Alfalah is one of the largest private banks in Pakistan with a network of over 700 branches in more than 200 cities. It has an international presence in Bangladesh, Afghanistan, Bahrain, and UAE through its holding and operating group company, The Abu Dhabi Group.