Simply scan the returning items at the Aralco POS, or use the Return Verify Form for optimized security and accuracy. Return Verify Form is also the better choice as it allows you to define the number of days limit in the POS Settings:
 
| | | |
| --- | --- | --- |
| POS SETTINGS |  Max. |  Item Returns |
| RETURNS POLICY | XX Days | Limits the number of days after a purchase that an item can be returned. |
| CASHBACK POLICY | XX Days | Limits the number of days before store credit is allowed for returns. |
Only your authorized store employees can have access rights to process Return Verify Form at the POS.
On the form, simply enter the original receipt number, or scan the transaction barcode printed on the original receipt to retrieve it from the central server. Once retrieved, the user selects the item and the returning quantity after which the system retrieves the original sold price for the return.
The return process is very secure as changes to quantity and price sold are disallowed
Therefore goods returned are always processed accurately at the POS, due to the return form designed specifically to prevent employees from returning items that were not sold or more than what was sold in the original receipt.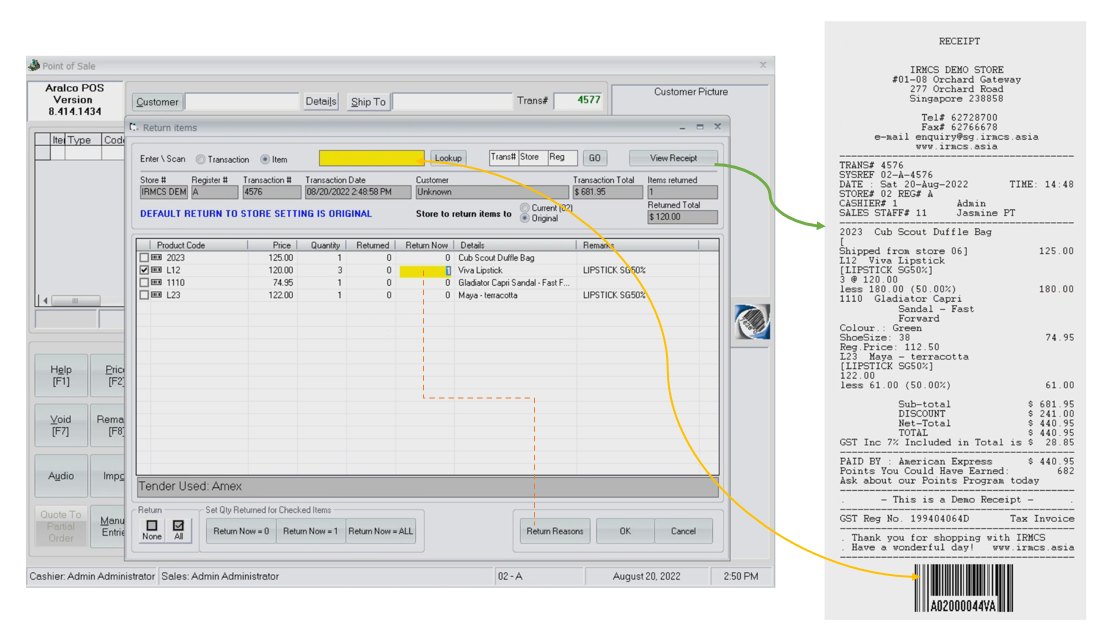 SECURE GOODS RETURNS
| | | |
| --- | --- | --- |
| | Items not sold in a transaction can never be returned |   |
| | Items not sold in a transaction can never be exchanged for another item |   |
| | Prices sold and any given discount cannot be altered in the return of the goods |   |
| | Transactions exceeding the number of days allowed in the return policy require managerial override |   |
Read more about Refund Policy at the POS | Sell From Another Location Option | POS Sell Screen Options
---